Get 'em while they're young. Young students start making choices about where their interests lie pretty early and educators in the U.S. have expressed worry that not enough kids are growing up to be scientists and engineers or even go to college for that matter. The FIRST (For Inspiration and Recognition of Science and Technology) programs gives students in grades K-12 an opportunity to see practical science at work. The program is designed to build skills in science, technology, engineering and math (STEM). It brings professionals from these fields into a working relationship with the FIRST teams as mentors to coach and guide students. Founded by inventor Dean Kamen in 1989, in New Hampshire, the FIRST program is now three major competitions:  FIRST Robotics Competition, the FIRST Tech Challenge for high-school students, and FIRST Lego League, and in 2011 there is more than $14 million in college scholarships on the table.
PTC and Autodesk are enthusiastic supporters of the FIRST program. Both companies are kicking in software and providing funding to sponsor teams, events and scholarships. Students will have access to PTC software including Creo Elements/Pro (Pro/ENGINEER), Mathcad, Windchill, and Creo Elements/View (ProductView), and the company says they will sponsor nearly 100 FRC teams. Autodesk also supplies software including Maya, Sketchbook Pro, 3ds Max.
In addition, PTC has taken a direct role in the FIRST Tech Challenge. It will sponsor more than 35 FTC teams through 2011 and they helped kick off the challenge at an event earlier in January in New Hampshire. According to Robin Saitz, Senior VP, solutions marketing & communications, over 250 PTC employees have volunteered to take part in the program.
Not to be left out, Autodesk is also sponsoring the FIRST Robotics competition and two design competitions. They are sponsoring a 3D Design competition for manufacturing and one for 3D animation. Here's an overview of the 3D Animation contest. It's charming involving alien creatures, the Iiko, whose planet has suffered from climate change and pollution. Contestants are asked to create a 30 second animation to describing the ways in which they'd like to help the Iiko.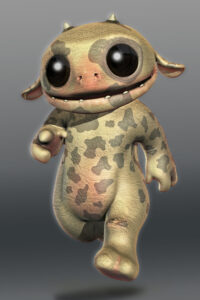 What do we think?
We have talked a lot about the drop in interest shown by students entering college. Lately, however the news is not all bad. According to information from the National Science Foundation (NSF), and the US Department of Commerce, the numbers of students enrolling in college are rising, and they're rising in the sciences. The NSF has published a report, "Science and Engineering Indicators: 2010." The report confirms that there was a steep decline in students taking degrees in science and engineering through 2007, but it also reports early indicators that the trend is reversing.
It has been speculated that the recession has helped to wake people up to the need to learn skills that will be valuable in the job market. It is also true that programs like FIRST and also the National Engineers' Week Future City competition of which Bentley Systems is a sponsor, help students see the fun side of science, math, and engineering.
Sometimes, it's not immediately obvious.