3D organic modeling software, digital force-feedback and 3D printing enable museums to show what mummified children looked like 2,000 years ago.
By Bob Cramblitt
Earlier this year, Richard III took the world by storm after his bones were discovered under an English parking lot and his face was recreated using 3D organic modeling software.
While not diminishing that accomplishment, the world knew a bit about what Richard III might have looked like. We knew nothing about what two child mummies dating back 2,000 years might have looked like before forensic artist Joe Mullins used the same software to bring the faces of those children back to life.
Working from 3D CT reconstructions of the skulls of the mummies, Mullins used Geomagic Freeform software from 3D Systems to reconstruct facial muscle, skin and tissue. He even created likely hairstyles based on research of Ancient Egyptian children's appearance at the estimated time of mummification.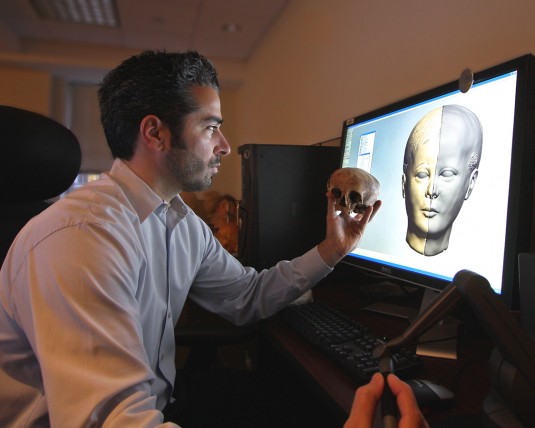 Revealing the people inside
Mullins is a forensic artist at the National Center for Missing and Exploited Children (NCMEC) in Alexandria, Virginia. His job is to create what is called "age-progressed" images of missing children—incorporating aspects of the face that would have changed as they aged during the time they've been missing—in hopes of gaining a positive identification. He also reconstructs faces on the skulls of forensic cases to identify lost children.
In his spare time, Mullins has worked on two projects that appeal to his innate curiosity and honed craftsmanship: recreating the faces of child mummies for the Smithsonian's National Museum of Natural History (NMNH) and the Spurlock Museum of the University of Illinois at Urbana-Champaign.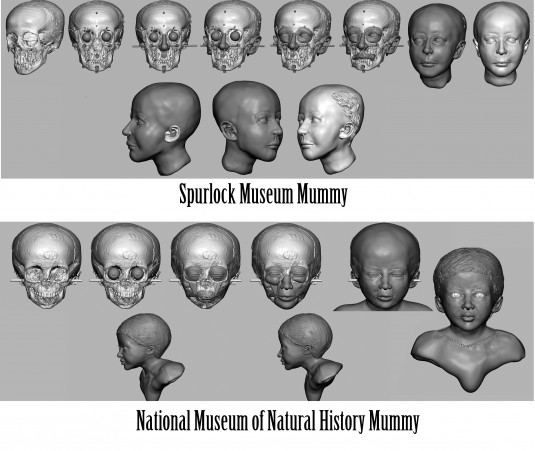 The two projects were brought to Mullins by David Hunt, an NMNH forensic anthropologist, who provides his expertise to the NCMEC Forensic Imaging Unit on facial reconstruction and age progression.
"The two efforts are designed to allow the public to connect with these children who are now mummies," says Hunt. 
Working with digital clay
Geomagic Freeform, 3D software designed for creating complex organic shapes, is the central tool in Mullins' reconstructions. It provides the digital equivalent of clay modeling, including touch (force-feedback) tools to make the modeling experience more natural. It also delivers all the intrinsic values of digital technology, such as the ability to experiment, make corrections and create lifelike full-color models that can be displayed on high-resolution screens or output with 3D printers.
"Prior to Geomagic Freeform, I used a traditional clay modeling process," says Mullins. "The clay process has been rolled directly into the digital world with the same steps, only with no super glue or clay under your fingernails."
Transparency and amazing speed
In both the Smithsonian and Spurlock projects, the process starts with 3D CT reconstructions of the skulls from scans of the mummy. Mullins then builds missing parts of the bone and adds tissue and muscle. A key advantage to working in Geomagic Freeform is being able to use transparent images while building the facial structure.
"If I were working in clay," he says, "I couldn't see through to the bone. With Geomagic Freeform, I can, and because it's optimized for working with complex, organic shapes, I can work with amazing speed. I work in layers, adding muscles that I've taken from libraries of anatomies, tweaking them and adding skin and refining facial features."

Revisions can be made almost instantly to saved versions of the model without having to do a complete breakdown and remodeling as would be required in clay.
"If I don't like a variation of something," says Mullins, "I simply go back to an earlier version. You can't do that in clay."
Bringing in the sense of touch
Another key enabler for Mullins is the ability to incorporate touch into the 3D modeling process. Mullins uses a Sensable Phantom Desktop haptic device from Geomagic to feel the textures and surfaces he is modeling. Skin can be rearranged or smoothed out, for example, by simply pulling it with the Phantom and moving it around on the screen.
Beyond the same type of facial imaging he does for NCMEC, Mullins created finishing touches such as hair styles and clothing matching the time periods in which the two mummies lived.
"I wanted to make sure I had the correct styles on the finished product," says Mullins. "That meant putting the image out there to the experts and letting them give me some instruction, which they did and it was a fabulous experience."
Unveiling the individual
With all the detail and anthropological information at work on a reconstruction, it's logical to speculate on how Mullins knows a project is completed. He has a ready answer: "When I see a person staring back at me."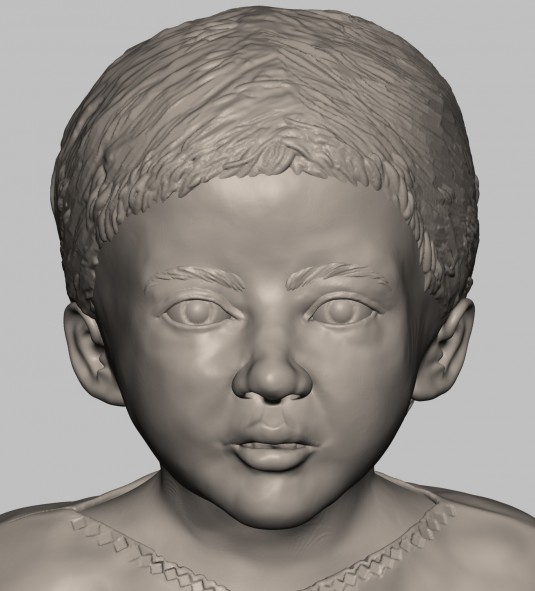 The Smithsonian's Office of Exhibitions Central took Mullins' final digital models and fed them into a 3D Systems Zprinter 650, which is capable of printing out large physical models (up to 10 x 15 x 8 inches) in a matter of hours.
Mullins' images and the Smithsonian's 3D bust depict a three-year-old boy, with facial features similar to people currently living in East Africa and Southern Egypt. The bust is part of a permanent exhibit called "Eternal Life in Ancient Egypt" at NMNH in Washington, D.C.
The final product for the Spurlock Museum, a Smithsonian Affiliate, is a series of 3D images showing the reconstruction process, which will be part of a new exhibit to be staged within the next couple of years. Because of a collapsed pelvis, the sex of the Spurlock mummy cannot be determined, but the images reveal a child, age eight-and-a-half or nine, of West Asian or Mediterranean heritage who lived in Northern Egypt during the Roman period.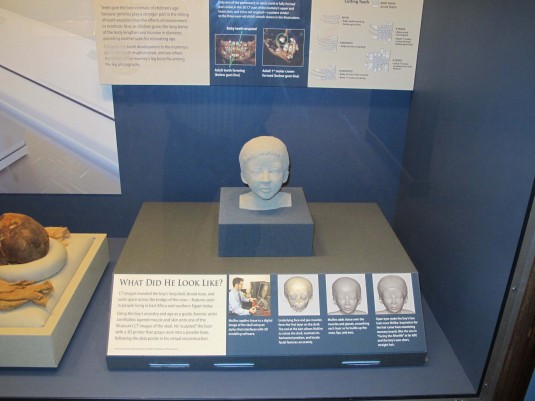 "Joe Mullins' reconstructions will make the mummy much more interesting for visitors," says Sarah Wisseman, who oversees the project in her role as an archeologist with the Illinois State Archaeological Survey (ISAS). "The plan is to have some digital reconstructions available on a computer terminal that visitors can manipulate, along with information on life in Roman-period Egypt. Visitors should then be able to visualize the mummy child in his or her setting."
While it is satisfying for Mullins to create reconstructions that will fuel imaginations and create a richer experience for museum-goers, he has his own reasons for enjoying this type of reconstructive work.
"Working on a 2,000-year-old mummy is just cool! I think every artist that does this type of work wonders about what the individual was like in his or her life."
Bob Cramblitt writes about digital technologies that are redefining the way we live, work and view our world. He can be reached at [email protected].