A variety of new products in the quarter stimulated demand. Healthcare sales now account for 13% of revenue.
3D printing ecosystem vendor 3D Systems (DDD: NYSE) reported a 31% increase in revenue for the first quarter of 2013, based on strong growth in 3D printer sales. Several new products were introduced during the quarter, boosting sales volume. Net income dropped year-over-year due to acquisition expenses.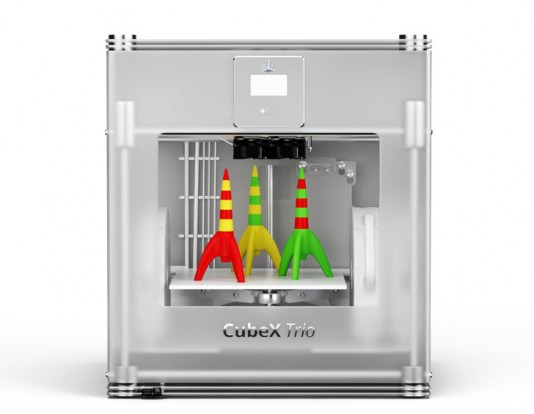 Total revenue in the quarter (ending March 31, 2013) was $102.1 million, up 31% from $77.9 million in 1Q12. Net income in the quarter was $5.9 million, down 4.8% from $6.2 million in 1Q12. The company said costs related to the closing of the Geomagic acquisition, plus a variety of other expenses, affected net income.
Revenue from printer sales climbed 61% year-over-year to $39.7 million. Print materials revenue grew $4.1 million year-over year to $28.7 million; services revenue rose $5.1 million from 2012 to $33.6 million. Within the product category, the healthcare segment contributed $14.1 million, 13% of total revenue.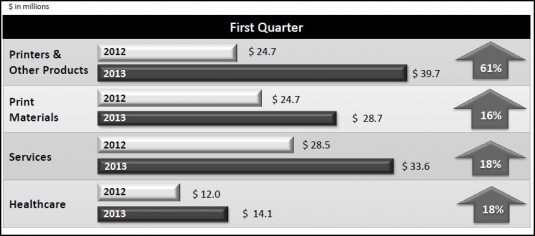 In January 3D Systems launched its Cube and CubeX 3D printers, and introduced new printers in its ProJet line. The company also completed its high-profile acquisition of Geomagic, expanding its software product portfolio considerably with a wide range of sculpting, scanning and software inspection tools.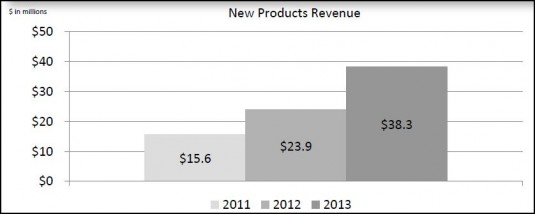 Moore's Law for 3D printing?
During the Q&A with Wall Street analysts, 3D Systems CEO Avi Reichental was asked if the 3D printing industry enjoys an equivalent to Moore's Law regarding printing speed increases. Reichental's answer, as transcribed by Seeking Alpha:
"I think that Moore's Law applies here literally, but also in terms of exponential convergence. So will we continue to be able to double speed every couple of years and reduce costs and enhance functionality? I think so. There is a preponderance of evidence [it] will continue to happen, and the technological feasibility is quite favorable today. But we also think that we will benefit from the convergence of other exponential technologies like robotics and sensing and cloud computing and other enablers that will actually make the overall manufacturing process much more efficient across the board. So in our mind, it's Moore's Law plus the exponential technologies."
Our take
In recent years 3D Systems has taken a lot of heat from both Wall Street and technology insiders for its rapid expansion fueled by debt, new stock and a stock split. But it looks as if the bet is starting to pay off. It now has a broad product line of printers in all price and performance segments, it has a strong portfolio of software required to drive 3D printing, and it continues to grow its 3D printing service bureau business, its first foray beyond manufacturing printers. Last week two CAD/PLM vendors reported modest sales and warned of possible downturn in manufacturing ahead. By comparison, today 3D Systems said it saw no need to change its previous forecasts.