Bentley Systems' Santanu Das says more  tasks will move to the cloud to access the rich resources available for simulation.
Bentley Systems dropped a few hints about products coming to the cloud at this year's Smartgeometry conference in London. The theme of the conference was Design and Constructing for Uncertainty, and there was a strong focus on understanding how digital concepts will translate to the physical world. This is right up the alley of Bentley's AECOsim product line. Santanu Das, Bentley's senior vice president for design and modeling, took the stage to describe the company's involvement in analyzing recent disasters and the work the company is doing to improve the process.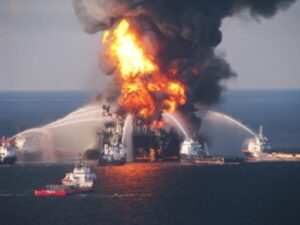 Das described the aftermath of the BP Deepwater Horizon oil rig disaster, the Fukushima Daiichi meltdown in the aftermath of the earthquake and tsunami, and a building collapse in Rio de Janeiro – for which Bentley was asked to perform simulations to help provide a better understanding of what went wrong and what could be done differently in the future. In all of these cases, no one could have predicted the chain of occurrences that resulted in these disasters, but, said Das, considering many simulated alternatives could to considerably to anticipate structural failures in the face of extreme conditions. However, Das cited a recent study performed by Stanford University in which researchers discovered that today, given the limited amount of time and computational power available on local systems, most people are able to run only but a few simulations.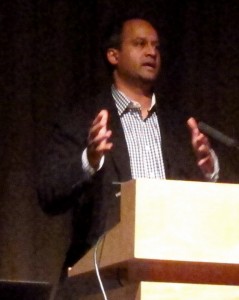 Das said that it was pretty obvious "you have to extend everything to take advantage of the cloud."
And that's exactly what Bentley is planning to do for several of its products, including its AECOsim, SACS and STAAD lines of simulation products, which will be integrated with a new cloud-based optimizer (based on the Bentley Darwin Optimization engine) to help automate the simulation of multiple scenarios in real time.
Das said that Bentley is leveraging several technologies to make scalable simulation and optimization using cloud services a reality. He listed Microsoft Azure cloud services, multi-threading, and the use of GPUs. In other words, Bentley is scaling and parallelizing its simulation engines. It's obviously a good thing to do, but it is a challenge for companies with legacy software code.
Earlier this week we talked about architectural researcher Lars Hesselgren's challenge to the architectural community to undertake more design exploration through advanced software. He said the time is coming when clients should ask, "Why not a million iterations?"
Bentley is building out to answer that challenge. The next level of competition among design companies will test how well they leverage the resources in the cloud.