$20 per month buys core PDM elements linked to collaborative cloud access.
Today Sunglass expanded its web-based product development collaboration platform to include a data management and version control system. Sunglass is currently free for teams to use for product review; the new PDM features are available for a $20/month per user subscription.
Sunglass PDM offers three elements:
A dashboard for managing projects with version control across CAD formats, team members across locations/organizations, and permissions;
'Connect' tools such as a plug-in deeply integrating into the SolidWorks and Autodesk Inventor CAD environments for syncing data to and from the cloud, keeping all collaborators in multiple locations accessing latest data, and enabling team to synchronously work on the same project with optional vaulting
A web-based environment to review 3D content and key issues without the need for CAD software.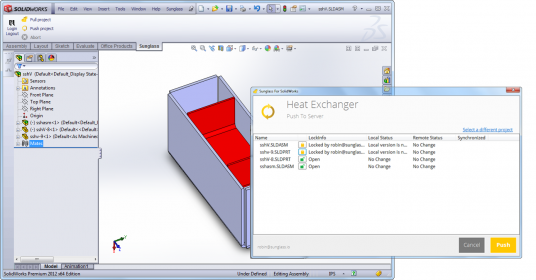 Our take
Nobody gets up in the morning and says, "Hurray, I get to work in our PDM software today." Most product designers and engineers consider the data management side of using CAD for product design to be drudgery. The more product data management can be unified with design data and the processes of team workflow, the less onerous keeping the data current will seem. Only time and customer feedback will tell us if Sunglass has created a winner.
At $20 per month per user, the price of Sunglass PDM is a factor of ten less expensive than most PDM products on the market. But they offer a much richer, more nuanced approach to data management. Ease of use will be the key to early success.