Update for Archicad 24 adds increased interoperability.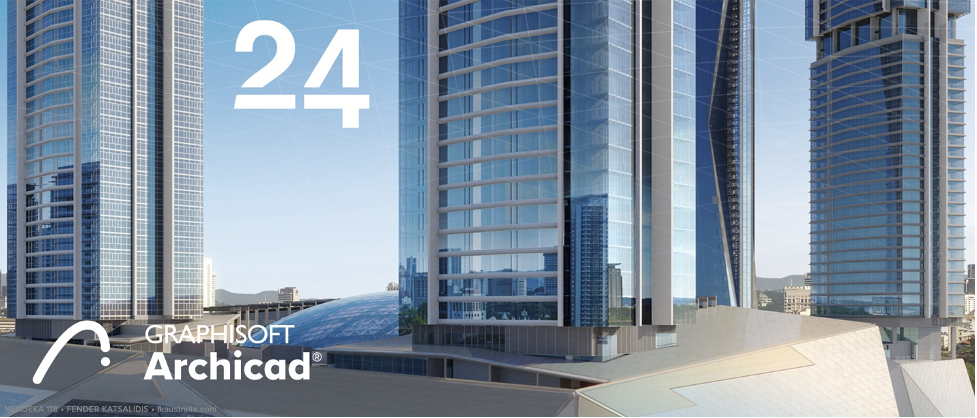 Graphisoft is committing to provide updates to their customers when the software is ready rather than waiting for full release packages as has been the practice for professional software.
Last summer, Graphisoft introduced a significant Archicad 24 release with features for increased BIM interoperability between architects and engineers and improved data exchange across Architecture, Structural, Civil, and MEP programs. Archicad also expanded its BIMcloud service to create a shared environment for realtime collaboration between all team members on a project. In that big summer announcement, the company promised several features to come and now they're rolling out.
Akos Pfemeter, Vice President Product Success for Graphisoft, said in a prepared statement, "We are committed to serving customer needs and market trends quickly by releasing continuous improvements to our software as they're ready." Pfemeter also highlighted the improvements to the Integrated Design workflow that enhances collaboration with structural engineers. He says, "the goal is to continuously add value with each release."
What's new?
Issue Management: Graphisoft introduced improved issue management capabilities in Archicad 24. The new update adds enhanced issue management and sorting with custom-defined type tags that also work with the BuildingSMART (bSI) BIM Collaboration Format (BFC).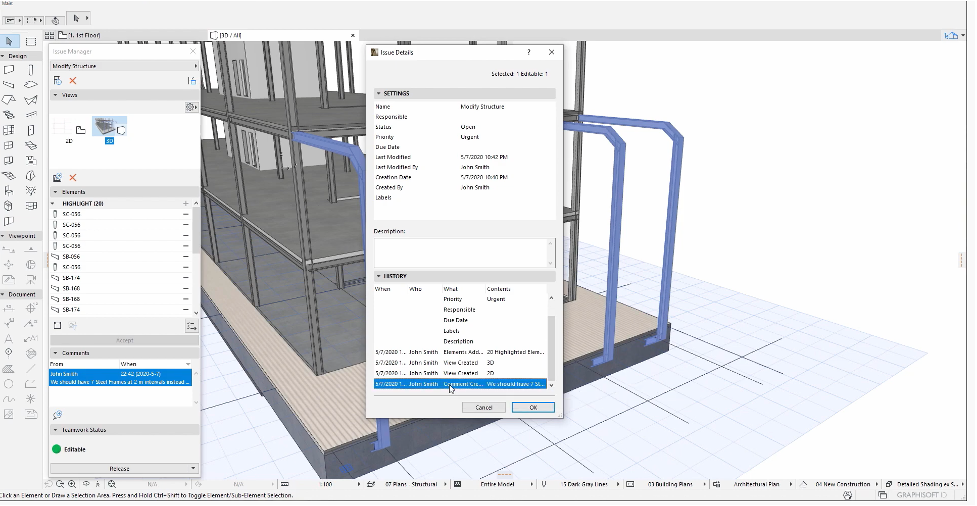 Model Compare: Archicad 24 enabled customers to compare different revisions of their models including engineer's analytical models using Archicad's Model Compare. With the latest update, Model Compare also recognizes modified opening elements. Further modifications can be assigned to an issue.
MEP Modeler: With the release of Archicad 24, the MEP Modeler is integrated with Archicad so it doesn't require an additional installation or cost. The latest update adds pre-defined bend radius and improved routing controls for a faster and easier MEP routing workflow.
Structural Analytical Model: Archicad 24 maintains the Structural Analytical Model as part of the entire Archicad model. With this update, Graphisoft has improved the structural alignment with enhanced material mapping, automatic profile mapping, and ready-to-use translators. The Structural Analytical Model can be exported to structural engineers via SAF (Structural Analytical Format) enabling a bidirectional workflow so the structural analytical data can be imported back into Archicad to update the model. Again, Issue Management provides a mechanism to compare revisions and make annotations.
Updates for add-ins
Datasmith Exporter: The Datasmith Exporter enables data to be exported with data structured in a way to be understood by the Unreal Game Engine 4 on Windows and macOS. The first use for this capability is access to Unreal's realtime rendering capability, but game engines also hold promise for added interactivity in models.
Solibri Connection: Solibri is part of the Nemetschek family. It is an analysis tool for construction that checks for BIM validation, compliance control, design process coordination, design review, analysis, and code checking. It now works directly with Archicad 24 without the need to export or import the model. Sort and track issues, thanks to full compatibility with Archicad 24's new Issue Manager.
RFA and RVT Geometry Exchange: Access manufacturers' content in your project via RFA (Revit Families). Content that will be recognized as Objects, Doors, and Windows. RVT support enables Archicad to import and export geometry and parameters. RVT files can be accessed locally or via BIMcloud using Hotlink or publish.
IFC Model Exchange with Archicad for Revit 2021: Support for the bSI IFC expands the ability to collaborate with Revit users and others.
What do we think?
Graphisoft has long been a supporter of Open BIM and open data exchange formats. It is also a member of the ODA (Open Design Alliance) and BuildingSMART (bSI). Last year, bSI and the ODA became strategic partners to take advantage of the ODA's development strength and BuildingSmart's wide acceptance to accelerate software development and improve compatibility. Autodesk has also joined the ODA with an interest in playing a more active role in bSI's IFC exchange format development. It all adds up to a much stronger BIM community.
BIM requires cross-platform compatibility and Archicad 24 is taking solid steps to give its customers more support on that front. There is considerable power in the Nemetschek family of products. In addition to Solibri, the Graphisoft group gets structural engineering intelligence from Nemetschek's SCIA family of products.
Getting updates in smaller, more manageable releases makes it much easier for customers to stay current without having to freeze their workflow and validate large releases.