One of the challenges of 3D CAD modeling can be that there's too much information for some tasks including rendering, analysis, data exchange, etc., but not enough information in terms of collaboration and communication.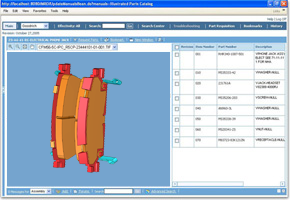 Companies and their subcontractors need to exchange data in a way that the data is informative and usable but also secure. For instance, an unscrupulous contractor wishes to "repurpose" a design or send it off to a cheaper fabricator. Also, the people working on large projects are often scattered all over the world—online tools can provide a way for people to interact with information from within and without company firewalls.
The bottom line is that companies are looking for ways to package and shared information, but the actual requirements can be  unique from company to company and group to group. Right now, most of the demand comes from companies in the manufacturing fields and they are large companies, but there are opportunities in all CAD-related industries. Furthermore, there are many small and medium sized companies facing similar problems.
Anark Corporation, of Boulder, Colorado, has developed tools to handle complex models as a result of work they had done with clients in several enterprise-level companies. Anark's Core product enables users to access data from PLM systems, file directories, ERP, SCM, MES or other enterprise systems and simplify and tessellate CAD geometry. The geometry can be annotated and specific views defined. If desired geometry can be published to common 3D CAD formats. In addition, Anark's packaged data can be published to interactive 3D PDF documents. Adobe's LiveCycle can be used to create PDF templates. Adobe LiveCycle Enterprise Suite (ES) can be used to build and deploy packaged data. Users can automate the process and create updates using their own "recipes."
Lattice Technology, headquartered in Japan, has more than a decade in the business of technical documentation. They have developed their own format for packaging data for a variety of applications. Using XVL Studio, Lattice customers can create and manage multiple mBOMs and sBOMs combined with animations for manufacture and service, tooling information, resources, even human models.
Lattice and Anark have entered into a strategic partnership to combine their technologies so customers can do more with their data. Lattice provides free XVL Players to view packaged content and now, as a result of the deal with Anark, Lattice customers can use XVL Studio to put together information in a dynamic and relevant way and use Anark's tools to publish to 3D PDF and create interactive RIAs.
What do we think?
Anark may not be well known to many in the CAD industry. The company comes from the game industry and they have built game engines and they packaged much of their know-how in the Gameface development tool for gaming interfaces. When Anark realized that its future was in the direction of CAD and information management, much of the Gameface technology went to Nvidia. The company maintained its Anark Studio tools for interactive content creation; Anark's clients in industry and manufacturing have been using it to create interactive information systems like training or service. Client demand led Anark to build Anark Core to create CAD exchange models.
The ability to exchange and work with data continues to be a battleground and an area of continuing development in the CAD world. The 3D modeling CAD programs have gradually acquired these skills, and SolidWorks latest release has improved its capabilities. For some companies, just managing the complexity of a CAD model might be enough. We think the ability to simplify models will become a requirement for CAD as rendering and analysis become more widely used.
Anark and Lattice are going beyond geometry.