The current episode of  "Jay Leno's Garage" introduces car rebuilding enthusiasts to using additive manufacturing to replace rare parts.
You'd think Jay Leno, host of The Tonight Show, would have enough of TV production when he leaves the NBC studios for home. But he's taken his passion for rebuilding old car and turned it into an online show, Jay Leno's Garage.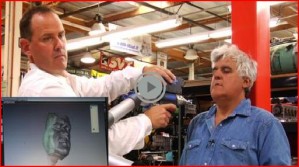 In the current edition, Leno introduces technologies that allow car rebuilding enthusiasts to build parts when they might not otherwise be available, using 3D laser scanning and 3D CAD.  Products from Faro, Autodesk, and Geomagic are featured in the video.
"I know lots of guys never even heard of this stuff," Leno said during the video. "It's just amazing what you can do with this."
Look for a cameo by Geomagic CEO Ping Fu about five minutes in.