Unveiled at Siggraph 2017, AxF integration into Substance Designer offers ability to author custom materials for design applications in latest update.
Allegorithmic has announced updates to its texture and material processing software, Substance Designer. The update includes addition of seven new noises and filters and support for X-Rite's Appearance Exchange Format (AxF), which can store a physical object's appearance and spectral properties in a single editable file. Users can produce custom materials with enhanced photorealism in Substance Designer using the AxF file.
"Opening up creative possibilities is what Substance Designer is all about," said Dr. Sébastien Deguy, Founder and CEO, Allegorithmic.
Newly added noises and filters in Substance Designer include:
Flood Fill node – users can generate height maps through black or white mask, also assign random colors to each white zone with a height variation.
Shape mapper node – duplicate and map a pattern on a shape while defining the number of repetitions and shape.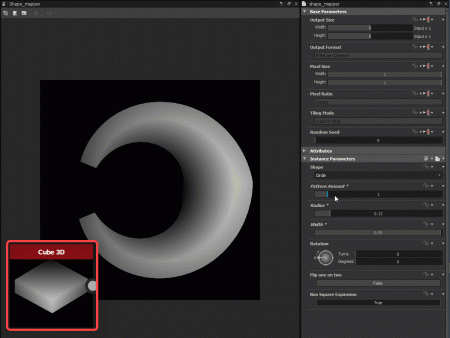 Swirl node – inputs can be easily deformed via direct controls in the 2D viewport.
Histogram select node – it is easier to isolate a height range from a height map.
Vector morph node – inputs can be deformed according to a normal map.
Cube 3D node – simulate a 3D cube to use in patterns.
Arc pavement node – design perfectly formed arch pavement shapes.
Support for non-square workflows – all nodes include a "non-square expansion" option for visualizing textures and materials in rectangular formats, suitable for tree barks. Users can also scale noise to any desired level.
New updates enable Allegorithmic to build customer requests into the user interface (UI) and user experience (UX) of Substance Designer. Users can create images of any graph using the photo icon in the graph toolbar. Any environment map can be set as the default selection through 3D viewport preferences. Users have ability to specify a "default state" file using the new project preference parameter.
Pricing and availability
Current subscribers can avail new updates at no extra cost. A free 30-day trial of Substance Designer is available now. Following the trial period, individual users can subscribe to the Indie or Pro plans. Subscriptions to Substance Indie cost $19.90/month; Pro plans cost $99.90/month. Students and teachers can request a license for free.
A webinar highlighting the new features in Substance Designer can be viewed here.
The tutorials discussing newly announced nodes are available at Allegorithmic's YouTube channel.
See related stories: