With the introduction of Acrobat 10, Adobe has fine-tuned its positioning of Acrobat to emphasize collaboration and communication in a company's business operations.  The company has also added considerable functionality to aid  process management.
First a little detour for GraphicSpeak readers. Adobe has offloaded its 3D CAD converters for Acrobat 3D PDFs to Tech Soft, which will continue development of 3D CAD converters for the leading CAD products. Third party companies will use Tech Soft's converters in products enabling engineering, manufacturing, and technical publication workflows using Acrobat. What all this means in practical terms is that with Acrobat X, Adobe is discontinuing the Acrobat Pro Extended product, which authored  3D PDFs of CAD data. Now, the company is turning that business over to specialized partners. Adobe has pledged whole-hearted support for 3D PDFs.  The Pro version of Acrobat  maintains the ability to convert AutoCAD, Visio, and Microsoft Project files to PDF.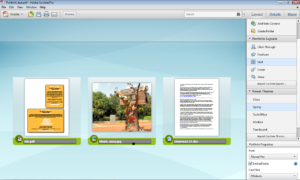 Focus is a good thing.   The Adobe Acrobat team will concentrate on what it does best — optimizing document work flows for knowledge workers. This latest version expands on the ability of Acrobat Pro to package data into interactive portfolios. Portfolios let users combine documents in their native formats or in PDF with a choice of simple and attractive interfaces. Acrobat has added new designs and templates, but users and developers can also create custom interfaces and  use their own art work and backgrounds. Users can add Flash content and, thanks to new functionality from Adobe's integration of the Captivate technology, they can link to web content and create instructional content.
The newest features cluster around collaboration. For instance, Acrobat has enhanced its form creation tools allowing users to create forms from PDFs. In Acrobat X, documents can be more easily distributed, you can request signatures, and monitor who has opened the document, filled out forms, etc. In addition, the data in forms can be collected and analyzed.
Acrobat has added new action tools to take interactivity further and enable users to add step by step processes or instructions via the Action Wizard. So, for instance, users can create documents that include information for team members, with sign-off instructions and information about who has done what with the documents. New security features support permanent removal of information or redaction and has tools to help people be sure they've found information in bookmarks, annotations, metadata and other places they might have otherwise missed. This too might be something people would want to automate with an action — for instance, tell users to read this section and redact it.
Adobe has also been extending the use of the web so that users can collaborate online and use the web to send documents, especially large documents. It has added a SendNow feature that lets users send files that are up to 100 MB for free and up to 2 GB with a subscription to Acrobat.com.
There is a lot more. Acrobat X is a major release, but sometimes it is the simplest things that make a difference. Acrobat has been a very powerful product for users willing to explore all of its capabilities. One of the best things that Adobe has done with this latest version  is to put its capabilities up front where people can easily find them. The toolbar has a Create tab on the right side, and on the left side there are three tabs: Tools, Comment, Share.  Poking around in these three tabs will help users unfamiliar with the power of Acrobat discover the most commonly used features and put Acrobat to better use. For example, I really liked the ability to create Portfolios which came in Acrobat 9, but I wouldn't always think of using it. It's much more obvious now.
Adobe suggests Acrobat be run on a system with at least a 1.32 GHz processor Windows, XP Home or better, 512 of RAM (1 GB  is recommended), and 1024×256 res. As it turns out, I'm writing this using a Netbook with a 1.6 GHz Intel Atom processor and 1 GB of RAM. It works, but it's not exactly snappy. In particular, it takes a while to create or edit Portfolios.
Continuing the drive toward Suites, Adobe will now offer a suite package for Acrobat that includes Acrobat X Pro, Adobe Presenter 7, Captivate 5, Photoshop cs5, Media Encoder, and LiveCycle Design. The suite will sell for $1199.
Acrobat X Pro is $499, Acrobat Standard is $299 and all products are scheduled to ship mid- to late November. Acrobat X will be available in three packages (all prices based on estimates released by Adobe): Acrobat X Standard ($299), Acrobat X Pro ($499), and Acrobat X Suite ($1199). All Acrobat X products are scheduled to ship within 30 days.