For the year Apple revenue is up 51%; net profit up 70%. We compare Apple's cash per share with its peers.

Apple closed its fiscal year with a bang this week, announcing record results led by soaring sales of Mac computers and iPhones. For the fiscal fourth quarter of 2010, ending September 25, 2010, revenue was $20.34 billion and net profit was $4.31 billion.
Those results came during what is traditionally the slowest consumer quarter of the year. Apple CFO Peter Oppenheimer says the company anticipates revenue in the first quarter of fiscal 2011, ending late December 2010, to be "about $23 billion." We are not alone in thinking it will be higher.
The numbers are just as exhilarating for the full fiscal year: revenue was $65.2 billion, up 51% from $42.9 billion a year earlier. Net profit for fiscal year 2010 was $14 billion, up 70% from $8.2 billion a year earlier.
Apple sold 3.89 million Macs during the last quarter, a 27% unit increase over the year-ago quarter. This is significant not only for the raw numbers, but because Apple has not significantly refreshed the Mac line for more than a year. We think the surging iPad and iPhone market is giving the Mac coattails to ride, since Macs are much better for synchronizing to the mobiles than Wintel machines. Today Apple announced two new models of MacBook Air. (See "Light and Lighter") The two new models are immediately available, and if Apple can keep up with demand, Mac sales should continue to set records.
Apple sold 14.1 million iPhones in the quarter, representing 91% unit growth over the year-ago quarter. Apple sold 9.05 million iPods during the quarter, representing an 11% unit decline from the year-ago quarter. It seems the market for music-only devices is slowing in the face of surging smart phone sales. Apple also sold 4.19 million iPads during the quarter (no year-ago comparison possible).
High Cash Per Share Figure
We report cash per share for most of the public companies we follow. It is our shorthand measurement of a company's fiscal health. The formula is (Cash on Hand + Short-terms Investments) / Shares. Apple's cash per share on September 25, 2010 was $27.97, up from $25.62 a year earlier. Compare this with the cash per share figure for the most recent fiscal quarter from leading Apple competitors in both hardware and software, as well as selected companies familiar to GraphicSpeak readers:
Apple: $27.97
Google: $76.83
Dassault Systemes: $10.97
HP: $6.49
Dell: $6.39
Autodesk: $5.72
Lenovo: $5.56
Adobe: $5.07
Oracle: $4.70
Microsoft: $4.25
PTC: $1.88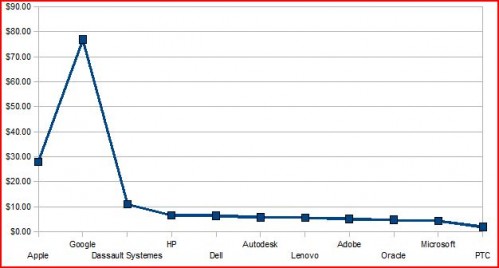 What we think
Apple is the only company we know of where the head of design reports directly to the CEO. The sexy new MacBook Air models introduced today only serve to separate Apple even further from all its competitors. Why can't more companies—especially tech companies—figure out that smart design affects the bottom line?