Access to the PRC format allows software developers a way to create open-standard 3D PDF documents.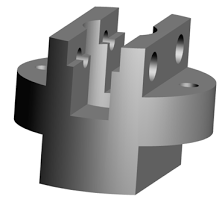 Open Design Alliance (ODA) today announced the production release of Teigha PRC, a 3D PDF component for Teigha. This component can be used to export a .dwg or .dgn file to PRC-based 3D PDF (Portable Document Format).
PRC is the first file format created to store 3D data inside PDF documents. It is optimized to store, load, and display 3D data such as geometry, assembly structures and product manufacturing information. PRC files encapsulated within PDF, an open standard, can be viewed universally which means that detailed 3D designs can be widely communicated.
According to ODA President Neil Petersen, PRC-based PDF files can be easily archived yet original 3D information will always be accessible for design reuse and revision within CAD, CAD and CAE systems. "Our members have expressed a strong interest in 3D PDF and the versatility it provides. Teigha PRC gives them an additional option for storing and sharing 3D information."
Teigha PRC is also intended for use as a stand-alone library, providing support for the entire ISO specification for PRC. The component is available to members on the ODA website: http://www.opendesign.com.
What do we think?
This release is one more proof the ODA has moved beyond just reverse engineering the .dwg drawing format, and has become an mature engineering software industry resource. Vendors have choices on how to implement support for standards like PRC for 3D PDF. Vendors who are members of the ODA have an additional choice.
Related