Adobe is making significant changes to the way it rolls out products, and is also adding new options for subscriptions. Users are likely to be both delighted and outraged, as users so often are.
Adobe is moving to a 2-year cycle for what they're calling milestone releases of the Creative Suite products. At the release event, Adobe Vice President and General Manager for Creative Suite Design and Web Dave Burkett told the audience that a 2-year cycle is not going to allow the company to keep up with the market. He said, "we cannot afford to stay out of the market for two years." Or perhaps more accurately, it will be difficult for Adobe to keep up with all the markets they're involved in these days from publishing, to video, to graphics, to web, to office, to mobile, and everything in between and all the stuff they're plotting in the basement. So, the plan is to release "significant" .5 releases every year in order to keep up.
To prove their point, Adobe announced the release of Adobe Creative Suite 5.5 with a hastily planned event in San Francisco that probably demonstrated how hard the company is scrambling to get done before the National Association of Broadcasters conference (NAB), which is taking place this week.
The journalists and analysts that got the message and found their way to Adobe's hip SF headquarters got the lowdown on new features and tools for the company's long list of Creative Suite products including Flash, Flex, InDesign, Premiere, and Photoshop, etc.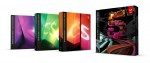 Unlike many other companies which offer point releases, the .5 release for CS 5 is not free­—upgrades start at $399 and go up to $549 for the CS5.5 Master Collection, which includes everything. That's where we're thinking a little outrage might come out. There is a benefit for users too, though. The .5 releases are compatible with 5, so the upgrade doesn't break the ability to send files between CS 5 and CS 5.5. and the new tools and features are going to help content creators move to new markets.
The release is very significant. Adobe is moving forward with tools for publishing to tablets and mobile devices, improved tools for adding interactivity to publications, and the video group has beefed up the support for GPUs in the Mercury engine. There is really a lot of new stuff in CS5.5 and we intend to report further but, if we had to pick an emphasis, we'd say it's on mobile. Adobe is looking at mobile as a platform for development as well as a target platform for content. New features let users see how their application content will behave on target platforms­ through connecting to the device via USB—a refinement of the features developed for mobile phones. And also, there are tools that enable users to create content on tablets and mobile devices.
Photoshop apps
And, if Adobe has their way, there's more to come. Adobe has introduced an SDK for Photoshop and mobile devices to enable developers to create applications for tablets and other devices that will work with Photoshop. As examples, Adobe is releasing three applications including Eazel, Lava, and Nav apps for Photoshop. All three apps send data directly to Photoshop. Eazel is a water color tool that's a lot less messy than the real thing. It enables users to mix paints and even use water color techniques such as using a dry brush and a wet brush. Creations can be sent to Photoshop for further refinement. The Lava app is a paint mixing tool that can also be used to create palettes for use in Photoshop. And, the Nav tool is essentially, a remote control tool for Photoshop—it lets uses find documents, view them, and send commands directly to Photoshop. It can be used as an extra monitor or as an input device. It doesn't take a genius to expect to see the SDK expanded beyond Photoshop and there will be plenty more tools to come from the developer community. Adobe is selling Eazel for $5, Color Lava for $3, and Nav for $2.
Subscriptions expanded
Adobe has added to the options available for subscription by offering month-to-month plans. The entire CS 5 Master Suite can be had for $129 a month and individual products are also available also available month to month. For example, Photoshop is available for $35. Adobe says these plans make sense in situations where contract employees come on board for projects or users might want to try out a version for a while before upgrading. This makes sense if users have skipped an upgrade cycle and are trying to decide if it's worth it to pay the premium to leapfrog a release too. Adobe also has yearly subscription deals and volume deals for large companies.
Pricing
The pricing for the Creative Suite 5.5 looks something like this: CS5.5 Web Premium, $1799; CS5.5 Production Premium $1699; CS5.5 Design Standard, $1299. There are other options and the individual programs are also available. The  entire Master Collection CS5.5 is available for $2500. For the complete breakdown of the creative suite products and pricing go to http://www.adobe.com/products/creativesuite/buying-guide.html
What do we think?
There are very good reasons for Adobe to move to a two year release cycle. The files for content created between major releases are not backwards compatible, and so an office has to move everyone to the release to ensure compatibility. This can be a source of some annoyance. It's not easy or wise for companies to make big shifts in software quickly and obviously individuals don't really enjoy investing in new software frequently. With a two-year cycle, Adobe can hope that fewer of its customers will choose to skip one or more releases. On the flipside, Adobe's major releases are usually significant and it's not surprising that stuff gets broken from release to release. (Admittedly though, as Adobe has made it more difficult for users to send files between major releases of the products,  it has not endeared itself to its customers.) Still, in order to stay current with the really huge changes taking place in content creation, Adobe needs to move the majority of its customer base to new release platforms, so it can build and keep moving forward.
We do expect to hear some howls about the charges for the point releases. We expect people to take long hard looks to determine whether they really need the new features or not.
Now, all that said, Adobe is helping to transform the print industry and it's poised to take advantage of the mobile explosion. We haven't even mentioned Molehill, GPU acceleration for 3D Flash, and the company's work in video is helping it gain market share. While Adobe is not making itself loved on all fronts, it is doing a lot of work to make its tools indispensable.