The cute little video cameras were all the rage a few years ago, until Cisco bought the company and put innovation on autopilot. The news today includes the layoff of 550 employees, as Cisco seeks to return to its core strengths in networking.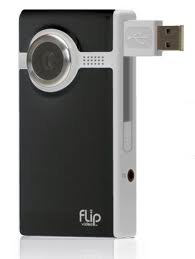 Networking giant Cisco today announced it is closing its Flip video camera division as part of a restructuring plan that will refocus the company on its core enterprise businesses. Cisco expects restructuring charges against income of about $300 million, and will lay off 550 employees.
Cisco acquired the Flip business in 2009 when it acquired Pure Digital for $590 million in stock. At the time the candy bar-shaped Flip cameras were a big hit. Cisco was looking to corner the market on video communications, and saw Flip as the way to gather in the consumer segment. But it wasn't long before cracks in the plan began to appear. Not long after the acquistion, Apple introduced the 5th generation iPod Nano with a video camera, and made a point of comparing the single-function Flip with the multi-function Nano; both were priced the same. Other cameras and MP3 players added video, and sales began to falter.
The handwriting was on the wall in February with the resignation of Jonathan Kaplan, former Pure Digital CEO and senior vice president of Cisco Consumer Products. When Cisco announced the departure, it said it would be taking its consumer business "to the next level." I guess we know what that means now.