Trimble acquires London-based Sefaira building analysis software as part of its ongoing strategy of expanding its Buildings portfolio. Sefaira's plug-ins work with SketchUp and Revit.
Trimble is adding on. The company announced the acquisition of London-based Sefaira Ltd., makers of software for design analysis, conceptualization for sustainability, and performance. Terms of the deal were not disclosed. According to Sefaira's CEO Mads Jensen Sefaira is in use at over 500 companies around the world.
Sefaira has plug-ins that currently work with Trimble SketchUp and Autodesk Revit; it will become part of Trimble's Building-Design-Construction group. Sefaira lets architects evaluate and try out different options in the conceptualization phase of a project when it's easy to make changes instead of towards the end of the design project when many ideas have become more hardened.
John Bacus, SketchUp director of product management says the acquisition fits into Trimble's ongoing plans for its Buildings group. The goal, says Bacus, is to provide tools and support across the design/build operation—everything from concept all the way through design, detail, engineering, etc. Given Trimble's breadth of operations, the company's development of its Buildings portfolio does not get a lot of attention, concedes Bacus, but the company has been steadily adding on.
SketchUp, of course, is a conceptual tool; Bacus says companies are doing more work in the conceptual stages because tools like SketchUp are available, but he says, evaluating design ideas should also be a continuing process. "I don't believe conceptual design is a discrete phase," he says. Bacus notes that Trimble sells a lot of SketchUp to big construction firms and it is used to create virtual mockups of complex details or to build a model of the site to evaluate logistics such as where to put a crane, or how to bring in big machinery.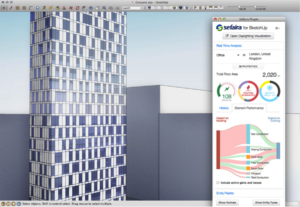 In the 21st Century researchers have come to recognize the huge impact buildings have on the environment. According to many studies by governmental bodies including United Nations Environment Program's Sustainable Buildings and Climate Initiatives, and the EIA (US Energy Information Association), buildings consume over 40% of global energy. There is a lot of work being done to try and retrofit the built environment but, there are even larger opportunities for savings in new building.
As a designer explores design options in SketchUp or Revit, Sefaira provides instant feedback on a variety of variables related to sustainability and performance including energy, water, and carbon. The tool provides insight on the financial benefits of various options early in the design process and can enable HVAC models. Safaira also includes tools allowing engineers and contractors to develop HVAC scenarios from the architectural model. As one models, Sefaira provides a companion dialog that opens up next to the model. "You just start modeling," says Bacus, "and you immediately get feedback on what performance might be."
Bacus says Trimble has been busy building the connective tissue between its various design and construction products and the products from other software developers with the technology acquired with Gehry Technology and packaged as Trimble Connect. The company doesn't seem necessarily committed to having it all—it's more interested in dominating where it is strongest including civil engineering, construction, structural design. At the same time the company has demonstrated it is not afraid of reaching a tentacle out to new territory as evidenced by its recent acquisition of Manhattan software for real estate and facilities management.
As Bacus points out, SketchUp is used by most architecture and construction companies and most CAD software supports SketchUp. The AEC world doesn't lend itself to monolithic software approaches.
For more information visit: http://sefaira.com.
Related stories: