The company navigates its way through several transitions.
Trimble reported their first-quarter results this week and said they're pleased with the results and looking forward to new growth. Compared to its peers in the market, Trimble has been a little late in the process of moving to subscriptions, and that really hasn't been a bad idea since they've seen the consequent hit to their revenues coincide with the inevitable slide due to the pandemic.
In summing up the quarter, Trimble CEO Rob Painter said, the company exceeded their expectations and delivered record ARR of $1.32 billion, a 9% year-over-year increase.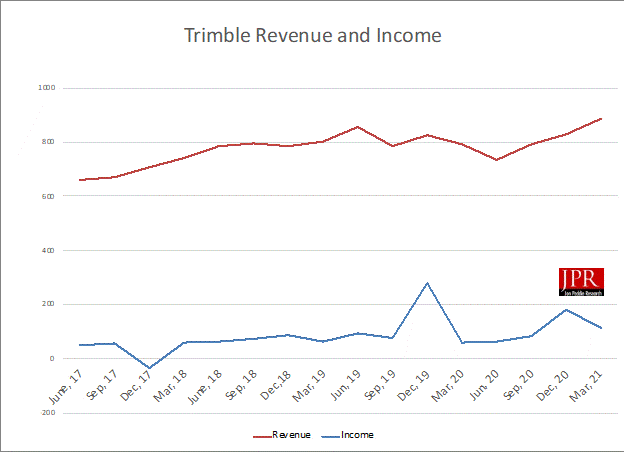 The company reported revenue of $886.5 million, a 12% increase year-over-year. Income was $114.5 million, and 85% increase year-over-year.
Painter said, "as our end markets digitize, we are able to connect the office and the field with our hardware and our software offerings in a manner that delivers productivity, quality, safety, transparency and environmental sustainability." The company's largest division, Buildings & Infrastructure, is also its fastest growing. Painter attributes its growth to the company's ability to convert their customers to the new business models. Currently, Buildings & Infrastructure, which includes hardware and software products is at 65% software. That's up compared to last year and year's before where Trimble said software was at about 60%.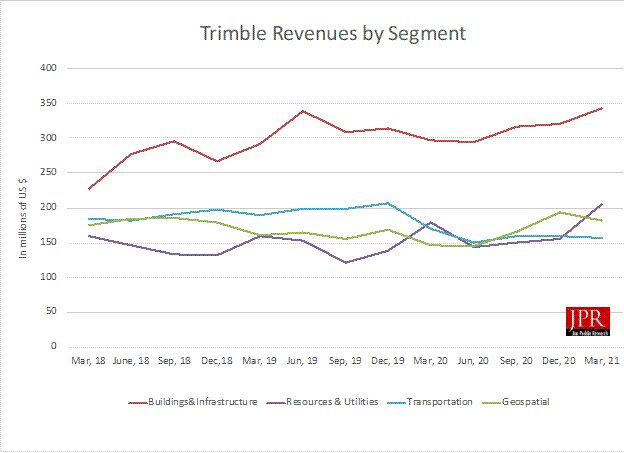 Trimble is a company in transition on a number of fronts. It has business selling hardware and software bundles and it's transitioning some of that software to subscription. For example, that's happening in Trimble's evolving transportation business. The company said it doubled its subscription revenues in transportation compared to the same quarter in 2020. In addition, the company is also transitioning its Tekla design and engineering business, its MEP products, and SketchUp (to the horror of many longtime fans).
Trimble notes that it is seeing positive business trends in all its geographic segments.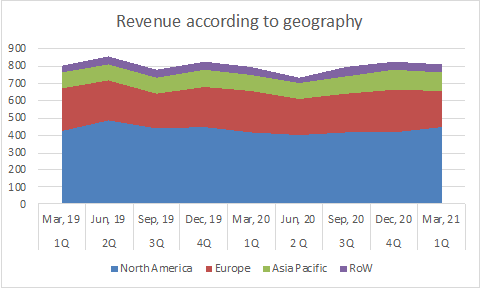 In their financial call, CEO Painter and CFO David Barnes both talked a bit about the interconnectedness of their business. Painter said that in the first quarter they're seeing broad-based strength around the world. Barnes noted that in North America, revenues were up 9%. In Europe, revenues were up 16%, but, he adds, "roughly half the Europe growth was driven by currency" with the rest coming from backlogs from 2020. He said Asia Pacific saw the strongest growth—17% year-over-year—mostly from Japan and Australia. Even the rest of the world which includes Brazil and Argentina was up 5%. Barnes noted that growth came primarily from Trimble's agriculture segment.
For a less wordy and probably more useful description of the quarter, see the attached slide Trimble has provided for their investor call.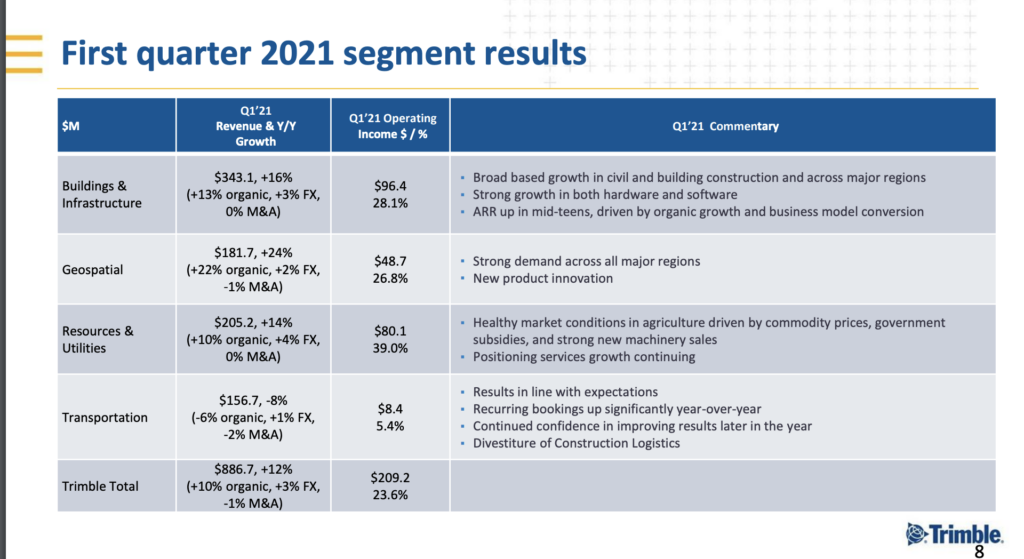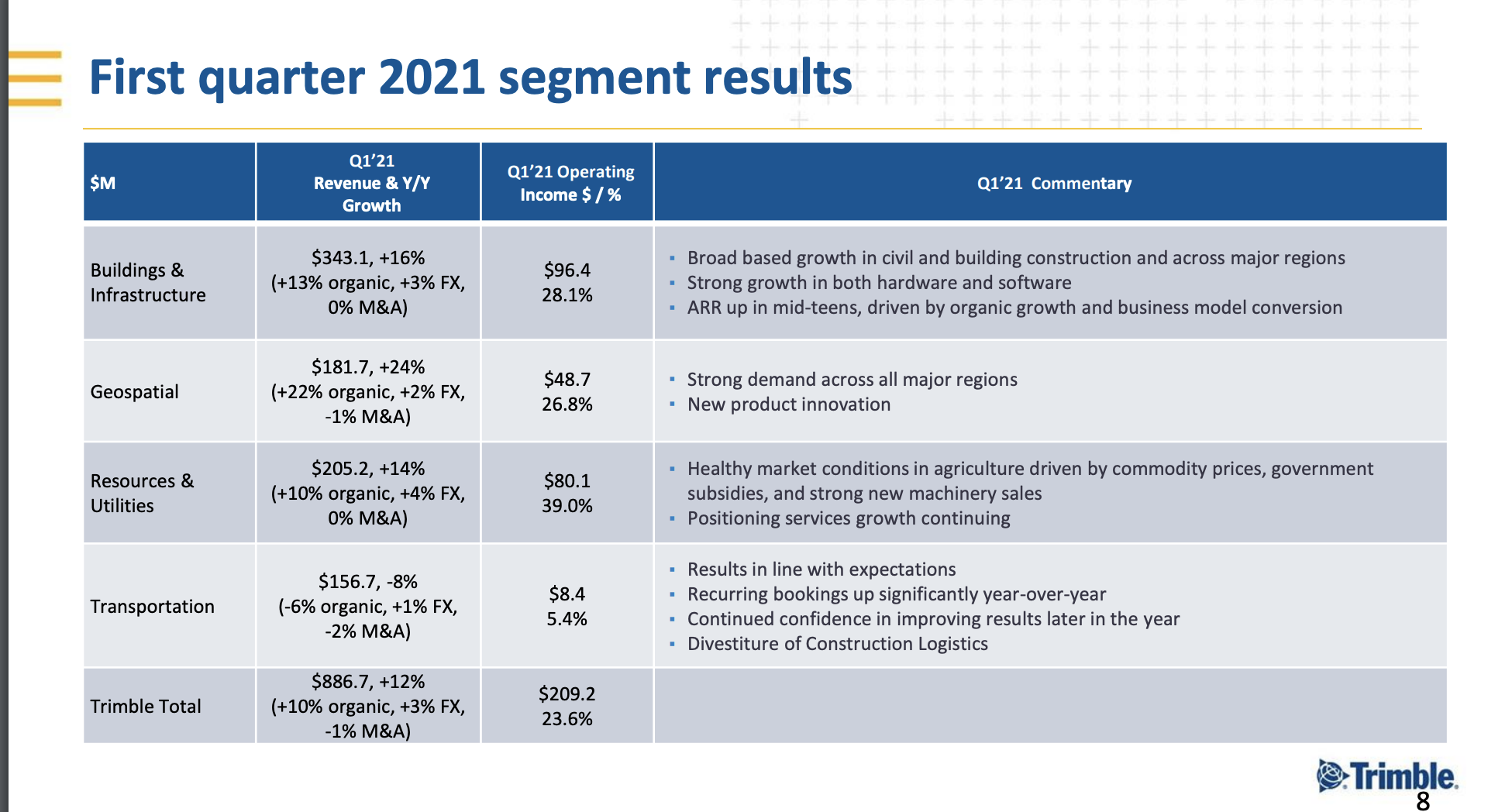 Forward looking guidance
For the year, Trimble says it's forecasting revenues between $3.4 billon and $3.5 billion, so that's a range of $100 million as Painter admitted in his call to investors. Do you know what's caused that big range? Semiconductors, or more accurately the uncertainty of semiconductor availability for their hardware products. CFO David Barnes says he's been talking to Trimble's experts and they say they've never seen anything like it, and he says "we have a very adapt operations team."
Either way, Trimble is expecting growth for 2021 as the world comes out of pandemic and "GDP momentum continues to build." The company says their forecast does not include any possible acquisitions or divestitures.
What do we think?
Strange days, right? Even the anomalies are weird. Gartner just come out with an estimate that semiconductor shortages could go on for another year. Although Tim Cook has told investors that he isn't so worried about the shortage having an effect on Apple's business. He also noted that the shortage has been affecting legacy chips. Those little boogers are in everything, including mobile devices, CMOS image and touch sensors, fingerprint sensors, and very definitely cars. What we're gradually learning is that the shortage is due to a lot of events including the trade war with China (another be careful what you wish for lesson), increasing demand as technology transitions like 5G roll in, unforeseen disaster including the storms in Texas that forced plants to close, and the pandemic of course. In addition, the Motley Fool notes that memory prices have been falling even before the festivities so manufacturers cut back on supply. Finally, let's not forget the enthusiasm for cryptocurrencies, which continues along its own unpredictable path.
And for all that, I hadn't really thought about Trimble falling victim to the semiconductor crises and that's a mistake even if Trimble didn't have any hardware products of its own. No matter who sells them semiconductors make everything go round—cars on the highway, smart buildings and cities, factories—smart or otherwise, and so on.