New Trimble Connect offers a cloud-based platform for strategic collaboration in the construction and operation of buildings.
By Kathleen Maher
Back in 2012, when Trimble ac­quired SketchUp, the company said they were setting out to redefine the construction industry. There were probably some people who said, Trimble? At that time, the company was a giant in survey, navigation, and GPS technologies and they had signifi­cant market penetration in construc­tion, agriculture, and mining. They also had a strategic relationship as well as financial position with Finnish CAD company Tekla. But most industry ob­servers did not think of Trimble as a company involved in the design phases of its related industries. The company has been adding on capabilities at a rapid pace including additional reality capture technologies, the complete ac­quisition of Tekla, and this year it has added on with the acquisition of Geary Technologies. The company has contin­ued its investment in data capture and survey, and Geary has given Trimble core BIM capabilities. With revenues of over $2.2 billion last year, Trimble is a head-to-head contender with the likes of Autodesk, Dassault, Siemens PLM, and PTC, whether those companies want to admit it or not. One of its major com­petitors, Bentley Systems, has opted to forge cooperative relationships, and the two companies have highly complemen­tary product lines.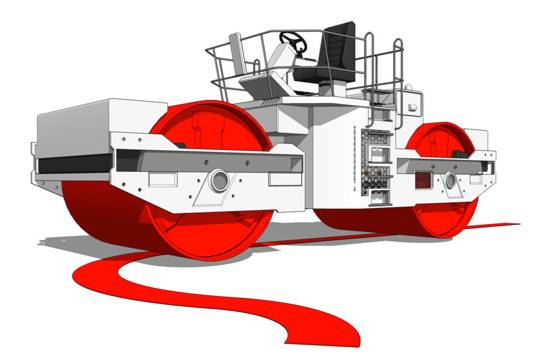 Trimble Connect for the cloud
At Trimble's Dimensions conference held in November, Trimble announced Trimble Connect, a cloud-based col­laboration platform for teams in de­sign, construction, and operation. It also announced an expanded alliance with Bentley Systems to develop tools for better Construction Modeling. Trimble Connect has been built on the GTeam software technology that came with the Geary acquisition. GTeam is a cloud-based collaboration tool that includes version control, tracking, document management, and social networking to enable efficient BIM work and informa­tion flows. Trimble Connect adds work­flow process tools and collaboration and enables teams to share, analyze, and manage project data. It's a hub for the Trimble's Buildings portfolio, and because it is cloud based, team members can access data from wherever they are. Connect centralizes a project's digital assets. Trimble Connect is designed to improve coordination between offices and teams and enables team leaders to track progress.
Assembling the Buildings Portfolio
Trimble Connect will be the hub for the company's updated Buildings Port­folio for Design-Build-Operate (DBO). The applications in the portfolio are integrated, allowing designers, builders, and owner/occupiers to work together throughout the process with seamless transfer between the applications. Trim­ble says the new Portfolio provides bet­ter coordination between groups, pro­vides centralized data stores across a project portfolio, and enables audit and reporting.
At its Dimensions con­ference, Trimble introduced the revamped Portfolio with connected products including:
SketchUp Pro: A profes­sional version of SketchUp for creating, updating, and communicating designs in 3D
Tekla Structures: A BIM tool for the creation and management of construct­ible 3D models from con­ceptual design to material fabrication, erection, and site management
Tekla BIMsight: A 3D en­vironment tool designed to be easy to use for construc­tion project collaboration to enable issues to be iden­tified and solved in the design phase
Vico Office: Virtual construction soft­ware, augmenting 3D models with con­structibility analysis and coordination, location-based quantity takeoff, 4D (time) scheduling and production con­trol, and 5D (cost) estimating
Prolog: Project-management and cost-control software for general con­tractors and construction managers
Trimble Field Link: Software for the management of layout tasks, includ­ing visualization, navigation, rendering, and import of building models, as well as enhanced data sharing via Bentley iModels
MEP Designer for SketchUp: A new platform allowing mechanical, electrical, and plumbing (MEP) contractors to quickly and easily migrate from 2D to 3D work environments.
Manhattan Atrium EAM. A power­ful enterprise asset management (EAM) system from recently acquired Manhat­tan Software that addresses both strate­gic and operational demands, including capital asset investment planning, sur­vey and assessments, property/estates management, and facilities management.
Trimble Connect will also be used for the company's Heavy Civil Con­struction Division. The first product supporting Connect will be the Business Center—HCE office software for con­structible models and site and corridor takeoffs. Trimble Connect will enable data exchange among the construction contractor, engineers, and general con­tractors through Business Center. As with the other Connected products, the 3D Business Center model is maintained in the Connect repository, enabling col­laboration, and it can be used for take­offs, bids, data preparation, and field operations. The model can also be used for site positioning, machine control, and as-built drawings and thus be in­cluded for review and approvals.
SketchUp 2015 arrives as a major update
Trimble's new Connections release of products includes an update for Sketch­Up with the release of SketchUp 2015. The company says this is the second up­date for SketchUp this year. The prod­uct has gotten performance improve­ments, and now has 64-bit support for its Pro version. The company has beefed up its Ruby API for customization and has added professional interoperability tools with support for Industry Founda­tion Classes (IFC) for the Pro version. And, with Trimble's Connections release of products, SketchUp is part of a col­laborative suite of the company's prod­ucts for "architects, engineers, design and construction professionals, as well as members of the global maker com­munity," says Trimble. The company claims 30 million new signups over the past year.
New to SketchUp 2015:
64-bit support: SketchUp Pro now supports 64-bit Windows and Mac
Cross-platform support for Pro licenses
Cloud-based license management and checkout capabilities for network li­censes
IFC import and export: SketchUp Pro enables IFC support, meaning users can apply industry-standard types to a model and ex­port it in a format that is understood by other BIM tools. The assigned indus­try types stay with the model
The Ruby API has gotten new features for developers so they can create Sketch­Up extensions for layers, classifications, and section cuts
Expanded 3D Ware­house: The SketchUp warehouse has over 2.5 million models. Trimble says they have reorganized the warehouse so people can find the models they need faster and they've added a "Like" but­ton, which can further improve the sort process
Faster Core: Models render faster with core modeling performance im­provements including faster explode, intersect, and Fast Styles.
New modeling tools include a three-point arc tool that gives modelers more options for creating rounded elements, bulges, bumps, etc., and a rotated rectangle tool that allows constraint of a default axis. SketchUp has also gotten an improved annota­tion tool that beefs up the Layout 2D tool but also allows precise placement for dimensions and information on 3D models.
The influence of Trimble is clearly being felt in the new SketchUp 2015. The SketchUp Pro family is getting a version of MEP (mechanical, elec­trical, and plumbing) workflows with the MEP Designer for SketchUp plat­form, which comes out in December, and new support for calibrated pan­orama photos, which can be loaded into SketchUp 2015 from the Trimble V10 Imaging Rover for modeling as-built conditions. Priced at just under $600, SketchUp Pro is more professional than ever. At the same time, Trimble has not neglected the free Make version of SketchUp, giving the company an at­tractive gateway to its Pro option and the expanding Trimble universe.