The aggressive acquirer launches a fifth growth initiative, content-to-print. 3D Systems now owns all the essential parts for a manufacturing digital reality portfolio.
3D Systems continued on its aggressive acquisition path today, buying South Korean software vendor Rapidform, which makes 3D scan-to-CAD, reverse engineering, and inspection software for manufacturing. 3D Systems paid $35 million in cash and expects Rapidform will contribute $15 million to company revenue in 2013.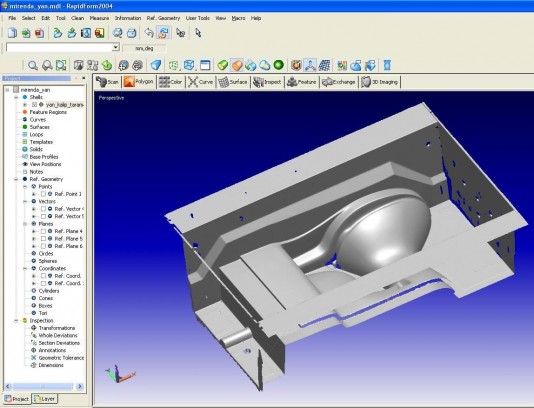 Rapidform has more than 600 industrial customers, and is especially strong in South Korea and Japan. 3D Systems gains more than 100 new resellers, with only a handful already selling a 3D printing product. Existing customers include Audi, Ford, Hyundai, Toyota, Rolls Royce, Volkswagen, Hitachi, Panasonic, Oakley, Samsung, Sony, Alcoa, and Bentley.
A fifth growth path
Until now 3D Systems has used its cash and revolving credit to acquire companies in pursuit of four specific growth initiatives:
Accelerate 3D printer penetration
Grow healthcare solutions
Expand QuickParts services globally
Build significant consumer presence.
In announcing today's purchase of Rapidform, 3D Systems CEO Abe Reichental says the company is now opening a fifth growth initiative, "to create a seamless digital design, scan, and print platform" to "democratize and deliver integrated 3D content-to-print solutions."
Reichental says the company plans to use the Rapidform acquisition as a "cornerstone of our initiative" to assemble "a comprehensive suite of proprietary tools that allow customers to design, manufacture, and inspect, using our new ideation to production platform. We are building CAM-to-CAD, CAD-to-print, and print-to-validation integration. It will spur increased 3D printing throughout the entire design and manufacturing lifecycle."
Our take
3D scanning software for manufacturing is a crowded market, including such well-known names as Geomagic, Faro, Konica Minolta, and Creaform. Reichental says Rapidform stands apart with its unique technology to take scan data directly into parametric CAD. He also cites Rapidform's inspection technology as foundational to his company's plans to "push ideation-to-production further, to the production floor." It is an ambitious goal, but at least somebody is looking at the industry road map and thinking outside the box of their own little discipline.
The general consensus holds that the combined market for manufacturing software and 3D printing hardware and services will quickly be a $30 billion opportunity. 3D Systems believes they need to beef up all five of their growth initiatives to become both a major player in 3D printing products and services and also in the larger market for manufacturing software, which they believe will in turn drive demand for 3D printing.
Related
Rapidform revenue up 38% in first quarter