Registration is now open for the conference that will run 28 July–1 August in Los Angeles.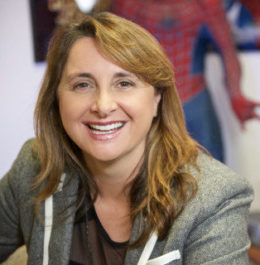 Siggraph 2019 has announced Marvel Studios' Executive Vice President of Production Victoria Alonso as its keynote speaker. Alonzo is the recipient of numerous awards and honors, including the 2015 New York Women in Film & Television Muse Award for Outstanding Vision and Achievement, the Advanced Imaging Society's first female Harold Lloyd Award recipient, and the first woman to receive the Visionary Award at the Visual Effects Society's VES Awards.
Siggraph will be taking place in Los Angeles, 28 July–1 August, and registration is now open. Siggraph continues to attract imaginative and creative people and ideas. In its 46th year, the conference looks to amp up the forthcoming generation beyond boundaries of gender, race, and ability.
Siggraph 2019 Conference Chair Mikki Rose is excited about Victoria Alonso's keynote at the conference, citing that Alonso is the ultimate symbol of where the computer graphics industry is headed, and her outlook reflects the future Rose envisions for computer graphics and for Siggraph.
A native of Buenos Aires, Victoria Alonso started her career journey in visual effects, including a four-year stint at Digital Domain. Alonso's film credits include productions such as Ridley Scott's "Kingdom of Heaven," Tim Burton's "Big Fish," Andrew Adamson's "Shrek," and numerous Marvel titles — "Iron Man," "Iron Man 2," "Thor," "Captain America: The First Avenger," "Iron Man 3," "Captain America: The Winter Soldier," "Captain America: Civil War," "Thor: The Dark World," "Avengers: Age of Ultron," "Ant-Man," "Guardians of the Galaxy," "Doctor Strange," "Guardians of the Galaxy Vol. 2," "Spider-Man: Homecoming," "Thor: Ragnarok," "Black Panther," "Avengers: Infinity War," "Ant-Man and The Wasp," and, most recently, "Captain Marvel."
Alonso is also looking forward to the candid conversation about the state of visual effects, diversity, and representation in the industry. She will be discussing successful storytelling in the digital age, challenges and importance of encouraging participation in the industries by people with diverse backgrounds and experiences, advice for embracing the future of interactive technology. She said that at Marvel Studios, they have been pushing boundaries with storytelling and visual effects. Siggraph gives the opportunity to share their work and help shape the future of filmmaking.