Design of new machines shows influence of the WFH year.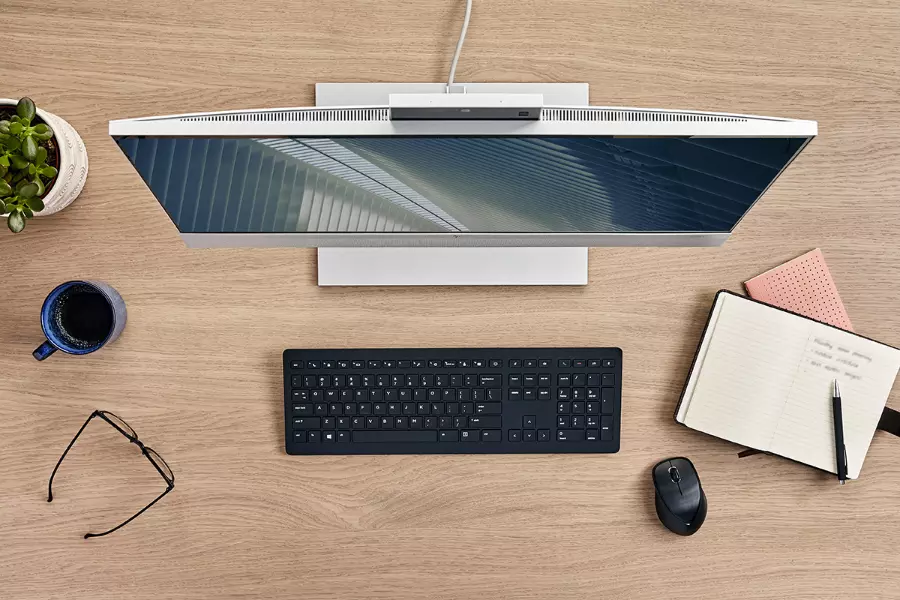 The spring refresh continues as PC companies show new designs with an awareness of the changing boundaries between work and life and IT. The most recent addition to the lineup is HP's new EliteOne 800 All-in-One (AiO). This one is designed for home or office, but its snazzy features such as presence awareness, an optional 5MP camera face tracking, AI-based noise reduction, and improved security features are all business. HP estimates that 32% of workers will work from home "in the foreseeable future," and 26% will split their time between home and office and wherever they are, workers will have a need to stay in touch when communicating with remote conferencing tools.
In addition to the EliteOne 800 G8 AiO, HP is also introducing a new EliteDesk 800 G8 mini, an EliteDesk 800 G8 small form factor business PC, and an Elite Desk 800 G8 Tower Business PC. All the machines are coming in May. Checking the HP website reveals that the machines are not yet available as of this writing, but we're still in early May.
The optional dual-facing 5MP camera, with intelligent face-framing, finds users and actively frames them as they move to allow free movement during virtual calls. HP says the camera has a wide field of view that provides a more flattering view. Auto scene detection adjusts lighting.
Minimize potential background sounds with premium audio features. AI-based noise reduction filters not only outbound noise but inbound noise as well. This is the first HP PC with an enhanced experience and can filter over 350 million types of voices and noises. HP Dynamic Voice Leveling automatically adjusts the volume on the voice to maintain consistent volume whether near or far from the microphone. HP Sound Calibration tunes audio for an immersive sound experience and HP Dynamic Audio uses AI-based technology to tune audio to speech, music, and movies while suppressing background noise.
Work and be at their best. Users can optimize how they work in shared spaces. HP Run Quiet Design finely adjusts fans to keep systems running quiet and cool. HP Modern Standby delivers a ready-to-work experience by downloading emails, receiving network events, and making other important updates while the PC  is asleep and connected to a network. Additionally, HP Presence Aware helps keep data secure by locking when users step away and waking the PC when they come back.
Support features for IT enables machines to be set up easily and consistently. The HP Manageability Integration Kit allows IT to better manage the devices once deployed. HP Patch Assistant enables automation of software updates based on a schedule set by IT, with no end-user dependency.
New EliteDesks too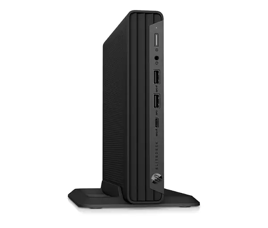 Also on the menu are new entries in the EliteDesk 800 G8 line of desktop machines including:
TheHP EliteDesk 800 G8 Desktop Mini Business PC, which HP describes as "the world's smallest and most powerful Ultra Small Form factor (USFF) business PC" that is powerful enough for part-time creatives.
The HP EliteDesk 800 G8 Small Form Factor Business PC.
The HP EliteDesk 800 G8 Tower Business PC, which is high performance and designed to meet "intense graphics demand." As a tower machine, this EliteDesk is also expandable.
What do we think?
The new features in HP's new AiO are very relevant for workers today. I think one of the features people will find themselves appreciating most is the ability to adjust lighting for video calls and I love the idea of a face-tracking camera so users can get up and walk around.
So, about those ocean-bound plastics. In 2019, HP introduced ocean-bound plastics in their designs. Ocean-bound plastics programs have been inspired by a paper and study by Jana B. Jambeck and her colleagues from the University of Georgia. In their paper, the researchers said a substantial amount of the plastics in the sea come from plastic waste generated from within 50 km of the ocean. The waste is designated as ocean-bound plastic and identifying it and concentrating on the way it is disposed of can have a positive impact on the amount of plastic going into the sea. Jambeck's team based their calculations on solid waste, population density, and economic status to estimate the mass of land-based plastic entering the ocean. One way of dealing with ocean-based plastic is reusing it in new products like consumer electronics and computers, etc. The use of ocean-bound plastics is not necessarily huge. HP's speaker enclosures are using 5% ocean-bound plastic but it is a way of highlighting the problem and also taking a step to improving it.
I tell you all this because as I was writing I realized I didn't actually know what ocean-bound really meant or the significance and I had to look it up.