Solidworks makes solid gains, industrial innovation lags.
Dassault Systèmes has reported its first quarter of 2021 and said they've exceeded its guidance and are looking forward to the future. During the quarter, the company made gains on their goals for 2025, as laid out at their Capital Market Day last November 2020.
Dassault CEO Bernard Charlès described the company's first-quarter as "a very solid start on 2021." He said, "our software revenue increased 10%, EPS grew 20% on recurring software revenue represented 81% of total revenue. The 2021 Q1 results demonstrate the momentum on a strong growth outlook for Life Science." Charlès also said the company's manufacturing products in mainstream innovation, which includes Solidworks and Centric PLM. The company's Industrial Innovation business, which includes Catia and Enovia, the company's largest segment and their slowest growing segment. It held steady in 2021, but Charlès highlighted company gains in Asia especially in transportation and mobility. Of the automotive sector in general, Charlès said, "we are starting to see a recovery with the automotive suppliers and some acceleration of investment by our brands as they advance their mobility initiatives."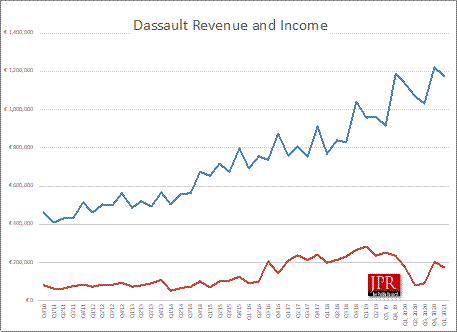 Dassault lists the following highlights for their first-quarter results:
IFRS EPS of €0.66, up 54% and non-IFRS EPS of €1.14, up 20%, 28% in constant currencies
On an organic basis, non-IFRS software revenue up 10%
Non-IFRS licenses and other software revenue up 25%, on upside principally from China, North America, and Northern Europe
Non-IFRS software revenue: Mainstream Innovation up 20% on Solidworks and Centric PLM; Life Sciences up 16% with solid Medidata performance; Industrial Innovation up 4%
Cash flow from operations up 40% to €642 million
2021 Non-IFRS objectives: Reaffirms revenue up 9–10%; Upgrades EPS to €4.24–€4.28, up 17–18% in constant currencies
Since the acquisition of Medidata, which closed in June 2019, Dassault has successfully worked down its debt. The company says it has decreased by €559 million to €1.48 billion, compared to €2.04 in December 2020. As the company has worked down that debt, they've been talking more about the possibility of another significant acquisition, but Charlès has not said anything specific on that front.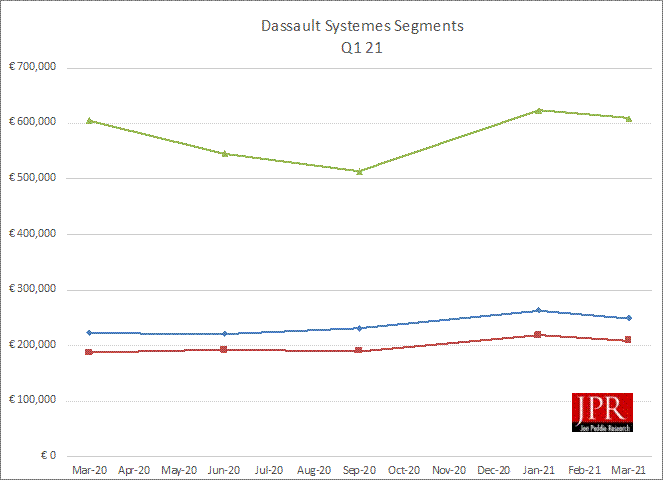 Dassault is bringing its PLM business up to the cloud where it will interoperate across the PLM brands as 3DExperience. Dassault says Industrial Innovation products represent 57% of the company's total software revenue for the first quarter.
For the quarter, the growth in Industrial Innovation came in Simulia and Netvibes data intelligence. In addition, the company saw sales coming from Transportation & Mobility, which they say increased 14% (non-IFRS) in Q1 with large transactions from global manufacturers and start-ups. In addition, Dassault says it sees improvement in the Transportation and Mobility supply network.
Life Sciences software revenue was €209 million in the first quarter and represented 20% of total software revenue (IFRS and non-IFRS). Dassault executives were gratified to see a synergy between their product divisions. They had deals for Simulia coming from Life Sciences customers, and Solidworks and Simulia saw deals with Medical Device companies.
Mainstream Innovation software revenue came in at €249 million and represents 23% of Dassault's total software revenue. The number of Solidworks customers increased 22% in the quarter. Centric PLM also grew thanks primarily to its expansion in China. The company says Central increased its customers in Home & Lifestyle and saw "early traction" in Food & Beverage.
Forecasts
Dassault says it expects to see more growth for the second quarter and estimates revenues of €1.130 to €1.155 billion.  For the year, Dassault is staying relatively conservative compared to competitors. The company is predicting an increase of 9–10% from €4.715 billion to €4.765 billion.
The company also said that they are ramping up hiring and increasing their spending on R&D as they see the pandemic receding.
During the talk with investors, Charlès committed to cloud workflows, he also said the company is deferring to their customers. He said, "with respect to the cloud, with our two diversification sectors we prioritized cloud on full manufacturing, we have a full cloud portfolio. But we go at the pace of our clients …"
What do we think?
Dassault is being cautious and planning more for the long term. In his comments about the mid-year growth plan shared by Dassault towards the end of 2020, Charlès said:
The Manufacturing sector is accelerating its sustainable innovation initiatives, creating demand for data modeling and simulation, a sweet spot for Dassault Systèmes. For example, we are working with clients to redefine the future of mobility, enabling an end-to-end perspective of the customer experience from conception to engineering to new mobility services. 'Our industry solutions are essential for consumer-centric clients to enable them to be the first to market responding to changing consumer behaviors'" behaviors" across many aspects of their lives. In the Life Sciences & Healthcare sector, we are working with industry participants to move toward a patient-centric perspective. Finally, we are advancing initiatives with multiple industries, government entities, and new emerging disruptors to reinvent Infrastructure & Cities to create a sustainable future.
The company's goals are oriented towards 2025. The company says its goal is for 3DExperience revenues to be 75% of its software revenue by 2025. But, he said, "you remember that the cloud adoption is an opportunity for us to bring a new category of users and a new category of usages, not to substitute our existing footprint."
The company sees significant changes ahead, but until the actual shape of change becomes clearer, Dassault will try and have it both ways with their customers.