Lenovo, Acer, and Asus will all launch their first cloud-gaming Chromebooks this month.

There have been rumors and whispers, especially last week, about development of Chromebooks created with cloud gaming in mind. Well, it's speculation no more. Yesterday, October 11, Lenovo, Acer, and Asus confirmed that their offerings—the Lenovo IdeaPad Gaming Chromebook, the Acer Chromebook 516 GW, and the Asus Vie CX55 Flip—will be available for order this month.
The announcements came after Google heralded the news of the world's first three laptops built for cloud gaming on the same day. Any way you look at it, the announcements are exciting, as the offerings give gamers an inexpensive on-ramp to premium gameplay and make games more accessible by enabling users to stream full PC and console titles.
Because the trio are cloud-powered devices, game installs are no longer needed, nor are software updates, which occur automatically. Moreover, through the cloud, users are ensured access to the latest graphics technology without having to open their wallets. These gaming Chromebooks are running the latest ChromeOS, a Linux-based operating system designed by Google that uses the Google Chrome Web browser as its principal UI. Exclusive to Chromebooks is the Everything Button, which enables access to full PC and console games in the cloud, and makes it easy to search, click, and play games across platforms. Users can even pin their favorites titles to the task bar for fast access in the future.
In a nutshell, these gaming Chromebooks set the stage for a new era of Chromebooks with the focus squarely on gaming due to an ideal collection of gaming hardware, game-streaming support, and easy access to popular game titles from the leading cloud gaming platforms including Nvidia GeForce NOW, Xbox Cloud Gaming (beta), and Amazon Luna.
In short, they simplify the process for those who just want to play games, whether they are casual or hard-core gamers.
Lenovo IdeaPad Gaming Chromebook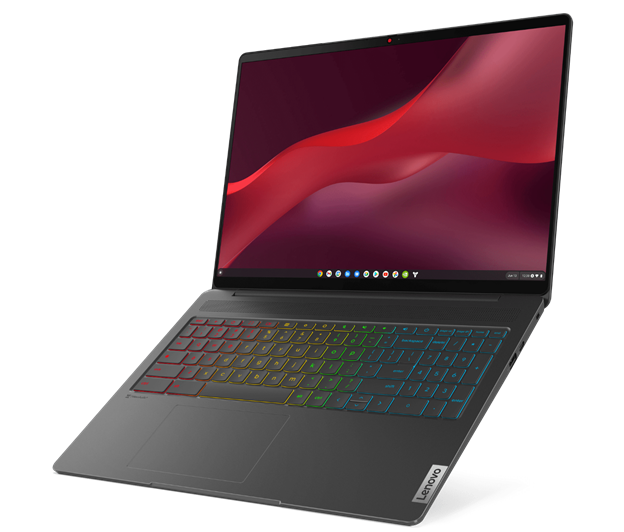 Lenovo has made a name for itself in the gaming world for its laptops and desktops specifically geared to gamers, whether for on-the-go performance or for more stationary users. What had been rumor just days ago has become fact. The company this month will release the 16-inch IdeaPad Gaming Chromebook designed for gaming enthusiasts of varying skill levels, becoming Lenovo's first cloud gaming laptop.
According to Lenovo, the IdeaPad Gaming Chromebook delivers more power and faster speeds than its previous IdeaPads, along with stunning visuals. So, what makes it a "gaming" Chromebook? Simply put, the capabilities, including support for graphically demanding Triple-A games and MOBA (multiplayer online battle arena) games.
Moreover, Lenovo says the device supports or meets the required specifications for several leading cloud gaming platforms,
These capabilities result from the performance-driven features such as a 16-inch, 2560 × 1600-resolution WQXGA display with a refresh rate of 120 Hz. It offers two types of Intel Core CPUs: Intel Core i3-1215U or i5-1235U, as well as 8GB of RAM. The device also comes with a full-size, four-zone color RGB backlit keyboard that offers more responsive and intuitive typing, along with four speakers—all of which will immerse players in the sights and sounds of their games.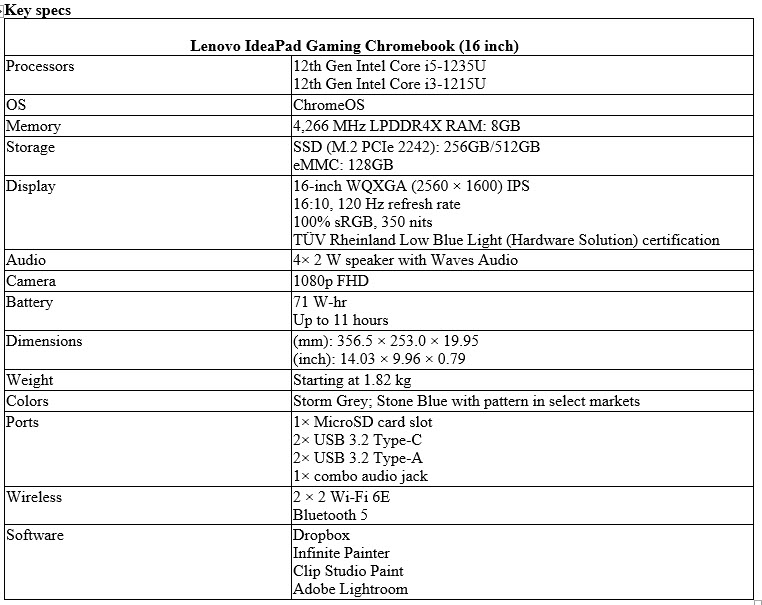 While built to elevate the gaming experience, the IdeaPad Gaming Chromebook is also able to handle home, school, and business computing for on-the-go users. It is lightweight (just over 4 pounds) and portable, with a battery life of up to 11 hours. The device also has an FHD webcam with integrated privacy shutter.
The Lenovo IdeaPad Gaming Chromebook will be available this month starting at $599.
Acer Chromebook 516 GE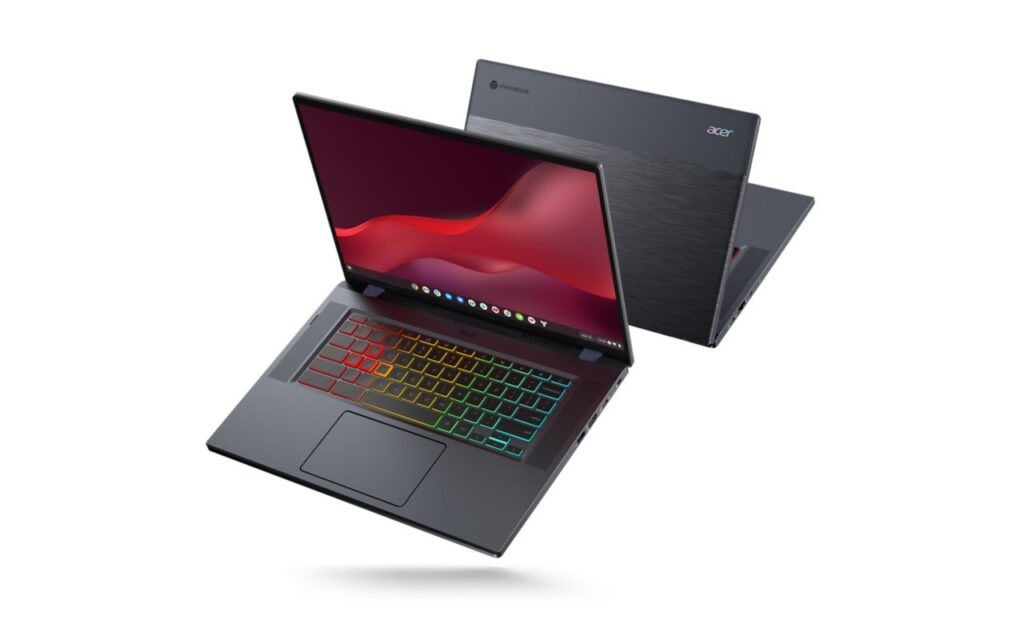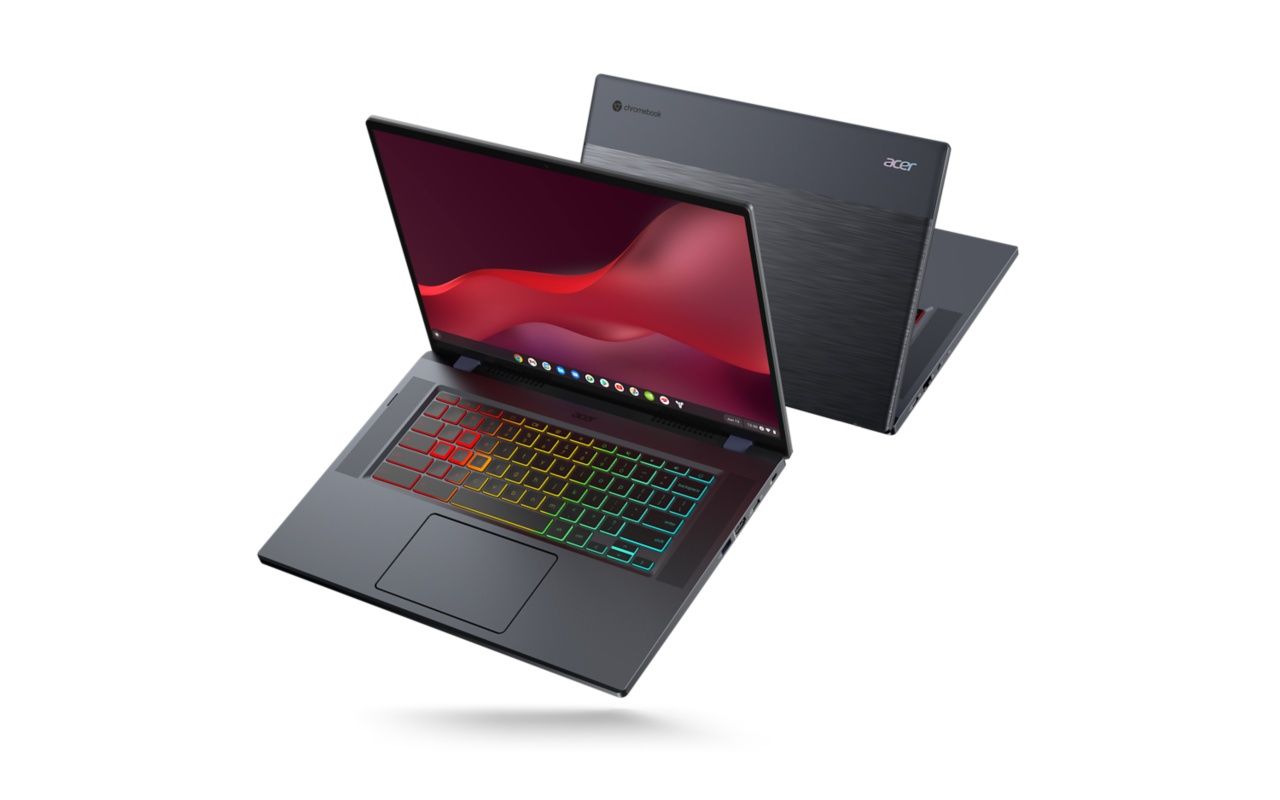 Acer's first Chromebook optimized for cloud gaming, the Chromebook 516 GE is designed for this new era of cloud gaming.
The Acer Chromebook 516 GE is powered by up to 12th Gen Intel Core i7 P series processors (the first shipping model will have Core i5–1240p). It also utilizes 16GB LPDDR4X RAM and up to 256GB PCIe NVMe SSD storage. Every type of user, including gamers, likes stunning imagery; Acer delivers that in aces with a fast, ultra-smooth 120 Hz high-res WQXGA (2560 × 1600) IPS display, whose fast refresh rate enables high FPS gameplay.
Like Lenovo's offering, the Acer Chromebook sports an RGB backlit keyboard with anti-ghosting technology that registers fast and accurate keyboard inputs and combinations. It also contains advanced DTS audio.
The Acer Chromebook 516 GE laptop will be available this month in the US and carries a starting price of $649.99.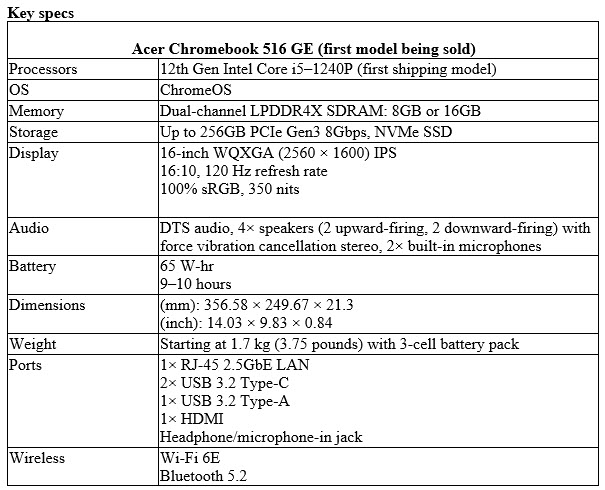 Asus Chromebook Vibe CX55 Flip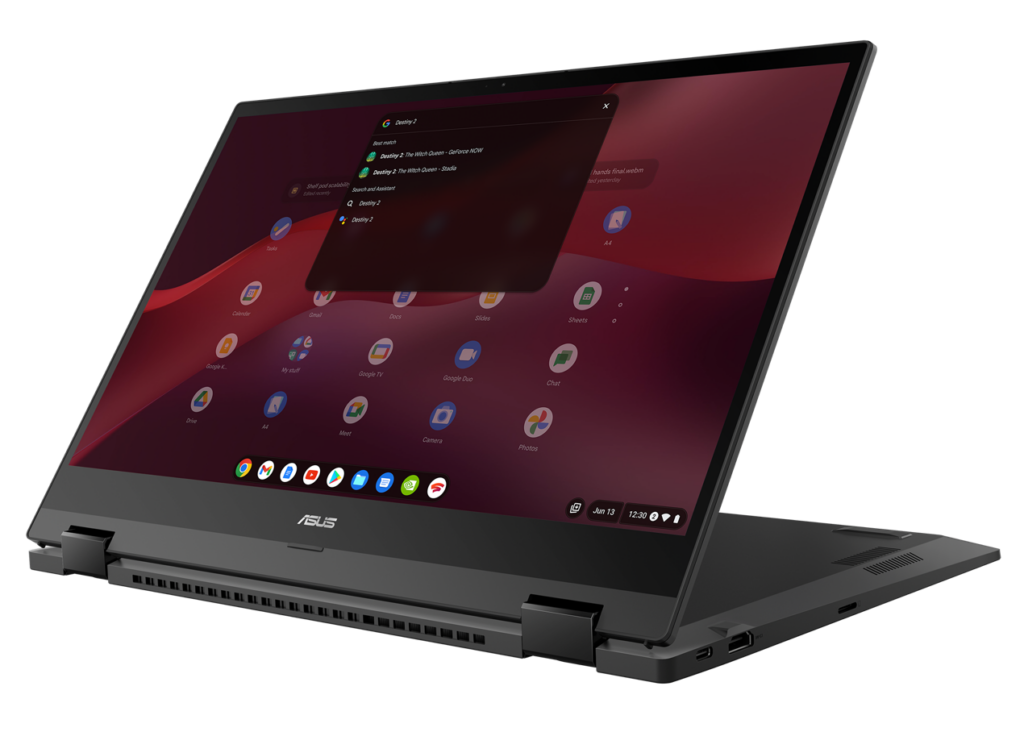 The third entry into the Chromebook cloud gaming market is the 2-in-1 Asus Chromebook Vibe CX55 Flip. It has an Intel Core i5+ processor, 8GB+ RAM, a 144 Hz FHD touchscreen display, anti-ghosting keyboard, and more. Three noticeable differences of the Asus machine compared to the competition is in the processor (11th Gen Core), screen size (15.6 inches), and the non-backlit keyboard.
This gaming Chromebook, like the others, will be available in October; it will be priced at $699.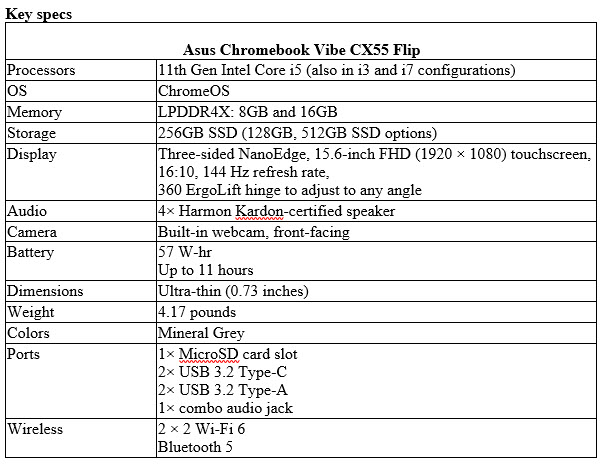 For a limited time, Google will provide a three-month free trial to Amazon Luna+ and Nvidia GeForce NOW's RTX3080 tier with the purchase of the any of these three Chromebooks.