Several new features cross product lines and even company lines.
The Foundry is widely updating its tools with a focus on interoperability. In the update for Foundry's central compositing tool, there are the needs for how the company has integrated its key products. Nuke 13.1 has an improved 3D user experience, new UnrealReader node, and timeline upgrades. The company has also improved 3D controls and added new controls for streamlining the node graph.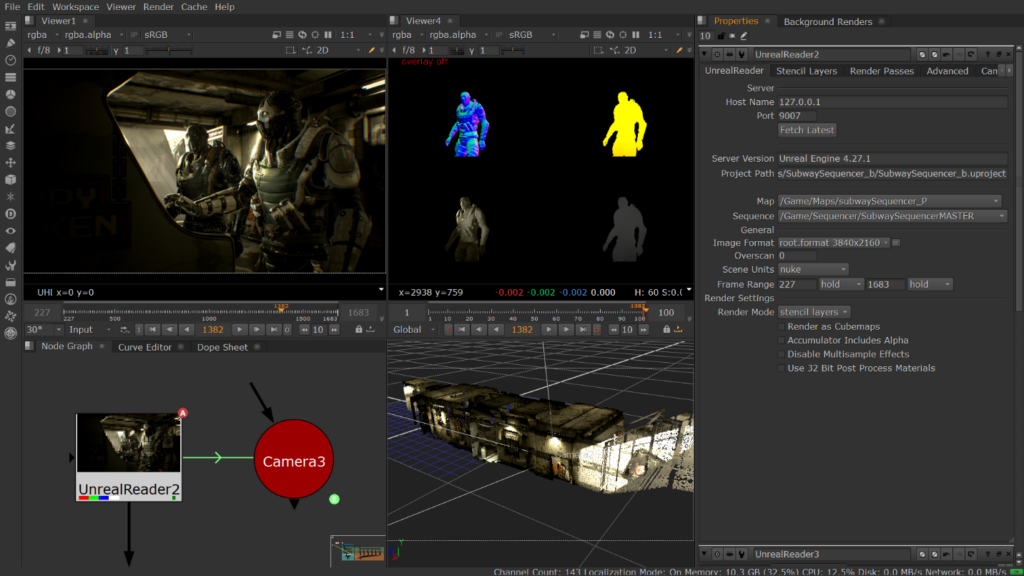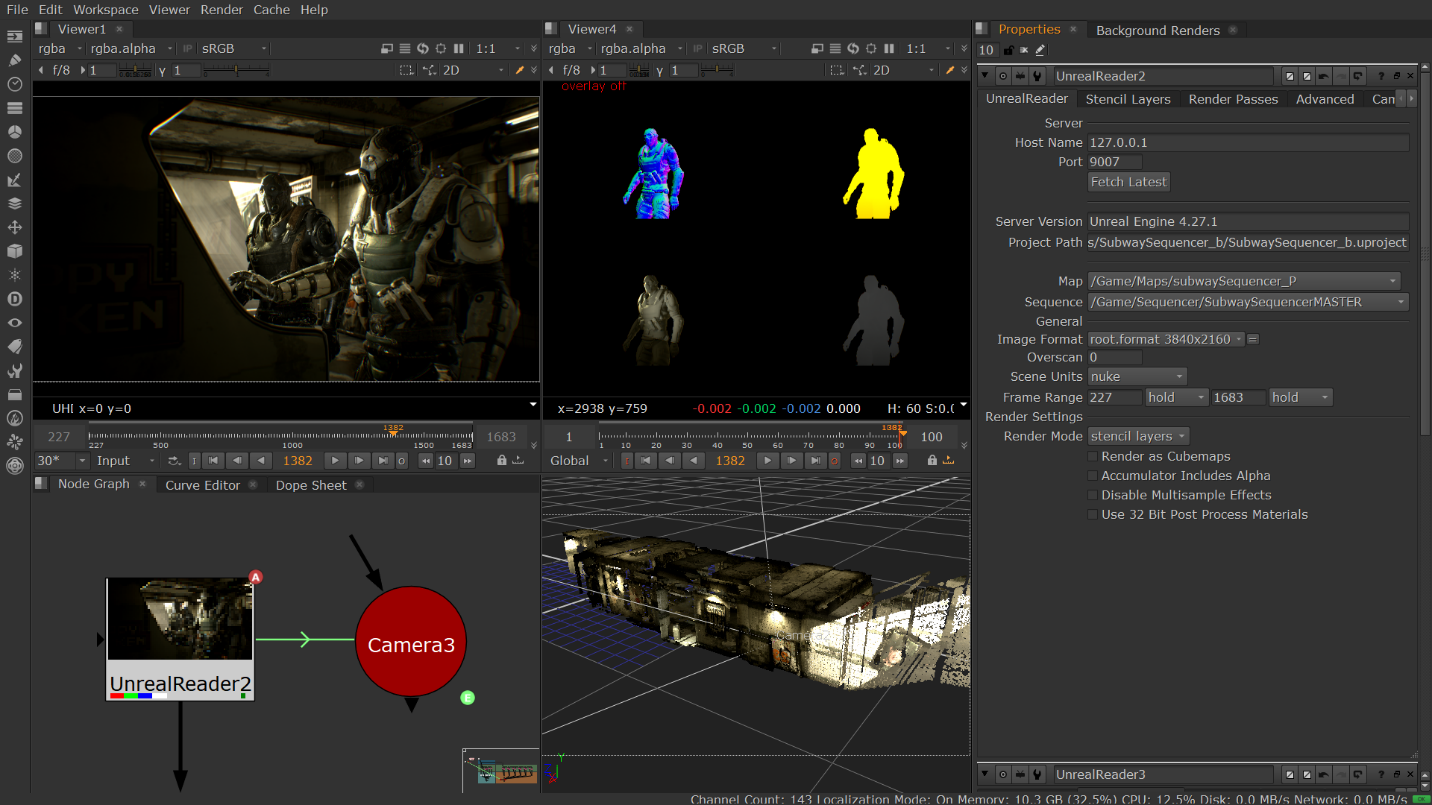 We haven't talked about Nuke updates in a while, so it's worth going over them in a little more detail because they're pretty magical. For instance, the Hydra Viewer which came out of Pixar was implemented in Nuke 13.0. It is an opensource framework to transport live scene graph data to renderers. Meaning that people working on a scene can see and interactively work with rendered content. With Nuke 13.1, the Foundry developers have added new 3D manipulators, 3D hotkeys, and other improvements that heighten the interactivity. Foundry has increased the options for interacting with 3D objects.
In the node graph, Foundry has added extensions to Cryptomatte, an open source plugin, which Foundry natively integrated into Nuke with the 13.0 release. Cryptomatte is widely used in DCC to enable artists to make mattes on the fly. Users can more easily add and subtract elements from the mattes and use wildcards to make selections. New to 13.1 is the Encryptomatte, which gives users access to channel data to create mattes and merge them with Cryptomattes.
Nuke 13.1 has a new node to enable access to Unreal content. Nuke 13.1 brings the UnrealReader node allowing users to get image data, utility passes, and sync cameras from Unreal in NukeX. Foundry says, it gives users the ability to work with content from Unreal where users have realtime workflows including realtime rendering to Nuke where the Nuke node graph gives users much more control and nuance over the content.
Nuke has new machine learning capabilities through support for third-party PyTorch models. Artists can use a range of image-to-image PyTorch networks, package them as tools and share them with their team.
Nuke has introduced soft effects, which are GPU-accelerated effects that can be applied to the timeline to affect specific parts of the project. In 13.1, the Nuke Studio and Hiero Timeline also have been updated to enable soft effects to be copied from the Timeline and pasted into the Nuke script. The list of available soft effects is extensive and includes transform and timewarp but also grading and OCIO capabilities. See Foundry's page on soft effects to learn more.
Nuke 13.1 | Bridge the gap between NukeX and Unreal Engine with Nuke Server.
As already touched on a bit, Foundry is working to smooth the rough spots in their users' pipelines. In addition to the interoperability between Nuke tools, Timelines, and applications including Hiero, another nice, niggly thing is the improvements on review and collaboration that extends the use of annotations to work over monitor out and through the enhanced timeline metadata support so that data stays with the content through to final delivery.
Foundry is in the midst of updating its tools to take advantage of ASWF such as USD and OCIOv2. Foundry has also added support for Blackmagic RAW. The goal is to make content flow across applications more freely and to be consistent across the pipeline. For instance, the company is improving Nuke and Katana interoperability. USD is a major focal point.
Juan Salazar, Senior Product Manager – Timeline and Story, Foundry, comments:

"Our goal is to have our tools provide greater consistency across the different stages of production and make it easier for artists to work in the Nuke ecosystem, whether this means easier working in 3D or helping them connect other tools to Nuke so that they can see their work in context and accelerate their workflows. The timeline improvements in Nuke 13.1 help artists streamline their review sessions and Metadata support ensures data flows through to final delivery."
What do we think?
The Foundry is very deliberate in how they go about improving their tools and making life easier for their customers. It's not that they don't sometimes try something crazy now and then to kick start improvements in workflows, but if it doesn't work, they're good at stepping back and taking another look at the problem. We don't really see them throwing up their hands and saying something is too hard. Specifically, the Unreal Reader is a practical response to help the growing numbers of content creators working across Foundry and Unreal environments.