…but Nvidia still dominant discrete GPU supplier. The dynamics of the market still have the power to surprise.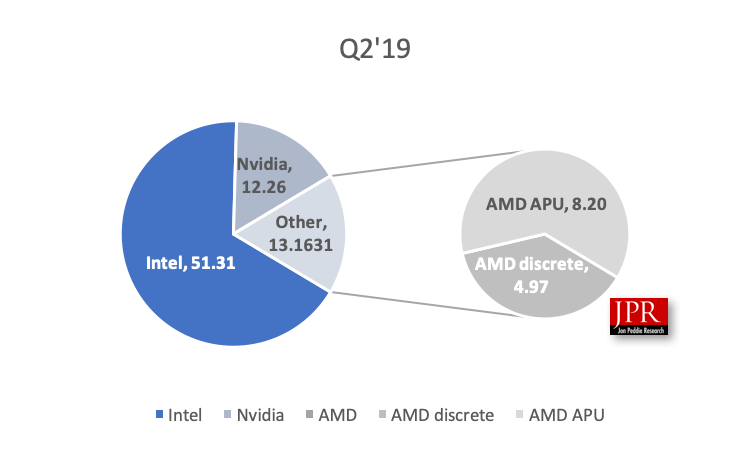 Our Market Watch report for the second quarter of 2019 raised eyebrows when it revealed that AMD had reached a new milestone by selling more GPUs than Nvidia. AMD's achievement is significant and has been hard-won, but it's not exactly the harbinger of a new world order as some readers have interpreted it.
AMD has enjoyed three quarters of gains in market share, and with their combined APU-based GPUs they did indeed take the lead in total GPU sales relative to Nvidia. However, Intel still outsells them both combined. And if one were looking at discrete GPU sales alone, Nvidia is the preferred brand by almost 2.5 to 1.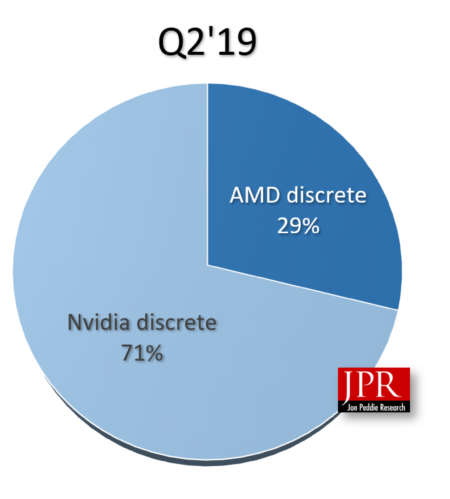 The market shares haven't shifted much in the past year, but AMD has shown the greatest change expanding its percentage of the market almost every quarter.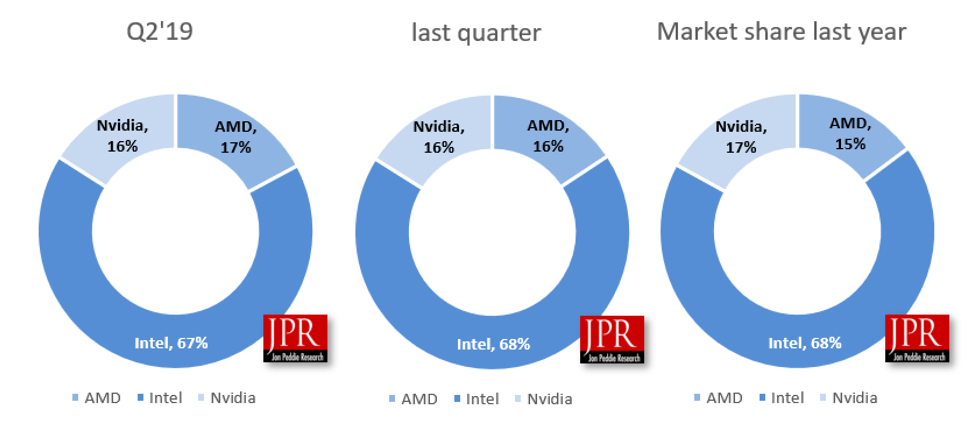 The fact that AMD has been able to do that is an amazing accomplishment and it's a validation of the plan Lisa Su set out early in her tenure at AMD to find new markets for AMD's chips.
In their latest financial reports, AMD reported $1.53 billion for the quarter. Annualized over the past four quarters, that comes to almost $6 billion. Intel reported $16.5 billion, annualized it would be over $90 billion; Nvidia reported $2.6 billion, annualized it would be over $10 billion. AMD is gaining ground on its much larger competitors.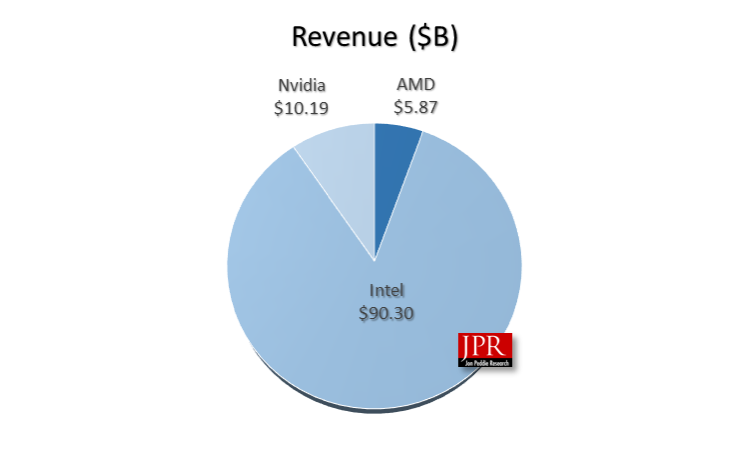 All three companies invest heavily in R&D, on average 24% of their revenue, with Nvidia being the big spender (percentage wise) at 27%.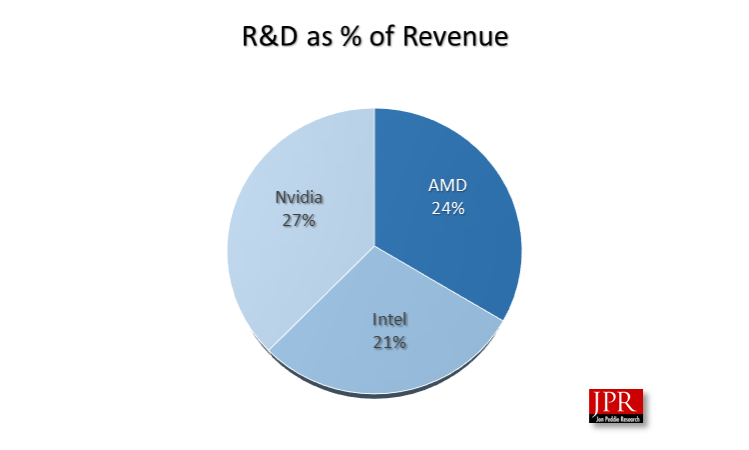 Intel invests its R&D dollars in material science, CPU design, GPU design, and new and other technologies (i.e., FPGA, memory, and other such as Mobileye and Nervana). Nvidia invests almost all its R&D in GPUs with a little going to ARM, and soon communications such as Mellanox. AMD shares its R&D budget with its CPU and its GPU group—and that is a remarkable thing.
If we assume AMD splits its R&D in half, then GPU R&D gets 12% or $750 million annualized, and CPU gets the other $750 million.
If we assume Intel spends half their R&D on CPU then that's $6.7 billion, and if we assume Nvidia spends 90% of their R&D on GPU then that would be $2.4 billion. That makes Intel's CPU R&D spend over 9× what AMD is investing, and Nvidia's GPU R&D spend is over 3× what AMD is investing. And yet, although outspent by huge factors, AMD is taking market share away from Nvidia in the discrete desktop segment, and Intel in the Notebook segment—and ironically, the compliment—losing to Nvidia in discrete Notebook, and losing to Intel in desktop.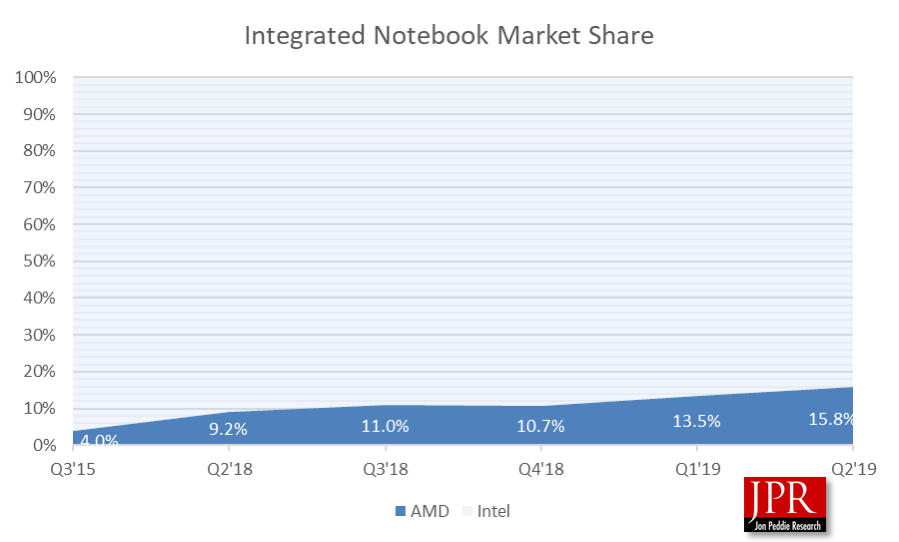 AMD had been making gains in the notebook discrete segment for the previous three quarters, and then Nvidia came out with their Creator series and their partners introduced 40 new notebook SKUs.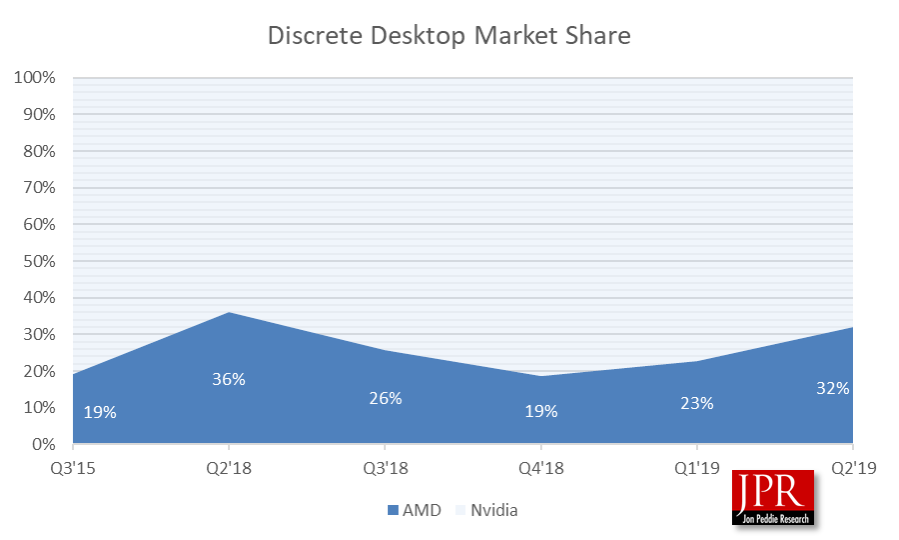 Market share notebook discrete GPUsLikewise, AMD had been making gains in market share for the previous three quarters, and then Intel got its 10-nm production up and reversed AMD's gains within one quarter, however, AMD is still up from Q2'18.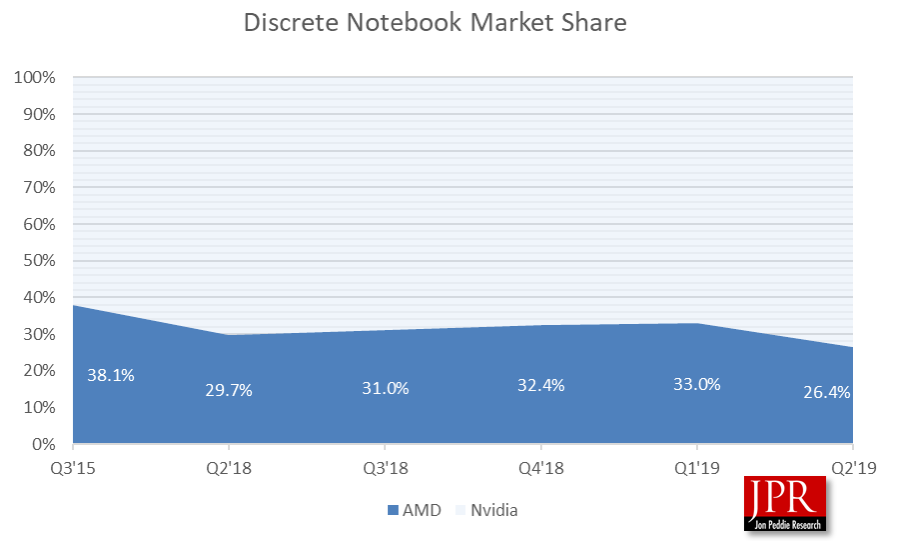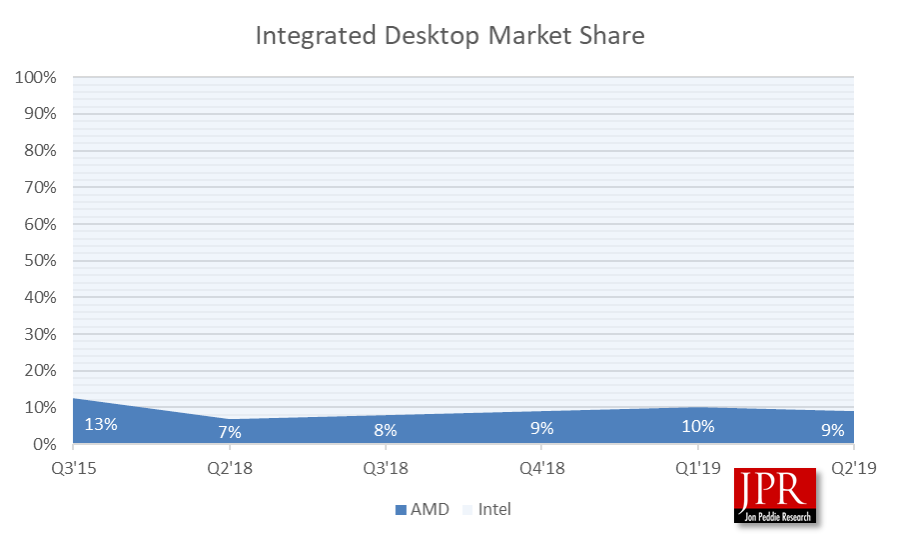 Looking at the relative changes and comparing them to relative R&D spending, AMD is getting much greater return on its R&D than either Intel or Nvidia, and that's the remarkable part of the story.
To a certain extent, you can make the same conclusion with regard to marketing. Intel and Nvidia's marketing budgets are similarly higher than AMD's and yet in spite of the overwhelming brand strength of Intel and Nvidia—without a doubt the two most powerful and valuable brands in the PC market, AMD has not only been able to hold its own, but actually gain share against its two giant rivals.
The PC GPU market is highly segmented.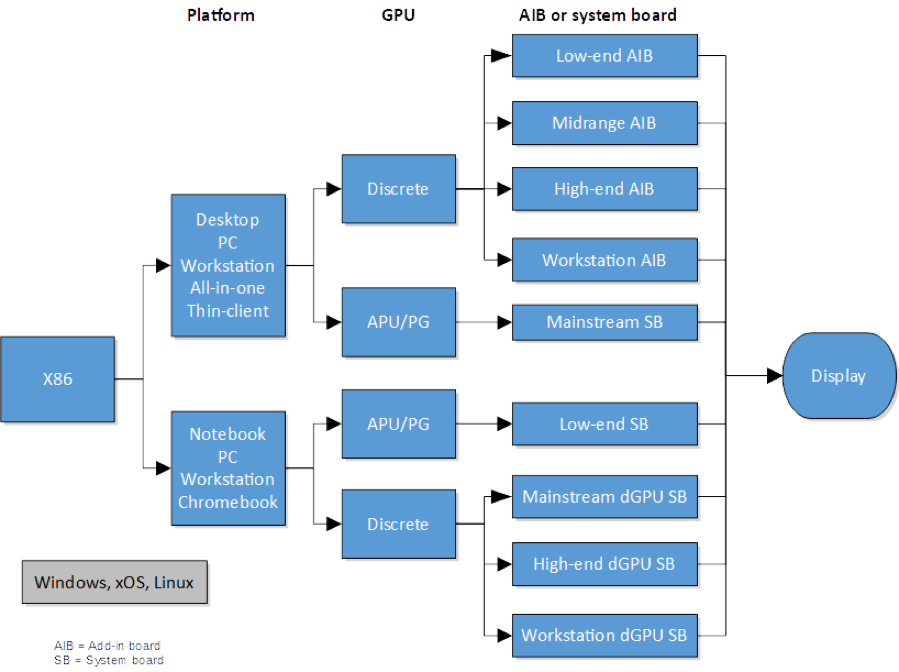 If you are only selling integrated GPUs, then you are not going to be too interested in what's happening in the discrete GPU space, and vice-versa.
Nvidia is the biggest seller of discrete GPUs.
Intel is the biggest seller of integrated GPUs.v9
And AMD is gaining on them both.
Modern gaming and content creation work typically requires discrete graphics, and likely starting at the mid-range of price points near $199 while integrated graphics are used for general-purpose computing work—web browsing, social media, watching videos, email, document editing, etc.
Nvidia points out that they launched their RTX Super GPUs in July, but the quarter ended 30 June, resulting in a product transition that may have impacted some shipments in Q2 as AIB vendors were selling off their existing RTX AIBs. As we've discussed in the past, looking at one quarter data can introduce some timing effects.
Nvidia has targeted higher ASP with the higher margins, albeit smaller volume segment of the industry, whereas AMD and Intel are addressing the total market, especially with Intel entering the dGPU segments.
The Intel gambit. But, can AMD continue to gain? Soon Intel will announce its line of discrete GPUs, which the company has said will span from the low-end to possibly workstations, desktop and notebooks, and GPU-compute accelerators for the data center. The big question is will Intel's entry into the discrete GPU market cannibalize sales from AMD and Nvidia, or will the power of Intel's brand attract new customers to discrete GPUs and expand the market?
Intel is making a big bet by going into the discrete GPU market.
If Nvidia has been investing billions of dollars in R&D on GPUs for the past 20 years, Intel, as wealthy as they are, will have to take a giant step to catch up. However, the company isn't starting from zero, they've been building a pretty decent GPU for the CPUs for the past five or six years. And the company has already invested in filling out a team of GPU experts, so its commitment is pretty well established.
This time next year this analysis is going to look completely different. How AMD and Nvidia prepare for the changes in the market will also be of great interest.
The dynamics of the market can still surprise.