Revenue $8.29 billion, up 8.5% from last quarter, profit down 46%.

Nvidia reported record revenue for the first quarter, ended May 1, 2022, of $8.29 billion, up 46% from a year ago and up 8% from the previous quarter, with record revenue in Data Center and Gaming.
GAAP net income was a $1.62 billion, down 16% from a year ago and down 46% sequentially, due to the $1.35 billion Arm acquisition termination charge.Nvidia reported record revenue for the first quarter, ended May 1, 2022, of $8.29 billion, up 46% from a year ago and up 8% from the previous quarter, with record revenue in Data Center and Gaming.
"We delivered record results in Data Center and Gaming against the backdrop of a challenging macro environment," said Jensen Huang, founder and CEO of Nvidia. "The effectiveness of deep learning to automate intelligence is driving companies across industries to adopt Nvidia for AI computing. Data Center has become our largest platform, even as Gaming achieved a record quarter.
"We are gearing up for the largest wave of new products in our history with new GPU, CPU, DPU, and robotics processors ramping in the second half. Our new chips and systems will greatly advance AI, graphics, Omniverse, self-driving cars, and robotics, as well as the many industries these technologies impact," he said.
Huang added that the company had record data center business this quarter and expects to have a record next quarter and are fairly enthusiastic about the second half. However, the network business is highly supply-constrained and demand is really high, and it requires a lot of components besides just Nvidia chips. The company says supply has been increasing and expects it to increase in Q2.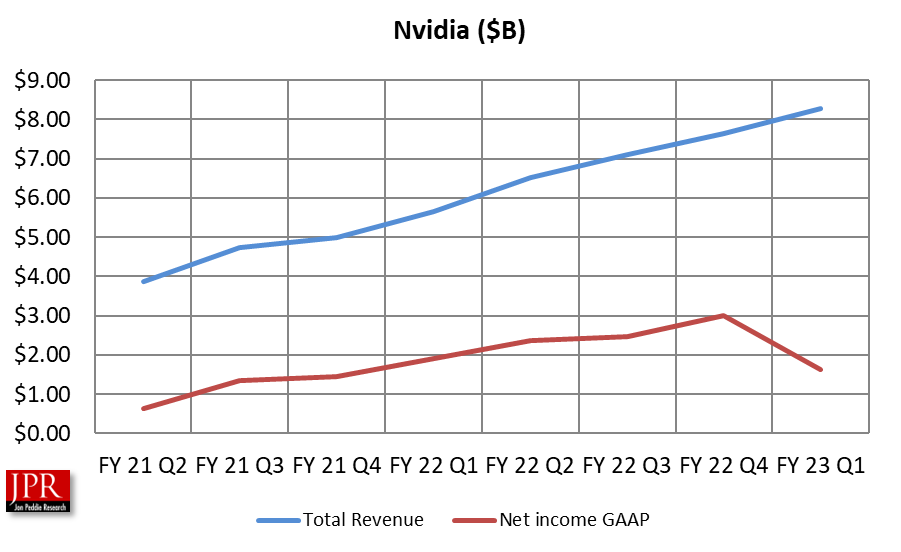 First-quarter revenue was a record $3.62 billion, up 31% from a year ago and up 6% from the previous quarter. The company introduced the GeForce RTX 3090 Ti and announced 15 new game titles optimized for Nvidia RTX, bringing the total to over 250 games and applications.
"Our GPUs are capable of cryptocurrency mining, though we have limited visibility into how much this impacts our overall GPU demand," said Colette Kress, EVP and chief financial officer. "Volatility in the cryptocurrency market—such as the recent declines in cryptocurrency prices or changes in method of verifying transactions, including proof of work or proof of stake—can impact demand for our products and our ability to accurately estimate it. Most desktop Nvidia Ampere architecture GeForce GPU shipments were Lite Hash Rate to help direct GeForce GPUs to gamers."
Data Center revenue was up 83% from a year ago and up 15% sequentially. Those increases were primarily driven by sales of Nvidia Ampere architecture GPUs and DGX systems used across both training and inference. Growth was led by cloud computing and hyperscale customers for workloads such as natural language processing and deep recommenders.
Professional Visualization revenue was up 67% from a year ago and down 3% sequentially. The year-on-year increase was driven by sales of Nvidia Ampere architecture products, with growth in workstations as enterprises supported hybrid work environments. The sequential decrease was due to lower sales of desktop workstation GPUs, partially offset by higher sales of notebook workstation GPUs.
Automotive revenue was down 10% from a year ago and up 10% sequentially. The year-on-year decrease was due to automakers' supply constraints and the decline of legacy cockpit revenue. The sequential increase was driven by AI cockpit revenue.
OEM and Other revenue were down 52% from a year ago and down 18% sequentially. The year-on-year decrease was due to a decline in Cryptocurrency Mining Processor (CMP) revenue, which was nominal in the quarter compared with $155 million from a year ago. The sequential decrease was driven by lower entry-level notebook GPU sales.
Outlook
Nvidia's outlook for the second quarter of fiscal 2023 is as follows:
Revenue is expected to be $8.10 billion, plus or minus 2%. This includes an estimated reduction of approximately $500 million relating to Russia and the COVID lockdowns in China.
GAAP and non-GAAP gross margins are expected to be 65.1% and 67.1%, respectively, plus or minus 50 basis points.
GAAP and non-GAAP operating expenses are expected to be approximately $2.46 billion and $1.75 billion, respectively.
GAAP and non-GAAP other income and expense are expected to be an expense of approximately $40 million, excluding gains and losses from non-affiliated investments.
GAAP and non-GAAP tax rates are expected to be 12.5%, plus or minus 1%, excluding any discrete items.
Capital expenditures are expected to be approximately $400 million to $450 million, including principal payments on property and equipment.
The company assumes an estimated impact of $500 million related to China and Russia, and estimates Q2 gaming sell-in to be affected by $400 million in Russia and China—$100 million in data center due to zero sales in Russia.
Nvidia expects data center sales to have sequential growth and to be more than an offset of the decline in games (in Q2).
What do we think?
Nvidia estimates a third of the GeForce installed base is on RTX now. Demand in the Americas remains strong but has seen softness in Europe due to the war, and parts of China due to the COVID lockdown.
The data center business is taking off, while pro biz is behaving normally.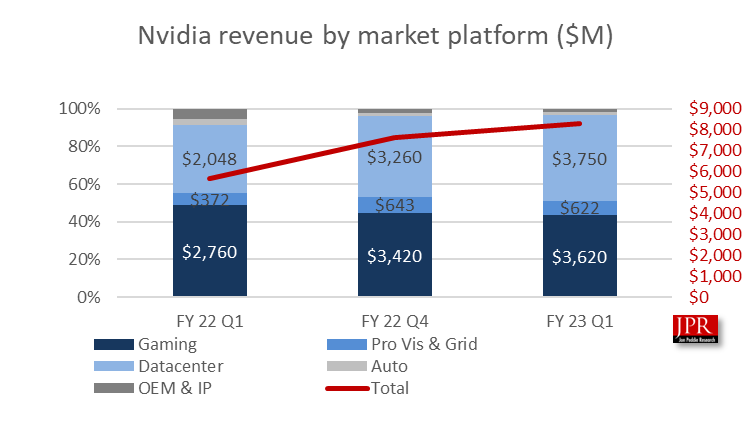 Nvidia has a lot of upside in motion. Huang said, "Our visibility in the data center is vastly better than a couple of years ago." There are a couple of reasons for that:
Big AI users were CSP and hyperscalers, everyone else was quite nascent. Transformers help with unsupervised learning and don't require human labelling, thus making it possible for many more industries to use AI in a transformative way—we went from cloud and hyperscalers to all-industry.
Went from training focused to inference. Inference is much harder because there are so many use cases and so many different models and QOS requirements.
Many different types of configurations of systems: edge, cloud, on-prem, etc., and the industrial deployment of AI in just about every industry, to be able to have growth.
With regard to supply constraints, the CFO said Nvidia is pre-paying to make sure they have the comments for supply long term.
Nvidia just started shipping Orin, their robotics processor designed for a robotic car, a robotic pick and placer, or a robotic logistics mover. The company said it has been designed into 35 cars, and trucks, and taxis companies, plus logistic movers, farm equipment…—Huang describes it as a data center on a chip
Over the next six years, the company expects $11 billion of business in automotive, which it says it has secured.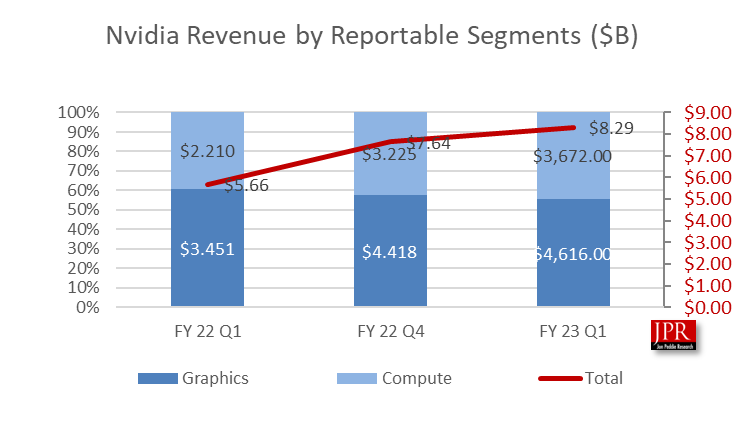 At its current run rate, Nvidia should exceed $32 billion this year and seems to have great growth opportunity.