Targeted for virtual production and broadcast.
Ncam is known for its real-time camera-tracking technology providing low-latency visualization of immersive CG content in-camera through its markerless solution, making it ideal for use in virtual environments. Ncam introduced the AR Suite in 2020, which connects real-time tracking data to Unreal Engine for a smoother and more efficient workflow. Now, the company has just updated the suite to support Epic's Unreal Engine 5, and in the process, has automated time-intensive tasks, including setup and compositing, enabling users to begin working within UE5 in less than a half-minute.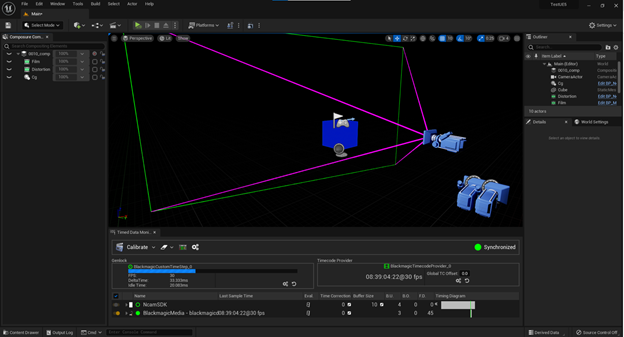 As a result, users can link to many of the coveted features in UE5 quicker and easier, without the need for additional coding or system integration. This includes the engine's new Nanite virtualized geometry system, which uses an internal mesh format and rendering technology to render pixel-scale detail and high object counts—ideal for building massive 3D worlds without incurring noticeable loss in performance or fidelity. When combined with Ncam Reality, for instance, the users can push the scale of live XR and real-time CG environments, Ncam noted.
The update for UE5 also includes other new features, including improved tracking data and video synchronization, whereby timecodes no longer have to be embedded in the camera signal—an advantage for those in the broadcast space where timecodes are less prevalent. Also, users have more options in how they utilize Ncam through additional support for Epic's built-in lens distortion framework.
Ncam is offering two versions of the AR Suite plug-in. The open-source AR Suite Lite provides a complete solution for delivering real-time photorealistic virtual production. It is free and can be downloaded from the UE Marketplace. The full AR Suite plug-in (Standard) with advanced rendering pipelines will be available as a separate installer to Ncam customers.