United with Ukraine: Designers for Peace.

The Graphis Annuals and books highlight the work of talented artists from all over the world. Graphis Magazine was founded in Switzerland in 1944 by the influential designer Walter Herdeg. At that time, artists in Europe were exploring styles such as socialist modernism, constructivism, Bauhaus, and Brutalism in opposition to popular styles that favored embellishment and romanticism. The trends were reinforced by new work in art, architecture, and design in Russia, the Netherlands, and Germany. In print, those trends were distilled into the International Typographic Style and the Swiss Style we're so familiar with today. Graphis Magazine carried the DNA of the Swiss Style out into the world, where it has continued as a major influence for print and digital design. In fact, the tenets of Swiss Design, such as a reliance on the grid system and strong typographic elements, provided the organizing principles for Web design.
Graphis was acquired by B. Martin Pedersen in 1986 from Herdeg. Pedersen has continued to produce Annuals for illustration, photography, advertising, and other topics, and has established competitions to find and highlight the work of new artists.
Graphis, together with Pedersen and artist and educator Kit Hinrichs, have announced a poster competition to give artists an opportunity to express their feelings about Russia's war on Ukraine. Pedersen and Hinrichs will create a collection of protest posters to express the world's outrage at the "inhumane war on Ukraine."
Pedersen and Hinrichs say they've been contacted by many people in the community who want to support and aid the people of Ukraine. Their answer is this competition, which they're calling United with Ukraine: Designers for Peace. The deadline for the submission of artwork is June 21, 2022.
The competition is also a fundraiser. The $30 entry fee was purposely set low to enable broad participation; 100% of the entry fees will go toward aiding organizations José Andrés' World Central Kitchen and International Relief Teams.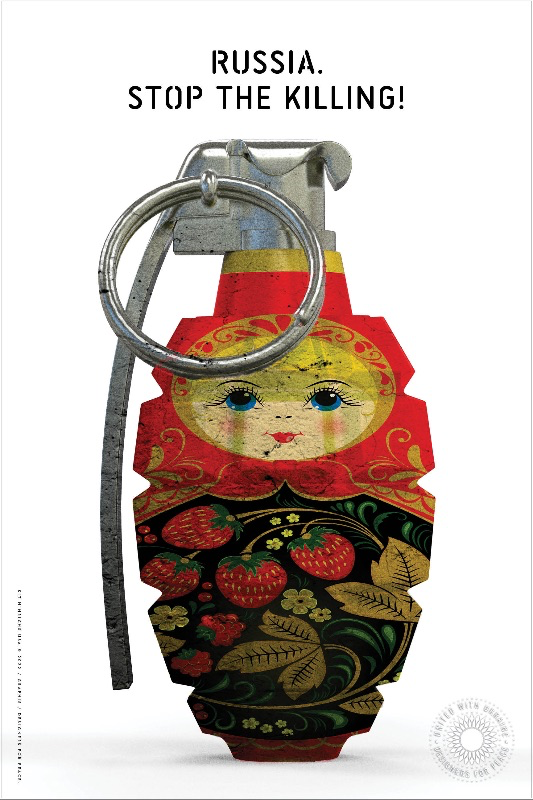 The details
Get to work. Again, the deadline for entries is June 21, 2022. The guidelines for entry are at the Graphis site, but in short, they call for posters to be 24 × 36 inches, and printed in four-color process at 300 DPI. Graphis has created a watermark seal for artists to use to communicate a united front. They also suggest a tagline for the poster: Designers for Peace/Graphis International 2022. Reference the art work by Kit Hinrichs to see the use of the watermark and tagline.
There will be a juried series of exhibitions to show off the best, most inspired, and most provocative work; it is planned for exhibits in major cities worldwide. Posters will be selected by a global jury, and a selection will be printed in the upcoming Graphis Journal.