But hedges bet in the face of all kinds of uncertainty.
Autodesk reported increased earnings and brought its income up out of the red and into the black at $40.2 million. With revenues up 30% to $797, the company pushed its ARR up to $3.07 billion. Total billings increased by 48% to $892 million. The company's recurring revenue is at 97% of the total. And yet, the stock went down immediately after the company's call with investors as Autodesk executives revised forecasts to be a little more cautious.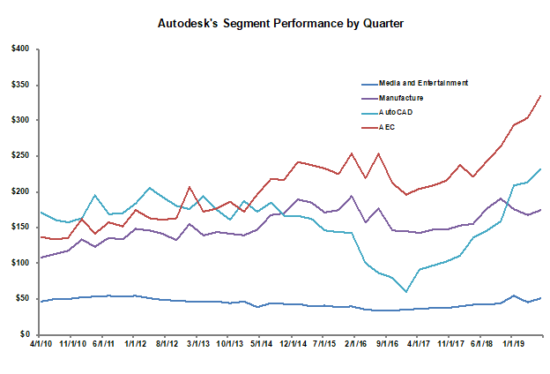 In his published remarks, Anagnost said, "we closed a solid first half of the year with a very strong second quarter as revenue, billings, earnings, and free cash flow came in ahead of expectations." CFO Scott Herren said, "the company has achieved two milestones: we drove our largest quarterly non-GAAP net income to date, followed by a record-setting last twelve months free cash flow of $731 million."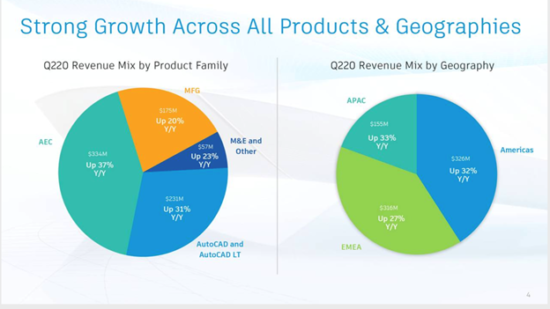 Significantly, Herren mediated the company's cautious outlook saying "despite near-term headwinds our recurring revenue model is much more resilient than in prior cycles."  He assured investors that Autodesk is on track. He said, "while we are adjusting our fiscal '20 guidance slightly, we're still expecting revenue growth of 27% for the year margin expansion of about 12 percentage points, and we're confident of delivering on our fiscal '23 targets."
At Autodesk University last year, Anagnost talked quite a bit about the company's renewed focus on AEC and construction in particular. Since then, the company has acquired PlanGrid, Building Connected, and Assemble, which strengthens the company's position in BIM. Herren said, the technology is being integrated into Autodesk's BIM 360 portfolio and is contributing revenue.
The company's manufacturing business has gotten a little less attention, but for this quarter the company highlighted the advances the company has made for Fusion 360. Anagnost said the company has made inroads, thanks to the cloud-based product's easy onboarding, but he also added the company is adding new users through its CAM integration. Specifically, he gloated a bit about winning customers from Mastercam. The company also claims to have converted customers from Solidworks, thanks to the flexibility of Autodesk's BIM 360 strategy.
Like its competitors, Autodesk has been on a course of transitioning to subscription, which is all but complete. Anagnost said that the continued rise in subscription follows a 20% price increase on the maintenance subscription, which Autodesk is using to increase the rate of conversion to subscription from maintenance. In the second quarter, maintenance plan ARR decreased by 38% to $414 million.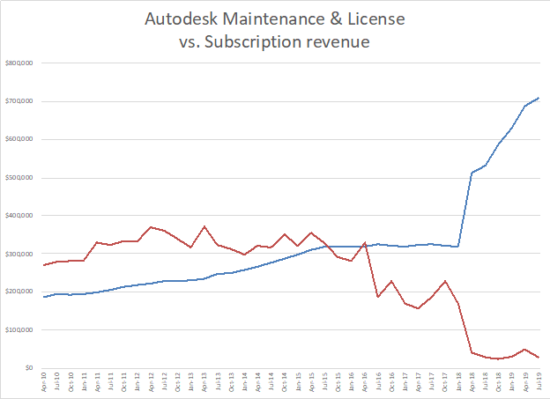 Cloud revenues still remain a smaller portion of Autodesk's overall revenues but it is a fast-growing segment for the company. Cloud ARR grew 175% to reach $207 million, that figure includes acquisitions. Core ARR clocked in at $2.86 billion, a 26% increase year over year.
What do we think?
Autodesk is finding diamonds in the construction industry's inefficiency. In a talk with MIT Technology Review recently, Anagnost told moderator David Rotman that just turning the dials a little bit to make construction more efficient could provide huge gains. Autodesk seems to be doing that.
Autodesk is also looking at manufacturing and finding its place in that market segment. It might be fair to say Autodesk is rebuilding its manufacturing products with Fusion 360 and Inventor. As Andrew Anagnost told investors, Fusion 360 and Inventor work together and some of the recent gains the company has seen have come through attractive features in Fusion 360 for Inventor users. Young companies are clearly interested in cloud-based tools as is evident in the growth of both Fusion 360  and competitor Onshape.