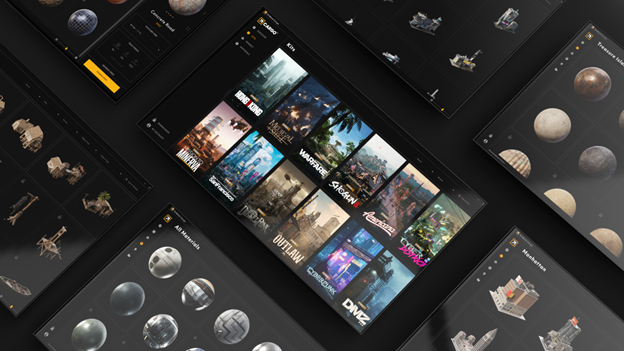 Search KitBash3D kits, models, and materials using Cargo. (Source: KitBash3D)
KitBash3D offers premium 3D assets that make worldbuilding easier. Now, the company has made the process even easier with the introduction of Cargo, software that enables creators to search and filter through KitBash3D's large library of more than 10,000 models and materials. Then, with a single click, users can seamlessly import any asset into popular 3D content creation tools like Epic Games' Unreal Engine 5, Blender, and Autodesk's 3ds Max and Maya.
With USD at its core, Cargo can quickly and seamlessly move data across 3D software packages and adapt to a user's needs in real time, according to KitBash3D.
When Cargo is open, users can browse through the entire KitBash3D library and see all the individual models and materials from it. For example, if the customer clicks on Hong Kong, they will see all city blocks, skyscrapers, and the street-side props presented in a clean, easy-to-see thumbnail grid. So now, users no longer have to import an entire kit into their scene, but rather the asset they want to use. A selection of models can be narrowed down by typing in specific parameters.
The KitBash3D material library contains the same search and filter functionality as it does for the models. What's more, every KitBash3D material works with every render engine, and Cargo will automatically set them up based on the user's 3D software settings. In addition, every material is tileable and works with every model.
"As we witness the rapid evolution of digital content creation, we believe it is crucial to equip artists with tools that keep pace with their creative ambitions." said Banks Boutté, co-CEO of KitBash3D. "This requires eliminating technical barriers by providing creators with access to the fundamental 3D building blocks—models and materials—and ensuring that those assets work with any platform."
Cargo is free to use with its Basic plan, which includes a selection of free assets. Existing KitBash3D customers can also access their previously purchased kits through Cargo Basic at no additional cost. The Cargo Pro subscription offers unlimited access to the full KitBash3D library starting at only $65 per month.
KitBash3D assets have been used in many franchise films and TV shows, as well as AAA gaming titles including Black Adam, Spider-Man, The Last of Us, Halo, The Elder Scrolls, and more.