Cesium has announced the first four recipients of its Ecosystem Grants, launched last month to support and diversify Cesium's focus on the 3D geospatial ecosystem. Those recipients are:
Ethan Berg of Agora World, Philadelphia, Pennsylvania
Emma Hain of North Road, Queensland, Australia
Hidenori Watanave Laboratory, The University of Tokyo, Japan
Peter Kimberley of Gradata Systems, Canberra, Australia
The grants are meant to encourage innovation, interoperability, education, and collaboration in the 3D geospatial ecosystem. The grants are from a $1 million fund established to provide financial support for selected early-stage start-ups, individuals, educators, and students. The awards range from $5,000 to $50,000 and are unrestricted, with individuals receiving no more than $15,000.
GeoForAll: Simplifying 3D geospatial metaverse creation
The judges chose Agora World for its user-friendly, no-code 3D geospatial metaverse design platform that can help users create immersive experiences. By integrating Agora World with Cesium, the company aims to create an intuitive and easy-to-use 3D geospatial metaverse design platform so any user can create in 3D geospatial, irrespective of device choice and technical expertise.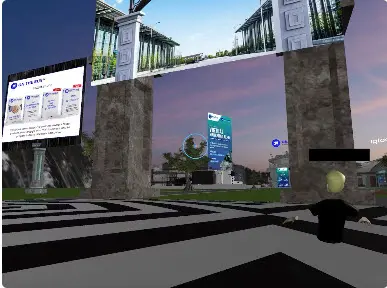 (Source: Agora World)
3D Tiles implementation in QGIS
3D Tiles is an open standard for huge, heterogeneous 3D geospatial datasets like point clouds, buildings, photogrammetry, and vector data. QGIS is an open-source desktop GIS application with a large installed base. The collaborative project between North Road Consulting (Australia) and Lutra Consulting (UK) expands the 3D Tiles ecosystem by providing access to 3D tiles within QGIS. QGIS users get access to 3D data alongside all other standard geospatial layers. For current Cesium 3D Tiles users, it will enable an open-source desktop option. Cesium says that in the open-source ecosystem of QGIS, this project is the first step on the road map toward the use of processing and interoperability tools with 3D Tiles.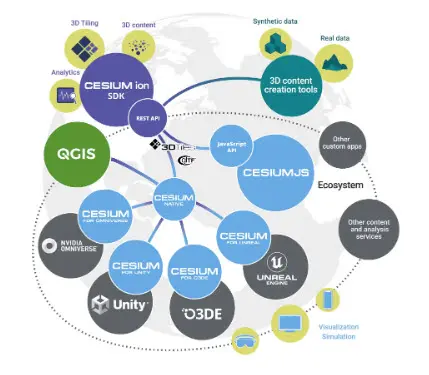 (Source: Cesium)
Digital archives of war and disasters
Dr. Hidenori Watanave and his lab at The University of Tokyo have been building a "digital archive" to communicate the memories of disasters to the world. They built an app to make satellite imagery of earthquake-hit Turkey and Syria and other open data accessible to the public and provide insights into that data. Collaborating with geoanalyst Dr. Masashi Omata, Watanave could also trace the fault line along which the earthquake occurred. With current data, humanitarian organizations can assess the status of roads to reach affected communities, and citizens around the world can see the effects of the earthquake.
Professor Taichi Furuhashi and Dr. Watanave have also analyzed the damage from the war in Ukraine. In order to continue his work to digitally archive and communicate memories of wars and disasters, Watanave and his lab have been selected for the grant.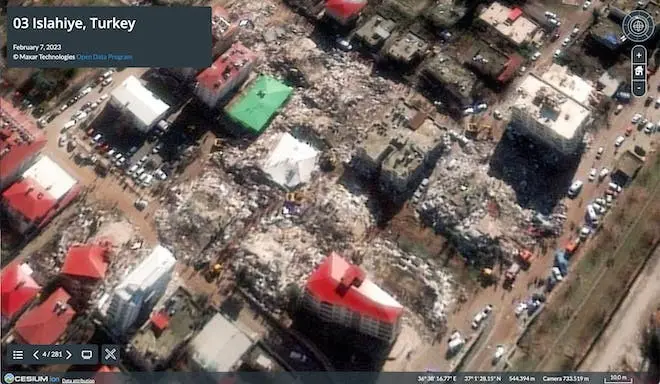 Satellite images map of the Turkey–Syria earthquake in February 2023. (Source: Hidenori Watanave)
Vietnam War missing in action (MIA) support
A historical research team from University of New South Wales (UNSW) and Gradata Systems has mapped Australia's involvement in the Vietnam War. This new project's mission is to assist the Vietnamese people (through the Vietnamese government) with finding their ancestors who were casualties in the Vietnam War. There are an estimated 300,000 Vietnamese soldiers' remains that have not been found to date.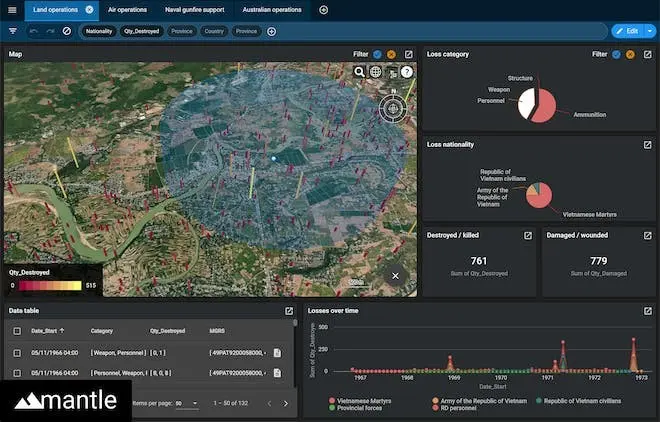 (Source: Cesium)
Click here to learn more about the recipients. To submit an application, visit Cesium Ecosystem Grants.