Hexagon's first-quarter report for 2020 is reasonably upbeat for a company situated smack dab in the crossed eyes of several hurricanes. The company, with metrology in its DNA, interests in oil and gas, mining, and security, and GPS and ambitions in a wide range of design and engineering markets. It saw problems coming in the last quarter of 2019. This started in China.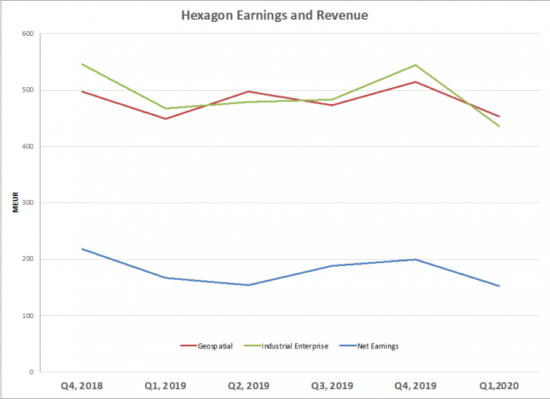 During the first quarter, the company has seen further declines travel around with the world with the closing of markets due to the Coronavirus. The company grows by acquisition, which further complicates its financials in the season of unpleasant surprises.
Interestingly, CEO Ola Rollén notes the company's software-based divisions saw organic growth. The PP&M (process, power & marine) business which includes its Intergraph business grew 8%, and Safety and Infrastructure grew 24%. In contrast, Rollen says organic growth for Geosystems and Manufacturing Intelligence dropped -11% and -14%, respectively.
The first quarter is traditionally the company's lowest quarter, as it is for most companies, so in that sense, the company's performance is really not very alarming. Unfortunately, as we all know, the trends we're seeing are not going to suddenly reverse course and these trends are endemic to oil and gas and manufacturing two fields that loom large on Hexagon's spreadsheets.
Hexagon's net sales were 889.9 MEUR. Compared to the same period last year when Hexagon reported sales of 916.5 MEUR resulting in a decline of -3%. Net earnings for the quarter were 153.0 MEUR compared to 174.6 MEUR in the first quarter of 2019, adding up to a -8% loss. Sequentially, sales dropped -12% for revenue and -20% for income—not at all great, but looking at the company's performance over the last five quarters, it's not so cataclysmic.
But, Rollen is not harboring illusions about the future. The company immediately began cost-cutting, shortening work weeks, and will shuffle resources to favor the areas that will benefit the most.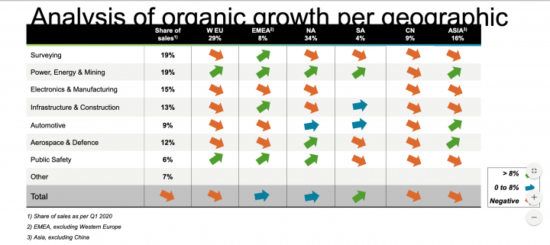 China dropped from being 15% of Hexagon's worldwide sales to 9%. Rollen says those numbers are turning around and China is growing again describing China's return as a V-shaped recovery. Also, South Korea and Japan saw growth. South Korea did a good job managing the Coronvirus within its borders and Japan seems to be weathering the storm as well. Meanwhile, as the world turns, the pandemic is making itself felt around the world.
In the company's call to investors, Hexagon says they see hope for an improved outlook in the second half of 2020.
Hexagon is hopeful that its AEC business will see growth when companies get back to business around the world. Infrastructure projects so long expected and so long postponed in the US might finally get rolling. Also, as noted in a presentation to investors, the company's PP&M software business has resilience. However, some of that business is closely tied to the oil and gas industry, which is not ideal. Also, Hexagon's Aerospace industry is suffering right along with the world's airline carriers. In fact, says Rollen, talking about these two hard-hit businesses in relation to Hexagon's fortunes, "Talking about enduring changes, I can only reiterate, we're carefully looking into the future long-term demand for oil and gas solutions and aerospace; the aerospace segment where people believe that maybe the first thing that's going to happen is not that we pack an airline full of people going to Marbella, on vacation in a crowded beach."
Yeah, maybe not.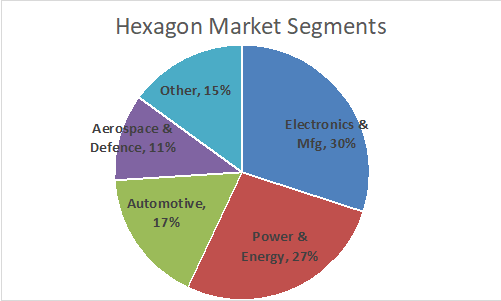 What's ahead
Everyone's favorite comparison is to look at the recession in 2008–2009, Hexagon saw their revenue decline by -20%. In the call to investors, Rollen suggests that the company has invested in more resilient technologies and businesses since those dark days, but he's not ready to make any prediction, only hopes. And, he hopes that Hexagon will not drop as low as -20% but he doesn't rule it out.
What do we think?
Hexagon's growth into AEC is on a similar trajectory to that of Trimble. Both companies are based in metrology and have invested in navigation for heavy equipment used for agriculture and mining. Their interest in infrastructure, as well as plants and process technologies, also puts them in the Venn diagram against Bentley Systems. The two companies overlap in software for reality capture technology especially in its use for infrastructure projects.
In addition, in the first quarter of 2019, Hexagon launched Smart Autonomous Mobility solutions portfolio.
The thinking to a certain extent has to be that an uneven recovery will at least benefit some businesses where others take longer to recover.
We see the engines of the industry slowing down in manufacture as recession hits the purchasing power and the consumer confidence of almost the whole world at once. So, just like Hexagon, there is a lot of faith being placed in AEC and the almost desperate need for infrastructure development in places where it has been long neglected.