And sees ongoing growth in digital media; the company is tweaking the knobs in digital experience.
A huge Adobe Max conference is on the way. It doesn't seem as if the company has cut back at all. This year's show has 56 hours of live broadcast, 275 sessions, and is free to everyone. As a result, says the company, they have over 200,000 registrants in the weeks before the conference. We believe it, there are millions of registered users for Adobe's products and millions more who are Photoshop- or Premiere-curious.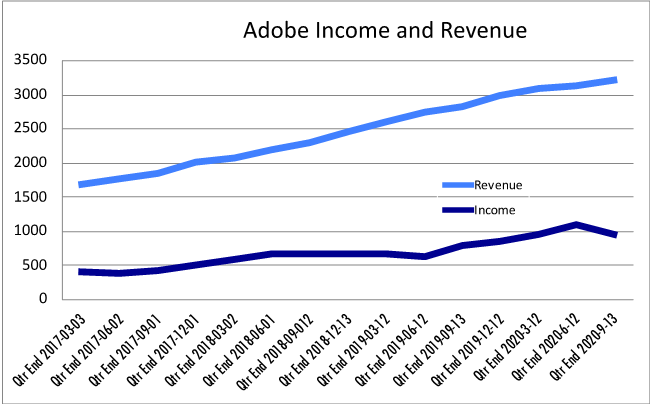 Primarily, it was adobe's Digital Media Segment that delivered the goods for Adobe and as a result, the company maintains a strong base for growth and experimentation. Digital Media reported $1.96 billion in revenue, an annual growth of 19%. Creative Cloud ARR came in at $360 million. Although their growth has slightly slowed with economic slowdowns, Adobe has stacked one advancing quarter after another and so can once again announce a record quarter. The company reported quarterly revenue of $3.23 billion, a 14% year over year revenue growth. Revenues in the quarter were driven by Digital Media and Document Cloud emerges as a dark horse. Adobe sign saw an increase of 22%.
After establishing the Creative Cloud as a baseline for the company's professional customers, Adobe has been building different flavors to expand its market and that includes single-app options and mobile apps. The company says it is building retention by increased customer engagement and through applications supporting teams and enterprises. Interestingly, Adobe has the tools to do this and monitor engagement through its Digital Experience segment. As the company says they are among the biggest users of their tools.
With the latest release of its new Creative Cloud products, Adobe has introduced inline training tools that allow users to access mini-tutorials from within the app. In addition, the company has enlisted its customers to be trainers, allows customers to stream their work and show others in Behance and in apps how to accomplish tasks. That's a very direct line of engagement.
Adobe calls out strong performance for its flagship digital media applications: Photoshop, Lightroom, and Premiere Pro. Adobe says it has also seen growth in its education segment.
Document Cloud
As mentioned, Document Cloud is a money machine for Adobe. The company says Document Cloud ARR is at $98 million and revenue is $375. In addition to the growth in Adobe Sign, Acrobat has seen growth in all geos. Adobe credits the work done to better monetize Acrobat reader. The company says it has grown its monthly uses on the web and has seen Acrobat mobile installs increase 33% year to date.
Document Cloud is a smaller revenue source compared to Digital Media and Digital Experience, but for the second and third quarter, it has enjoyed a growth spurt thanks to the Acrobat web business. The company notes that lockdowns and remote working have encouraged people to use Adobe's tools including Sign and Document Cloud tools.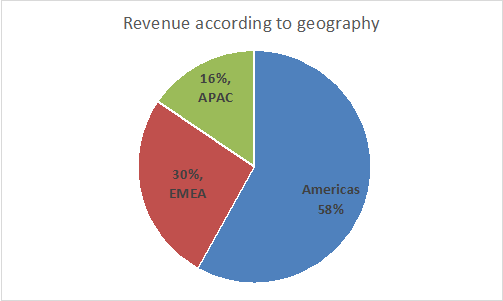 Digital Experience
Adobe's Digital Experience segment has a lot of moving parts. It represents the company's plans for the future but in the present, the company is busy building and tweaking.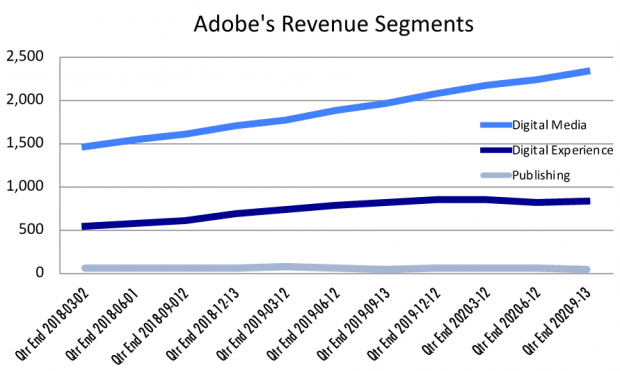 What began as Adobe's digital marketing segment has become Digital Experience to reflect Adobe's inclusive vision for its business cloud tools. Adobe has been knitting together an ecosystem for its customers and partners that will enable them to smoothly work together. At Adobe's last Summit, it demonstrated how tools like Spark, common content Libraries, and the XD prototyping tool enabled creative people, information workers, and marketing people to use the same assets to create content across segments. All of a sudden, the sharp dividing lines between Digital Media, Digital Experience, and publishing started to blur.
The Digital Experience segment reported $838 million for a modest 2% growth year over year, but subscription revenue increased 7% to $729 million.
In his call to investors for the third quarter, Shantanu Narayen repeated plans revealed in Q2 to step away from the Advertising Cloud segment. He said, "we will continue to offer our Advertising Cloud software solutions to our Digital Experience customers, but this will not be an area of growth moving forward." Instead, the company plans to eliminate the low-margin and resource-intensive Advertising Cloud transaction-driven product.
Adobe has said that without the burden of Advertising Cloud, the Digital Experience segment grew 14% year over year. Adobe cites significant quarter-over-quarter growth for Adobe Commerce, which has been built on the Magento technology acquired in 2018.
What do we think?
What we talk about when we talk about digital transformation. We have come to realize that as businesses build digital workflows that connect their pipelines they are coming to resemble each other. This is not a drawback, it's an advantage.
Coincidentally, I was on a call with Susanne Trierscheid of Bentley Systems about their development of continuous workflows for building design and management. When I made that observation, she agreed and said this is an important aspect because as companies evolve similar workflows they are presenting more familiar environments to their customers.
Companies are no longer building and selling products, they're building experiences. Increasingly, companies as they go digital and their workflows become streamlined they're becoming eager to jump on the Experience bandwagon, but to many end customers this remains a nebulous concept and I'm not talking about individual customers but also small businesses that are struggling to keep the machinery oiled and moving. The idea of building a platform and customer networks, etc., sounds like a great idea and also out of reach. For Adobe, this is a point of friction as they reach out to new customers.
However, there is momentum. And as has been the theme this month the pandemic has been an accelerant. People are experimenting with new tools and new ways to do things. Some companies will implement new technologies and others may fail; but as it happens, new startups will be born with a new approach to customer relationships, creativity, and collaboration.