The DG1 is shipping, Q3 revenue is down 4.7% YoY to $18.3 billion dollars—and the company is positioning itself for Q4 and a new year.
For Q3 2020, Intel reported a decline in sales (revenue), profits, and margins even as even though more people bought PCs, as consumers and companies adjusted to work at home. Likewise, organizations and governments pulled back on data center spending. The company also acknowledged its next generation of chipmaking technology was six months behind schedule.
Overall PC sales were up for the quarter, but Intel sold a larger volume of less-profitable chips in its PC business. That drove down operating margins to 36% in the third quarter from 44% a year earlier.For Q3 2020, Intel reported a decline in sales (revenue), profits, and margins even as even though more people bought PCs, as consumers and companies adjusted to work at home. Likewise, organizations and governments pulled back on data center spending. The company also acknowledged its next generation of chipmaking technology was six months behind schedule.
Intel says growth in their PC-centric business was up 7% driven by strength in notebook demand but partially offset by lower desktop demand. As a result, ASPs were lower as demand increased for less expensive for consumer and education PCs.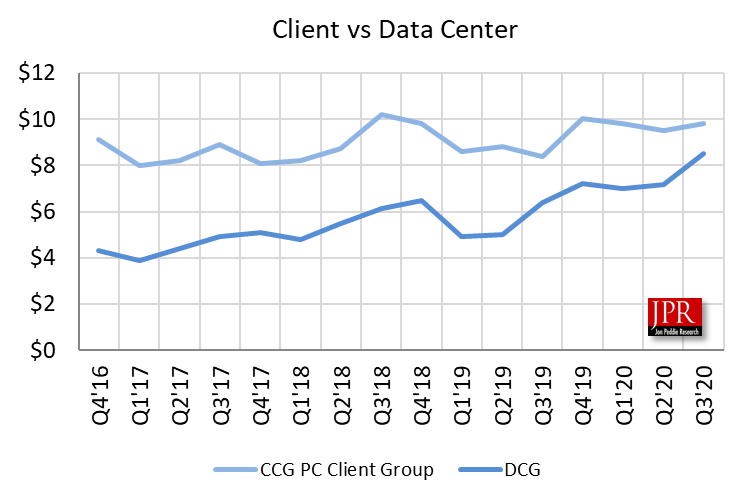 YTD cash from operations was $25.5 billion.
At the investors meeting, Bob Swan said, "2020 has been the most challenging year in my career—with a global pandemic, geopolitical tensions challenging business principles of globalization and social unrest. Despite all this, we expect to deliver the best year in our storied 52-year history. We plan to grow revenue by $1.8 billion more [than we expected last January], even as COVID has significantly impacted our business mix. Full-year gross margin will be down approximately 2 points versus our January expectation, primarily driven by acceleration of 10nm-based products and a change in mix of products in a work-from-home/study-from-home environment. We've maintained spending discipline even as we invest in our workforce, communities and supply chain to combat COVID. And the decision we made to sell our NAND business will drive 1 to 2 points of non-GAAP gross margin accretion next year. Finally, we are mindful of your capital and made decisions to increase shareholder value through our ASR (accelerated share repurchase) and increased dividend and prudent management of our Intel Capital portfolio. Nine months into 2020, we now expect to beat our January FCF (free cash flow) guide by $1.5 billion to $2 billion."
Intel also announced the sale of its NAND business to SK Hynix for $9B. The company will keep its more advanced memory chip unit and use the cash from the sale to invest in other products. It will also start a $10 billion share repurchase program in August.
Client Computing Group
The big news, from our GPU-centric point of view, that came out of Intel's announcement was what Intel CEO Bob Swan said during his comments to investors:
"Our first discrete GPU DG1 is shipping now and will be in systems from multiple OEMs later in Q4," said Swan.
Swan added, "We also powered on our next-generation GPU for client DG2. Based on our Xe high-performance gaming architecture, this product will take our discrete graphics capability up the stack into the enthusiast segment."
Intel also disclosed at its Architecture Day in August that it is also developing Xe-HP class GPUs for data centers, Xe-HPC for supercomputers, as well as Xe-HPG for gaming PCs (e.g., the DG1). And as is well known, Intel has a contract with Argonne Labs to supply the high-performance Ponte Vecchio GPUs (Xe)  for the Aurora supercomputer.
In Q3 the company launched 11th gen core processors with Xe graphics, code-named Tiger lake. Intel expects 100 Tiger Lake-based designs in the market by the end of the year—2x the expectation they gave in Q1.
3rd gen Xeon processor, Ice Lake is going into qualification testing now and Intel expects shipments in Q1.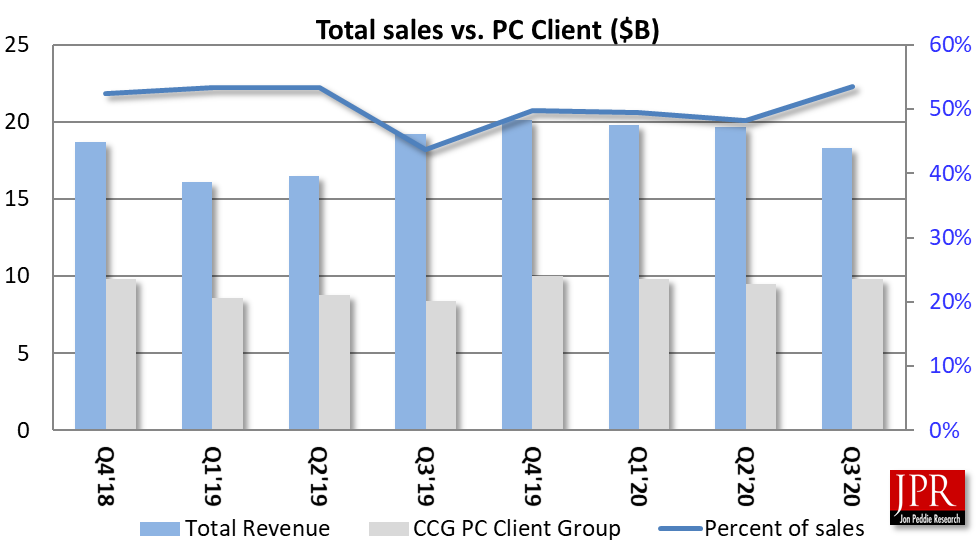 In the third quarter, Intel introduced its 10th Gen Intel Core processor, previously referred to as Ice Lake, which Intel describes as a highly integrated new CPU core architecture with new Gen11 graphics, the first integrated Wi-Fi6 (11AX) and Thunderbolt 3 connectivity, and Intel Deep Learning Boost. Built on Intel's 10-nm process technology, these processors, says Intel, deliver increased graphics performance, AI, and new levels of integrated connectivity for thin-and-light laptops and 2-in-1s. Further, claims the company, they give their OEM partners the freedom to innovate on design and aesthetics by reducing the silicon footprint while still delivering the latest standards and world-class performance.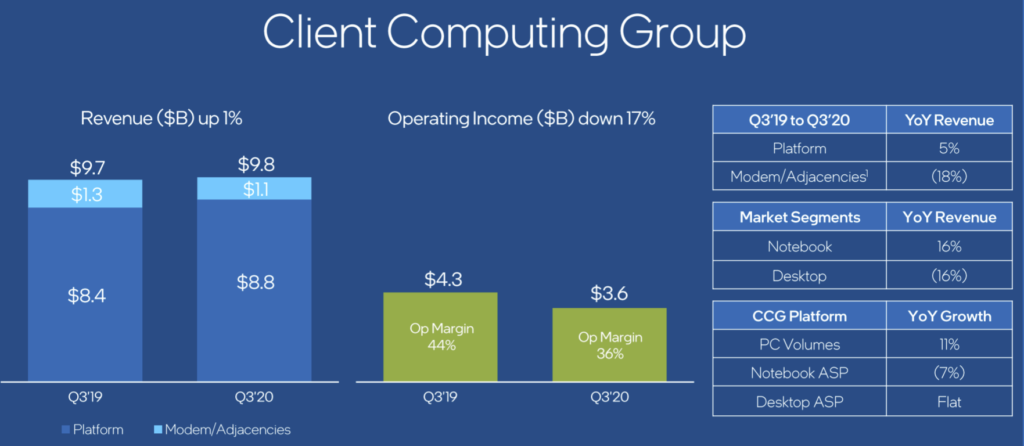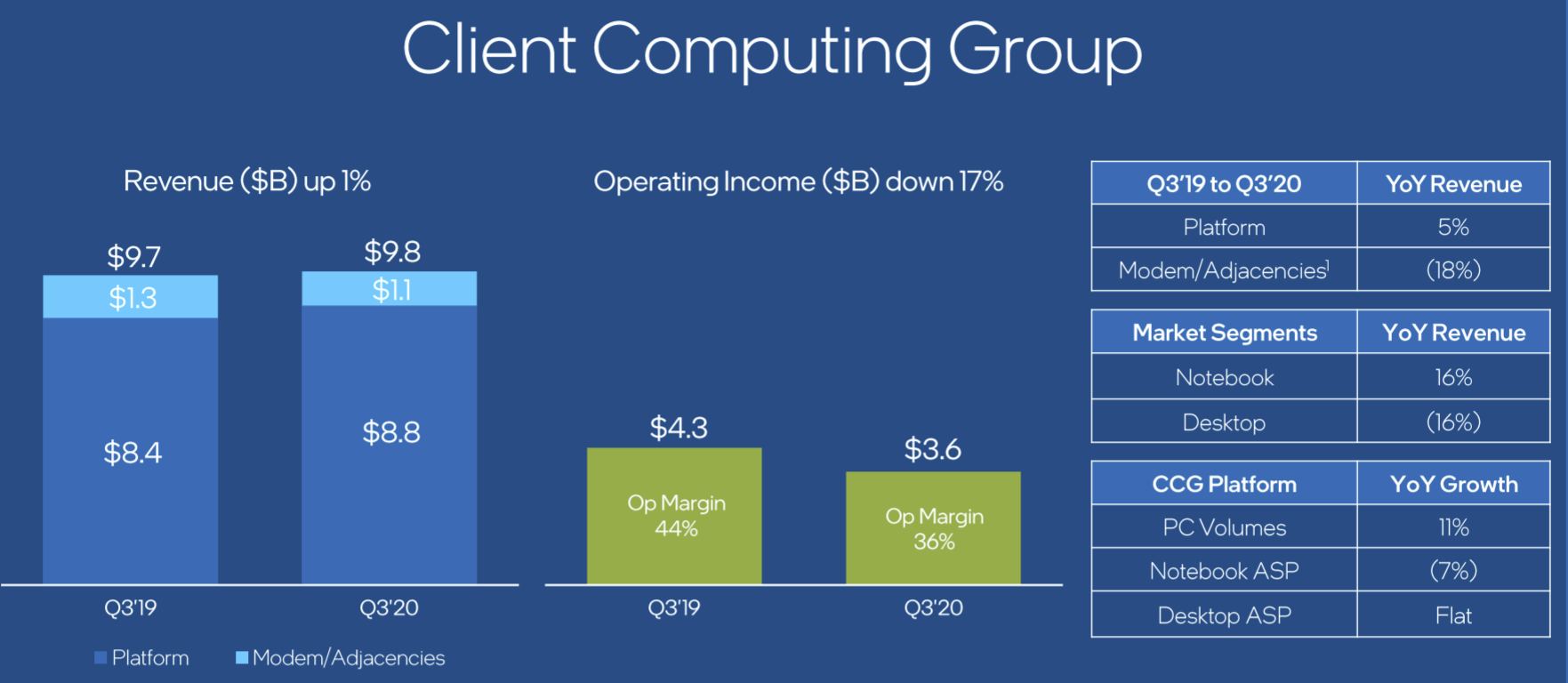 Intel said it delivered its fourth consecutive year of revenue growth and record operating profit as it managed through supply constraints. The company says it has maintained its focus on high-growth segments and disciplined portfolio management. Since 2015, Intel has increased profitability by 86%.
"I believe we can transform the PC into a platform that powers every person's greatest contribution by enabling them to focus, create, and engage in more meaningful ways." Said Gregory Bryant, CCG's General Manager.
Intel launched Project Athena, a multi-year innovation program, designed to deliver advanced laptops. The company exited the 5G smartphone modem business, while, said Bryant, continuing to meet current customer commitments for our existing 4G modem product lines.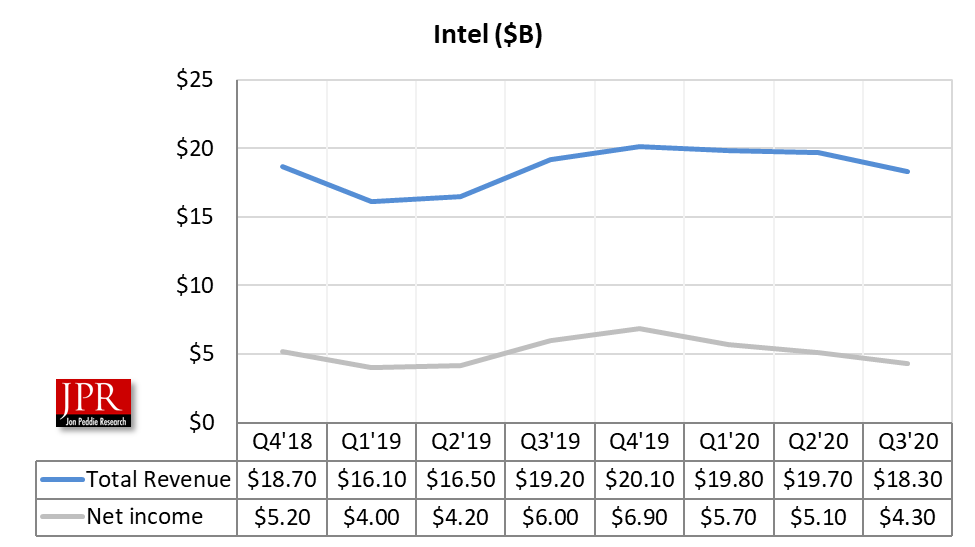 In Q3'20, over half (53.6%) of Intel's revenue came from client computing, CCG includes platforms designed for end-user form factors, focusing on higher growth segments of 2-in-1, thin-and-light, commercial and gaming, and growing adjacencies such as WiFi and Thunderbolt.
Client platforms
Notebooks have been increasing their market share for several years, and the trend is likely to continue.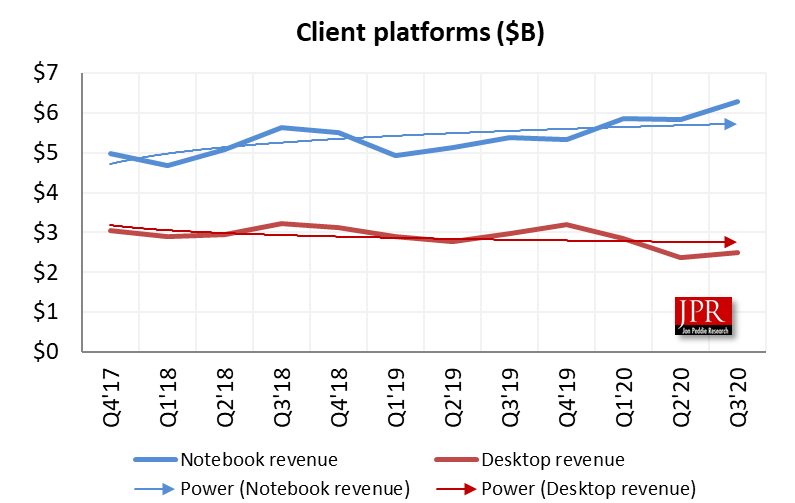 Notebooks had an unusual growth spurt due to the pandemic, which favored low-end products including the x86-based Chromebooks.
Outlook
The company said it was expecting fourth-quarter revenue of about $17.4 billion, while analysts were expecting revenue of $17.36 billion, but who's counting? However, Intel said its 10 nm factory in Arizona had reached full production capacity and that it now expects to ship 30% higher 10nm product volumes in Q4 compared to January expectations.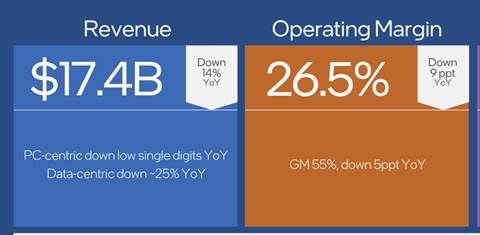 Intel's business outlook for the year is $75.3 billion sales, an operating margin of 31.5%, and gross margins to be 57% down 3ppt YoY.
What do we think?
Intel said it its PC-centric business revenue remained flat year over year. The company began shipping its 10-nm-based 10th generation Ice Lake processors which feature a new core architecture and are expected to deliver increased graphics performance. The big reveal is that the long-awaited discrete GPU, the DG1 will be shipping in Q4 in notebooks. That will not be the highest performance dGPU and to offset any criticisms Swan was quick to point out that an even better dGPU, the DG2 is being tested now.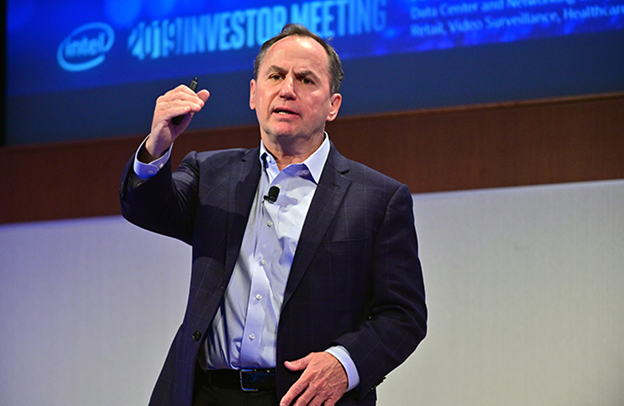 Intel's PC-centric business is operating in an increasingly competitive environment and the company is challenged to maintain an annual cadence of leadership products. Intel claiming strong demand across product lines and increased capacity. Unfortunately, that increased capacity was offset by limiting factors including yield when then contributed to tight supply, particularly at the value end of the PC market. Swan said the company is making additional investments in its manufacturing facilities and working with customers to align demand with available supply.