New update adds fixes and serves as reassurance to customers.
Is it good news or bad news that Autodesk has made SketchBook free and easy for all users? SketchBook started a revolution for Autodesk. It came out of the company's industrial design portfolio that came with its acquisition of Alias back in ancient times … before tablets and before touch screens. Designers used it as a very high-end napkin. They were able to quickly work on a sketch and bring it into Alias Studio as a base for a 3D design that could be created with complex surfaces. The tools were created to design cars, planes, consumer electronics—products with touch-appeal. SketchBook sort of slipped beneath the waves for a while, but Autodesk brought it out as Alias SketchBook Pro for designers for $200.
It had its devotees among designers, but it failed to light any fires. When Autodesk introduced SketchBook as an iPad app, with iPad appropriate prices fires were lit. Product Manager Chris Cheung helped bring Autodesk to the attention of the world, with one fabulous little drawing app, that was designed with artists in mind. SketchBook enables artists to work and keep their pen on the paper or rather their stylus on the pad so the inspiration flows. In its current incarnation,  it supports the Microsoft Surface Dial, Apple's Touch Bar, and other auxiliary tools. The success of SketchBook inspired Autodesk to release a raft of mobile products some fun, some practical like ReCap for processing photogrammetric content captured with digital cameras and the Autodesk 123D apps. Most have been abandoned because their return on investment was low but consumers tend to demand quite a lot.
Many of those tools became free before they became gone.
In May 2018, Autodesk announced that SketchBook would be free for all versions—desktop, mobile, and tablet. Various flavors of SketchBook had evolved, so Autodesk boiled it all down to a full-featured free version for individuals or an enterprise license for networked use in organizations for $85 a year (or $10 a month).
At the start of 2019, Autodesk issued a new update of SketchBook for Apple iOS, Windows 10, and Android, eliminating all the need to sign up for an Autodesk account. Seems there was a teensy glitch that prevented some of the users from logging into the SketchBook in the absence of internet and all users were annoyed by the need to sign in every time they wanted to use the software.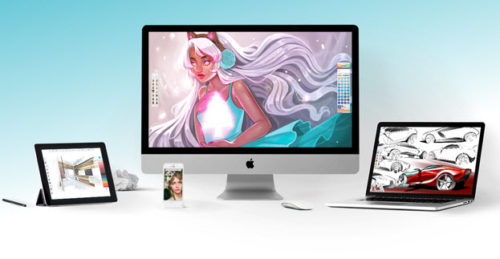 Autodesk still asks users to sign up for an Autodesk ID, which is free, but Autodesk has come up with a new welcome screen where the presence of a new 'start drawing' button allows the users to bypass the login function when they start up. Signing up for an Autodesk account grants access to the SketchBook forum for help. There are also a few improvements made in the new release like:
The link to the SketchBook blog has been fixed.
In the iOS version, the Apple pencil has now been made to work on the Welcome screen.
A Back button has been added to retry after a network error.
Formatting issues on the account information dialog have been rectified.
Easy to click close button for all popup dialogs.
The fact that the company has added fixes so soon after setting free bodes well for the future of SketchBook. And in fact, when the company addresses the issue in the SketchBook FAQ, the company says, "SketchBook is not being retired. We will continue to develop SketchBook and SketchBook for Enterprise with a focus on adding functionality to enable designers, architects, and animators to capture conceptual art and designs. While not all functionality will end up in both SketchBook and SketchBook for Enterprise, you will continue to enjoy the robust capabilities of SketchBook and benefit from ongoing enhancements, free of charge."
What do we think?
Autodesk has been revamping its product line and its strategy so fears for any of the surviving creative tools that blossomed forth after the success of SketchBook are pretty well-founded but the company does owe this venerable tool a debt. It has helped make Autodesk one of the best known of the CAD companies. More importantly, it has helped make the connection between design, engineering, and art for young people. Autodesk's Design Night events, held worldwide, were also an offshoot of Autodesk's outreach to consumers inspired by SketchBook.
There's no guarantee the company will continue to support SketchBook, but its appeal does reach across the company's user base as well as consumers. It's not a bad gateway drug for the company.