Revenue for the quarter was down -2.6% from last quarter to $18.7 billion, GAAP profit was $5.2 billion, down 18.7% from last quarter.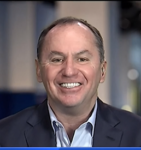 Intel has reported its results for calendar Q4 2018. Revenues were up 9.3% year-over-year showing strength across the businesses. The company is expressing optimism even as it searches for a new CEO and was forced to present a low-key keynote for CES this year.
"A number of geopolitical dynamics are going to weigh on ultimate consumers and enterprise desires to buy," said Bob Swan, Intel's new CEO. "This was the best year in the company's fifty-one-year history."
In the fourth quarter, Intel achieved revenue growth in nearly every business segment, and in 2018 every segment of the business set new annual all-time revenue records.
The PC-centric business (CCG) was up 10% in the fourth quarter due to continued strong demand for Intel's higher performance products and strength in commercial and gaming. CCG expanded its product portfolio for 2019 with the recent launch of new 9th Gen Intel Core processors and unveiled Ice Lake, the upcoming, 10-nm-based PC processor, which is expected to be in OEM systems on shelves for holiday 2019.
Collectively, Intel's data-centric businesses (DCG) grew 9% YoY in the quarter and 20% YoY in 2018. In the fourth quarter, DCG achieved 24% cloud segment growth and 12% communications service provider segment growth while enterprise revenue declined 5%. Intel recently announced that the new Cascade Lake family of high-performance Intel Xeon processors with advanced AI and memory capabilities is now shipping. Spending for R&D was $3.4 billion, up 0.15% from last quarter, and up 4.9% from last year.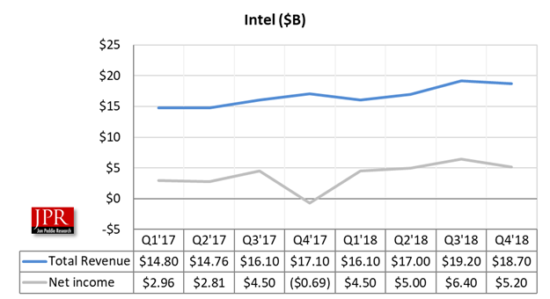 Client Computing Group
The Client Computing Group (CCG) showed strength in commercial and gaming, and the company says its focused investments and segmentation strategy drove results. The company has restructured that group and has let go of employees, but at a recent investor conference the new head of CCG, Gregory Bryant said that the company is increasing its investment in processor technology and focusing on getting their release cycle cadence back in step. The company seems optimistic they've made progress on that front.
Notebook ASPs were up 6% from last year, and up 3% from last quarter. Desktop ASPs were up 10% from last year, and up 1% from the quarter.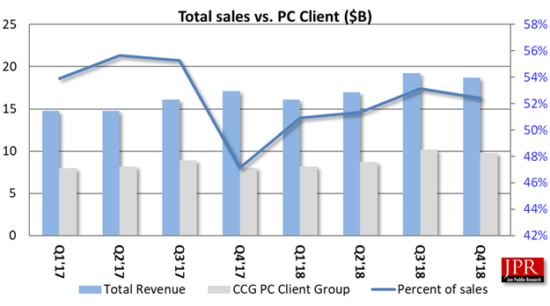 In the quarter, Intel achieved revenue growth in every business segment year-to-year. The PC-centric business volumes grew 6% driven by strong demand with strength in gaming and commercial.

Just over half (52.4%) of Intel's revenue comes from client computing, and the PC market is showing strength and new growth. PC revenue expansion is being driven by strength in Commercial & Gaming, said Swan.
Outlook
Intel said it expects $4.3 in earnings per share, excluding certain items, on $71.5 billion in revenue in 2019, and $16 billion in Q1.
Swan appointed CEO
A short time after announcing their financial results, Intel announced that its board of directors has named Robert (Bob) Swan as chief executive officer. Swan, 58, who has been serving as Intel's interim CEO for seven months and as chief financial officer since 2016, is the seventh CEO in Intel's 50-year history. Swan has also been elected to Intel's board of directors.
"As Intel continues to transform its business to capture more of a large and expanding opportunity that includes the data center, artificial intelligence, and autonomous driving, while continuing to get value from the PC business, the board concluded after a thorough search that Bob is the right leader to drive Intel into its next era of growth," said Chairman Andy Bryant. "The search committee conducted a comprehensive evaluation of a wide range of internal and external candidates to identify the right leader at this critical juncture in Intel's evolution. We considered many outstanding executives and we concluded the best choice is Bob. Important in the board's decision was the outstanding job Bob did as interim CEO for the past seven months, as reflected in Intel's outstanding results in 2018. Bob's performance, his knowledge of the business, his command of our growth strategy, and the respect he has earned from our customers, our owners, and his colleagues confirmed he is the right executive to lead Intel."
Swan said, "As we move into the next few weeks and months, we'll be focused on four critical imperatives."
First, we must be bold and fearless. Intel's team has the technical and strategic vision to shape technology's future. Our ambitions have never been greater and we have a relatively small share of the largest addressable market in Intel's history. We must remain focused on playing offense and innovating for an increasingly data-centric world. A world where all data needs to be processed, moved, stored, and analyzed.
Second, our core strategy is not changing: We've embarked on what we believe can be the most successful transformation in corporate history. We are evolving from a PC-centric to a data-centric company that builds the technology foundation powering the world's innovations. What will change is how we serve our customers and how we partner and build the best technology together. By listening closely to how we can make our customers' lives better by helping them delight their customers, we will all win.
Third, our execution must improve. And it will. Our customers are counting on us.
Fourth, we have a powerful culture, and to achieve our ambitions we must evolve. Our culture must encourage every Intel employee to be bold and fearlessly focused on going beyond what they thought possible. And, the culture must honor truth and transparency, customer-obsession, and coming together as "One Intel."
What do we think?
Swan said a number of geopolitical dynamics are going to weigh on consumers and enterprise desires to buy this year, but he expects those clouds to dissipate over time and get back to a healthier environment, but right now we're a little bit cautious. The global GDP a little bit strong in 2019, but a little weaker than it was in 2018.

However, Intel' share price has shown some good gains over the past year.
Having an appointed CEO will remove one of the uncertainties about Intel. A CEO always makes changes. Swan isn't likely to make any sudden changes. He is a known quantity, having been with the company as a visible chief financial officer since 2016, and the interim CEO for the past seven months. As Swan said in his letter to the employees, "our execution must improve. And it will," that is Intel's biggest challenge now in the eyes of many people. Intel has been making great processors for over 50 years, they'll get the yields fixed.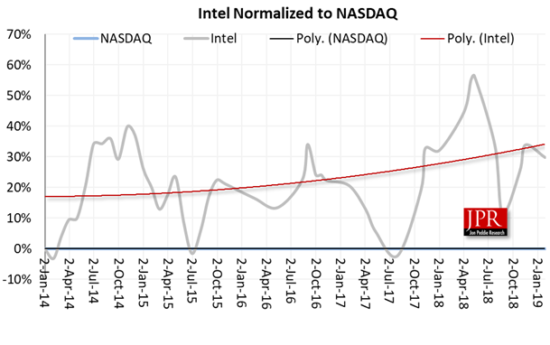 Swan added that the PC business has been very stable for us, we had a wonderful 2018. We expect the PC TAM to be relatively flat in 2019. We are a little supply constrained in the first half, and we expect those constraints to lift in the second half. So even though we were off to a somewhat slow start we'll see some recovery in the second half of the year.