Q1 of '21 provides record quarterly revenue across all segments.
Adobe's first quarter ended March 5, 2021, and the company says it is seeing plenty of more growth throughout the year. In fact, after the company's cheerful assessment of the quarter, it also raised its expectations for 2021.
Adobe's Digital Media segment saw revenue of $2.86 billion, 32% year over year growth. Creative revenue grew to $2.3 billion, for a 31% growth while Document Cloud (also included in the Digital Media segment) grew to $480 million, a 37% growth year over year. The Digital Media ARR increased to $9.12 billion for Creative Cloud and to $1.57 billion for Document Cloud.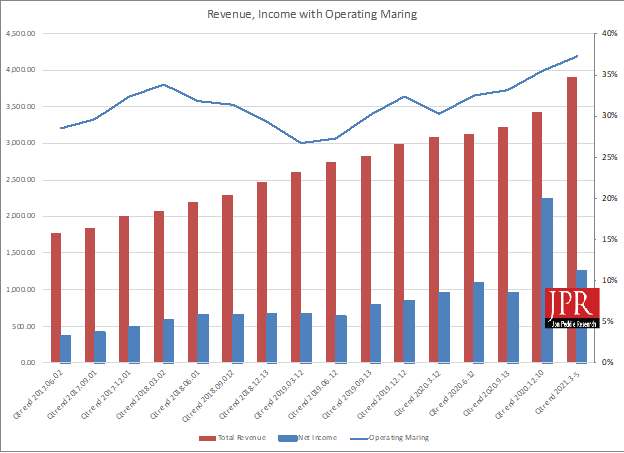 For the quarter, Adobe achieved a record revenue of $3.91 billion, a 26% increase of the same period last year. The company noted new Creative ARR of $337 million, and $2.38 billion revenue for Creative Cloud. Growth in creative has been led by Adobe and Lightroom.
As a result of the pandemic, the company noted exceptional growth in education and teams. In talks with investors, CEO Shantanu Narayen also mentioned a boost in the use of Adobe Stock that may well be related to pandemic shutdowns as companies find it harder to organize photoshoots, etc. It's also a perfect opportunity for the company's virtual photography app Dimension.
The Digital Experience segment reached $934 million, a 24% year over year increase. Subscription revenue for Digital Experience was $812 million, a 27% year over year increase.
Adobe's net income was $1.26 billion.
Adobe provides second quarter financial targets
Along with their financial press release, Adobe also released an updated forecast.
"Adobe drove record Q1 revenue, and we are raising our annual targets based on the tremendous opportunity across our business and our continued confidence in our global execution," said Shantanu Narayen, president and CEO, Adobe. "Adobe's Creative Cloud, Document Cloud and Experience Cloud have become mission critical to all customer segments—from students to individuals to large enterprises—across the world."
The following table summarizes Adobe's second quarter fiscal year 2021 targets:


As a result of the company's first quarter, Adobe's executive increased their outlook for the year. The updated forecast looks like this:


Adobe's CFO John Murphy also announced plans to retire. He said he'd like to take time to be with his family and tend to his philanthropic interests. This is a CFO who has had a very good ride in the tech industry with 4 years at Adobe and 2 years at Qualcomm.
"Our execution in the first quarter was strong, driving accelerated revenue growth and earnings," said John Murphy, executive vice president and CFO, Adobe. "Adobe is unique in its ability to drive both top-line and bottom-line growth with strong cash flows and margins."
All is happy in Adobe Valley. During the investor call, some investors expressed their reservations wondering if people might snap back to the way they were before the discovery of remote working. Those creatives might go to the beach and enterprises might pare back their digitalization efforts instead of continuing to expand.
Narayen, however, is very optimistic. He believes Adobe is mining a rich vein of creativity that exists in all humans. A couple of times during the call, he identified Adobe's base as creative professionals, communicators, and consumers. He believes the transition is ongoing.
What do we think?
Leave it to a bunch of bean counters to think that people will simply up and stop being creative or using the new tools that enable them to communicate more effectively. But, to be fair, underlying their misgivings are fears of a retraction and the effect it might have on Adobe's plans for its Experience products. The company's conference for the Experience Cloud is coming up at the end of the month.