Taking new technology and practices out to people.
The design world is navigating a fundamental shift that might someday enable people to design or modify their own products. Certainly business models are changing, services and products are packaged together, and designs can be re-used and repurposed.
Autodesk and its competitors are dealing with this shift in a number of ways, but one tried and true approach has been to help educate the next generation of customer. Autodesk has been enthusiastically extending access to machine tech and design tools but it hasn't been easy. For instance, the Tech Shop (see related article) has filled this need and we're seeing follow on from TheShop.Build. The spaces are a challenge to maintain, especially if the major source of revenue is member subscriptions and they require skilled staff. Machines like laser cutters, CNC machines, 3D printers are all expensive to maintain and require specialized training.
And, as a matter of fact, the TechShop declared bankruptcy last year. Though the company has sworn to return, they've been quiet so far. There are other models: FabLabs as defined by the Grassroots Invention Group and MIT's Center for Bits and Bytes of the Media Lab are community labs established all over the world and connected through FabLabs.io. This is a healthy, growing community with loyal corporate supporters. Wikipedia reports there are over 1,205 FabLabs all over the world. Dassault and its SolidWorks division are among the many supporters of FabLabs and Dassault is also building its own network of distributed network facilities in the web. There are also plenty of ad hoc groups growing up in communities, but the truth is, it's hard to keep a maker space going.
Meanwhile, Autodesk has taken a more direct approach. In San Francisco where the spirit of Burning Man burns all year round, Autodesk built Pier 9 in 2013 as a design and manufacture resource for the community as well as test lab and showcase for Autodesk's tools. Since then the idea has blossomed and the company has opened several Technology Centers as hosts and partners in research and education. The Technology Centers work with startups, universities, community organizations, and other groups. The advantage is that they survive with support from Autodesk as well as the organizations that develop projects through the Tech Centers.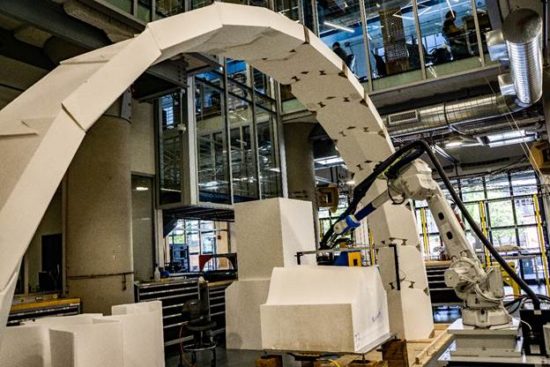 More recently, Autodesk has opened the Build Space in Boston with a focus on AEC, and also centers in Birmingham, UK and in Toronto (MaRS) to focus on emerging technology including AI, robotics, virtual reality, and the Internet of Things.
Autodesk opened Build in Boston in 2016. It too supports design and manufacture, but Boston is the home of Autodesk's AEC offices and Build has a focus on the architecture industry and fabrication. It has been built in the newly developed shipyards of Boston.
We talked with Athena Moore, Build Space Community Manager at Autodesk. She has concentrated on the community aspects of Build working with the city as well as Boston's rich (in multiple senses of the word) University resources and also government funded organizations to put together people with ideas with people who can help turn ideas into reality and maybe even products. Probably due in no small part to the university connection, several international groups were working at Build when we were there.
The groups meet informally at evening get togethers where they can share ideas and also Build has more formal meetings to share the work that's being done and help with allocation of resources, etc.
Negar Kalantar, an assistant professor from the University of Texas A&M, is working with a team from the University to explore the potential of building structures from lightweight materials using interlocking components. A considerable chunk of real estate in the Build facility has been given over to an arch the team is building with the help of robots which can cut the interlocking pieces from geofoam, a polystyrene-based foam material used for fill in road and bridge projects. Machines can be programmed to cut pieces according to a pre-determined design to minimize waste and robots are also programmed to build the structure. The team is exploring the idea for building temporary shelters or other structures. It might be possible to ship robots and materials to remote locations where they can get to work building programmed structures with a minimum of assistance. Kalantar is the team design leader. She says the six-week project is enabling the group to learn how to use robots in an architectural setting. This fits into Kalantar's work at Texas A&M where she has also been studying 3D printing for the development of strong and flexible fabrics for a variety of uses including architectural projects.
Another project at Build is being developed by Tom Baran, Matthew Hirsch, and Daniel Leithinger who worked on developing light field display techniques at the MIT Media Lab, a research nexus for light field technology. They founded LumiiDisplay to find business opportunities for their work. They have developed an algorithm that can translate a 3D model or image captured by a camera array (or light field camera) into a 2D image that can be printed on transparent layers and displayed as 3D. The technology takes advantage of GPUs to calculate the dot placement for the printers. They've been able to take advantage of the Autodesk Build platform to experiment with new ways to commercialize the technologies because as cool as it is to make novelty 3D images, it has never represented a giant business opportunity.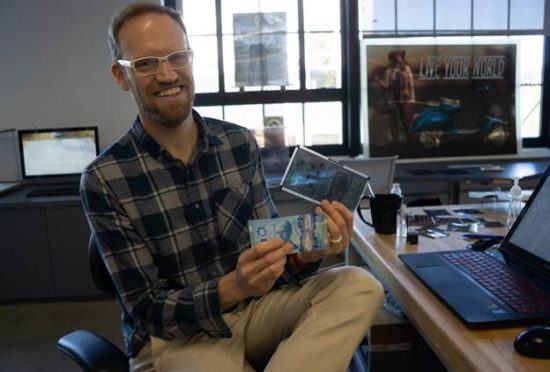 One of the ideas they've come up with has been inspired by the use of holographic images in packaging and on money as an anti-counterfeit measure. Currently the process of creating holograms is a separate process. It is often used as an extra security step for money—think of the silvery strips on money. The work that Hirsh's team has done enables them to combine the creation of a hologram with a traditional print run. It's an easier, less expensive process and it's also more secure. They're working with Build to develop a process for using their technology with commercial printers.
Finally, we were introduced to Dan Sternof Beyer and Bevan Weissman of New American Public Art, a multi-disciplinary studio for conceptualizing, designing, fabricating, and installing interactive projects. The group proudly calls themselves makers and their work is focused on projects that invite interaction. Beyer is the creative director and Weissman is the director of fabrication for the organization. At Build, they are working with the City of Austin to build Kempelen's Owls. The owls are named after 18th century inventor Wolfgang von Kempelen who was famous for building a chess-playing automaton, which was presented to Maria Theresa of Austria. The robot was actually a fake. It was powered by a hidden chess master pulling levers to move the pieces.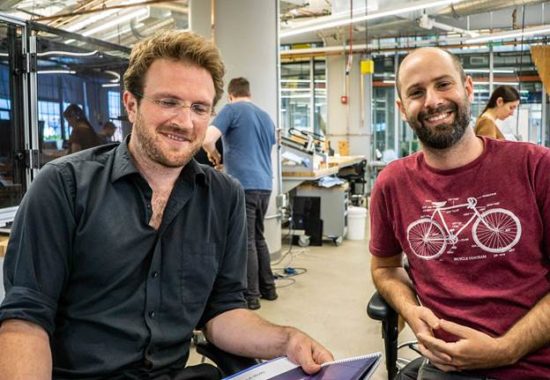 NAPA is building a pair of giant owls that will sit at a pedestrian bridge in Austin leading to the city's new library. The 10-foot owls will sit on a pedestal that functions as seating for visitors and the curious will find a way of turning the owls' heads. So, given the right sense of humor, one can play with the owls and make it seem as if their eyes are following people as they walk by, or the two owls could interact with each other. The idea is to let people figure out what to do.
The owls are due to be installed in 2018. They were designed using Autodesk Fusion. The team is putting robots to work to create the surface material for the owls. The surface is created by gluing slices of Corian together, which are carved into the shapes needed to finish the owls. The surface looks like layers of different colored stone with bands of metallic material. The owls will keep the polygonal surface that underlines their digital origins.
Open source is fundamental to New American Public Art. The designs are available to everyone and the whole project is very well documented on the NAPA site. Visitors can comment on the design using a Fusion markup file; there are videos of the making process, and there is a PDF book available on the site, with step-by-step details, drawings, and images. They offer a high res version of the PDF that can be printed out as a keepsake.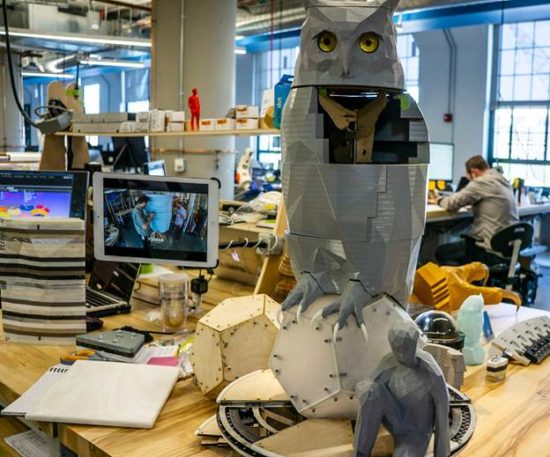 New technology demands new approaches. Pathways are opening up between research centers and into the mainstream of daily life where people can have direct access to tools and training. The people working at technology centers like the Build Space are exploring new ideas, but they're also participating in a long, ongoing experiment to discover what happens when the barriers to innovation, such as access to expensive machines, design software, onsite training, are collapsed. Certainly more people will be able to do specialized jobs, but there could also be a fundamental shift in the ways people see themselves—are they cogs in the machine or makers of their own machines?
What do we think?
Maker Spaces and open shops are increasingly being supported by the tools makers. After all, one of the major inhibitors to selling more software is that it's difficult to use. And what's true for software is also true for machines and new processes. Technology software and hardware companies are joining with machine and tool makers to train new generations so they can buy stuff to build stuff. In this next round of evolution, we're also seeing the emergence of web-based resources such like Dassault's Marketplace, Shapeways' 3D printing services, or Xometry's online manufacturing services. The software companies including Autodesk, Dassault, Siemens, PTC are increasingly building direct links between the software, the tools for realizing software designs, and the customers will eventually use the end products and maybe even adapt them for personal use. There's much more on the way.
It's hard to beat the combination of readily available tools, instruction, and even funding but clearly it's not an easy package to deliver either.