AMD rides along with Radeon Pro 5000 series.
The big news for Apple came as it always did in June with the company's big WWDC. This year's event was no less explosive for being held as a virtual event. Instead, Tim Cook marched out and scrambled the game board with the announcement of new all-Apple strategy for new Mac computers coming at the end of the year. As everyone had been expecting, Apple said it was ready to go with new machines based on its home-made CPUs with Arm cores. Even though most people knew the news was coming, it still came as a surprise because Apple was ready to go.
Who's afraid of the Osborne Effect?
Not Apple. The promise of an entirely new platform can put a damper on sales of products based on the old platform, but Apple is unafraid. After all, they've done this before with the shift from IBM's PowerPC to the Intel X86. So, here comes what could be the last of a dying breed, the new 27-inch iMac. In addition to introducing a shiny new 27-inch iMac, Apple has also added improvements to its 21.5-inch machine. As Apple announced its all CPUs, it also pledged to support the Intel-based Mac line "for years to come," whatever that means.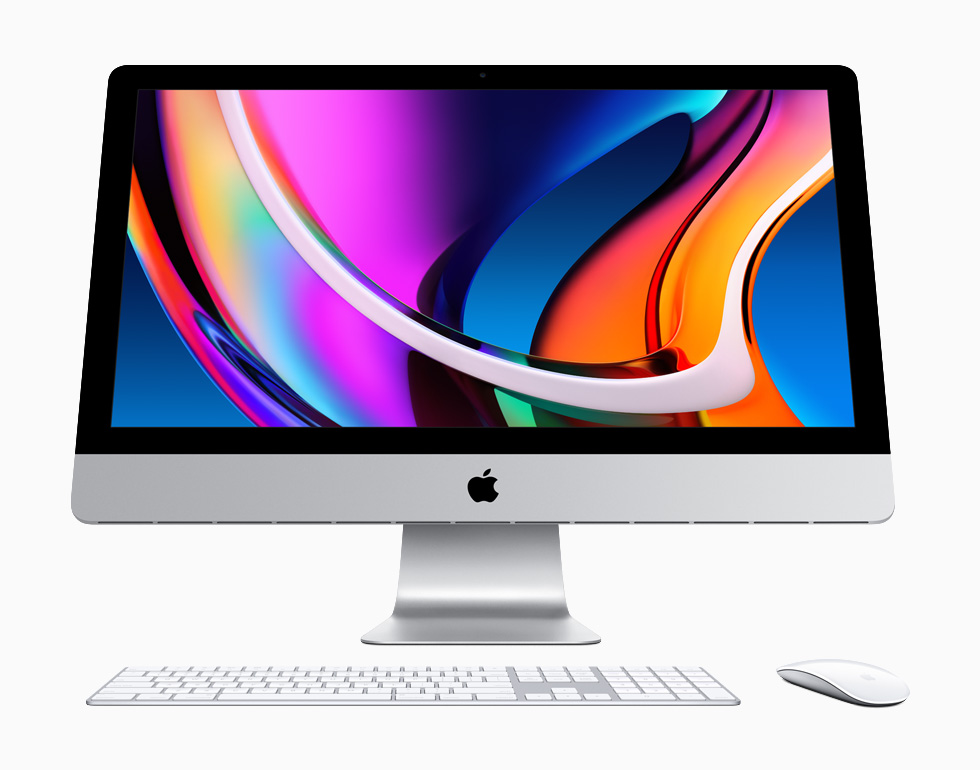 The monitor is the thing for the iMac and this new model has a Retina 5K display, 5120 × 2880 display. The Mac displays are inarguably beautiful, but there are some complaints about the big fat bezel and "chin" on the bottom but others like the continuity of the design. Apple is also offering a non-glare display option, through a technique Apple brands as nano-texture. Fine etching directly on the glass knocks back the glare but not to the extent at too much perceptible cost to contrast and sharpness.
One thing to know about getting nano-texture is that it's a $500 add-on. That glare doesn't bug you so much now, does it?
The main reason to upgrade any line of PCs is to be able to take advantage of next-gen silicone. For some users, it might be a bit of an insurance policy to have the latest processor to stretch that investment as far into the transition as practical. The new iMacs are upgraded to 10th generation Comet Lake CPUs across the board with 6- and 8-core CPUs standard. Top of the line is a 10-core Intel Core i9 with Turbo Boost to 5 GHz, which Apple says enables up to 64% faster CPU performance. The machine has 8 GB DDR4/2666 MHz RAM and can be upgraded to 128 GB.
The update to the 27-inch iMac brings SSD across the line instead of the 1 GB hybrid Fusion Drive that used to be in the base configuration for the iMac. It comes with 256 GB of SSD upgradeable all the way up to 8 TB.
All the attention here is on the 27-inch iMac but Apple is keeping the 21.5-inch, and the iMac Pro up to date as well. The 21.5-inch also comes with SSDs across the line but users can also stick with the 1 GB Fusion Drive.
The iMac Pro, which is Apple's "entry-level" workstation compared to the Mac Pro, now has a 3.0 GHz, 10-core Intel Xeon W processor with up to 18 cores, ECC memory, and 1 TB SSD drive. It also has a Radeon Pro Vega 56 with 8 GB HBM2 memory. The iMac Pro starts at $5,000, so I'm not even sure why we're talking about it here, except that this is what Apple is doing across their iMac line for customers who'd like to stand pat for a while. We're assuming workstation users will be among the last to switch, and in fact may instead stick with Intel workstations.
The new iMacs come with the Apple T2 security chip, which provides on the fly data encryption and checks software at boot to be sure no problems have been introduced. Apple has also improved the camera, upgrading from 720p to 1080p and added a 3-mic array.
Graphics please
Apple has also upgraded the graphics options available from AMD. They're stepping up to the Radeon Pro Vega 48 series GPUs with RDNA architecture. Apple says the step up results in 55% faster graphics performance. Video memory has been upgraded to 16 GB, which is double the previous amount of video memory available for the 27-inch Mac.
In fact, says Apple, the inclusion of Radeon Pro 5000 line of graphics enables up to 55% faster rendering via Cinema 4D ProRender, 50% demo flythrough in Unity, 45% faster performance in Total War: Three Kingdoms, and up to 30% faster timeline rendering in Final Cut Pro X.
The AMD Pro 5000 series, which is showing well in benchmarks, has features:
Up to 7.6 TFLOPS of single-precision (FP32) floating point performance
GDDR6 memory in up to 16 GB configurations with 384 GB/s bandwidth
AMD RDNA architecture based on 7-nm FinFET process technology which enables 1.5× higher performance per watt compared to AMD's previous generation.

What do we think?
It's snarky, I know but Total War: Three Kingdoms seems a strange choice of game to highlight the iMac's game worthiness, doesn't it? It is a turn-based strategy game. It's no Fortnite. Famously, Apple is battling Epic in a battle of the giants over Apple's transaction fees. Those fees are what gives Apple the ability to forge its own path in PCs as well as mobile phones. They add up to a lot of money.
Apple is heading towards sleek, uncluttered, functional tools for work and play. When it comes down to it, Apple will be asking its base to forget about the high-end options available for professionals. It will be selling a different ecosystem that connects mobile phones and tablets with desktop tools. It's unclear right now how many professional software tools will jump through the transitional hoops to reach compatibility with Apple's new Arm-based platform for what is a very small user base. For those utterly committed to Apple, they can stay with the iMac Pro and the Mac Pro for a few years and see what happens.
Meanwhile, a big chunk of software serving Apple's base will transition, which includes Adobe, Microsoft, and Apple's own software. That's a big hunk of the market. In CAD, we know that Nemetschek plans to make the transition with Graphisoft and Vectorworks. The people at Black Magic are longtime Apple fans, so it seems likely there will be some form of video editing tools available for Macs. In fact, we expect to see Macs remain an important resource for video editing.
And oh yeah. The cloud.
Apple has not exactly raced to the cloud, but the cloud has raced to Apple. Autodesk and PTC are embracing SaaS because it will enable access from just about every client platform. Just because Apple doesn't talk about stuff, doesn't mean they're not doing stuff, which Apple made clear with the announcement of new computers with new processors coming at the end of the year.
A story in the Protocol tech newsletter reported on Apple's expansive hiring of well-known engineers working in cloud-based infrastructure development.
Apple has built its own world, and it's going to protect it and live in it.
Read more…