Google Images adds "licensable" badge for photographers.
Google has plans to make it easier for people to sell their images online, says Adobe's John Nack in his blog. Coming soon, images turned up by the Google Search/Images capability may have a "licensable" brand attached that provides information on how the image can be licensed.
In general, professional photographers have not been fond of Google Images tool, in fact, Grover Sanschagrin of PhotoShelter says "Google Images just makes it easier for people to steal their images."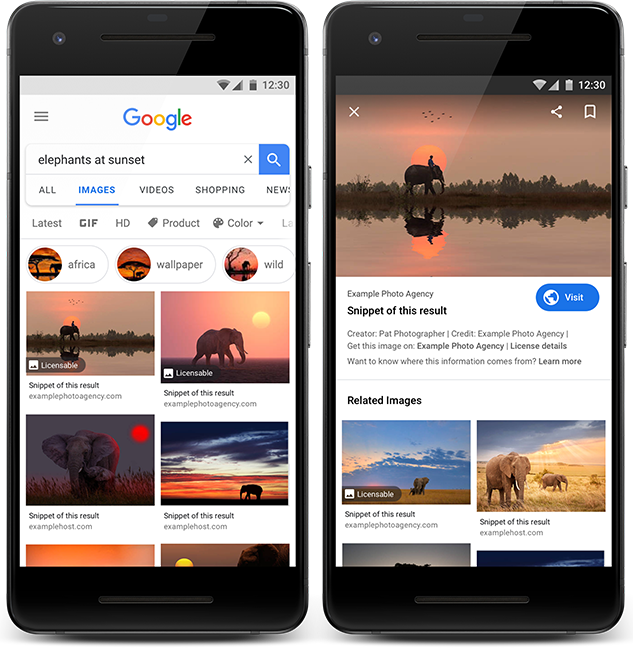 Google has slowly been taking steps to get itself into photographers' good graces. In 2018, in response to a lawsuit from Getty Images, Google began to make changes to make it harder to download full-resolution images from a Google Images search and instead it takes people to the host website. It has removed the "view image" button that often presented a downloadable image with no information about the rights associated with that image. And, Google collaborated with CEPIC and the media standards body IPTC to enable Google to display available copyright data.
Now, in a more Googlian approach, the company has made it easier for anyone to add licensing information to their photos so people who'd like to use an image can legally license it.
According to the Google developers site, the feature is not yet available but people can start attaching licensing information to their images so they'll be ready when it goes live. Google lays it out pretty clearly. However, sites like PhotoShelter can do all the work for you as well as help with marketing, etc. PhotoShelter's subscription service starts at around $10 a month. A fairly desultory search also turned up Adobe Stock and Picfair as alternative resources for anyone to sell their images online. More information is also available from PetaPixel.
To do it themselves, users have to be sure that their images are findable on their sites so no paywalls or logins. Obviously, pages have to be accessible by Googlebot. To be sure pages are accessible, Google suggests people check Google's Index Coverage report or URL Inspection tool. Finally, Google also provides some best practices for displaying and tagging images.
What do we think?
The availability of images for use in websites or ads is about to explode and it only takes a minute or two of thought to realize that professional photographers might not be thrilled about this turn of events and neither will agencies likes Getty Images, which charge top dollar. The price of available images is inevitably going to go down as quantity goes up and it will do no good for professionals to sniff about quality because there are a lot of talented people in the world with cameras.