An easy rendering tool designed for AEC gets advanced features.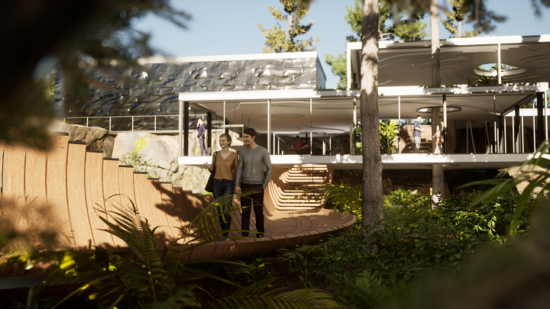 Visualization is an important tool for architects, so important that it has traditionally been sent off to specialists, which can be an inconvenience for fast changes and quick updates. Twinmotion, by Epic, is being developed as an easy-to-use content creation tool that produces high-quality visualizations that also include design information. It's a tall order, and there are several competitors in the market offering visualization for building information models (BIM), fast rendering, animation, and all of the above.
Twinmotion 2020 is Epic's latest version, and the company is aiming for all-of-above, but with this version, it has concentrated on visual quality. It also has the ability to provide notes, informational views, and walkthroughs. Epic says Twinmotion is addressing the requirements of professionals working in architecture, design, construction, urban planning landscaping, and related fields. Epic Games General Manager for Unreal Engine, Marc Petit says that they're also seeing people try out Twinmotion for other projects outside the realm of AEC. Petit's business could be called The Everything Else business for Epic Games.
This new version has gained attractive new features from Epic's acquisitions and crossover from the Unreal store.
TwinMotion 2020 features
Lighting: New lighting features take advantage of 3D capabilities including volumetric calculation. Diffuse lighting effects and indirect lighting options have been added as well as new models for atmospheric sun and sky for different time of day simulations. Lighting effects through particles enable fog and smoke effects as well as the cinematic depth of field.
Enhanced vegetation system: Twinmotion has new trees assets from Xfrog and assets from Quixel. A new growth tool lets users simulate how a project might look in a few years as the vegetation grows. New grass features let users customize their lawns.
New humans! Twinmotion has replaced its 3D animated characters with photo-scanned assets from AXYZ design. Users can choose from 62 animated characters, each with 5 clothing variations. Twinmotion also includes 82 ready-posed characters.
DirectLink: Twinmotion 2020 already has DirectLink to Revit and ArchiCAD. This version adds Rhino and Grasshopper.
Presentation tools: Twinmotion Presenter lets users offer a runtime viewer featuring multiple points of view and camera paths. They can produce a guided tour or let their viewers explore the design. Twinmotion has added a note tool for review which has support for Revit and ArchiCAD and other BIM tools.
New material and texture: Twinmotion has support for H.264 animations so users use videos as textures. There's also a new frosted glass material to simulate translucent glass and light scatter. The X-Ray option can provide a view of objects behind walls, floors, or other objects. For instance, pipes, ducts, electrical wiring can be revealed.
When last we saw Twinmotion, the Unreal team was busy building an ecosystem for its design and engineering business. Twinmotion was being offered for free to let it find its market. Epic Games is building markets, literally. The company has established marketplaces where customers can buy assets to develop their content. For perspective, Unreal Engine, which is free, has seen over 7.5 million downloads. All those people might want to buy stuff in order to build better stuff.
Marc Petit tells us that interest in Twinmotion has run high. "There is a lot of pent-up demand for a product that's easy to use," he says.
Downloads have approached a half million and that many users are showing interest in buying additional assets for their content. He sees a shift happening in the user base, which, he says, was primarily using Twinmotion for creating stills. There's still plenty of interest in that, it fits into the architect's typical workload, but the Twinmotion team believes that if the tools are straightforward and easy to use, people will do more, they're already seeing the start of that transition.
Pricing and availability
It's complicated. With this release, Twinmotion is $499. If people buy now, they can get a 50% discount and get free upgrades through December 2021. Early adopters using previous versions of Twinmotion can get 2020 free of charge and free upgrades through 2021. More pricing information is available at https://www.unrealengine.com/get-now/twinmotion.
The future
Twinmotion is built on Unreal Engine 4, but it adds an accessible interface to present a variety of capabilities to the user so that can create images, panoramas, videos, and virtual reality content. There's some tension between the desire to do more in Twinmotion with the need to keep it easy to use. The Twinmotion team has a list of capabilities they want to add to increase interactivity and to make it easy for people to experiment. For instance, the support for Rhino and Grasshopper opens that door. Also, the team is looking at increased interoperability with other programs.
Getting back to the core AEC user base. Today, there are two different types of creative people making content for 3D CAD models. There are those who are using Twinmotion and knocking out quick visualizations and walkthroughs with varying levels of interaction. And there are people who are using Unreal Engine to build custom applications. These people may be working with other 3D modelers and visualization tools.
The Twinmotion team is looking for opportunities to build bridges between the different communities and give people options for whatever application the job calls for.
Read more…