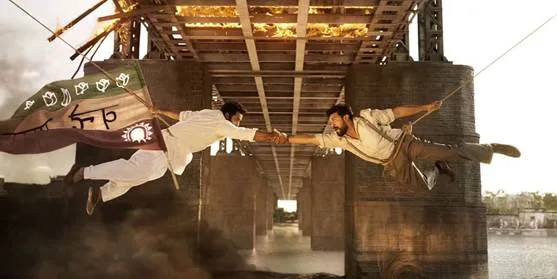 The live-action feature RRR proves that Indian filmmaking can handedly make the leap from romantic melodramas to the superhero genre, while, amazingly, retaining many of the beloved hallmarks audiences have come to know and love about traditional movies from that country—heavily populate scenes, elaborate song-and-dance numbers, elaborate sets, and more. In fact, "more" is what you get from this film.
The epic action drama, RRR (which stands for Roudram Ranam Rudhiram, or loosely translated into the alliteration Rise, Roar, Revolt) is set in 1920 pre-independence India. It is a story about two Indian revolutionists—Alluri Sitarama Raju (Ram Charan) and Kormaram Bheem (NT Rama Rao Jr.), who fought against the British Raj and Nizam of Hyderabad, respectively. While based on an idealized version of these two men, the time-bending plot joins these two heroes together in a fictional friendship and battle in Delhi prior to them becoming revolutionaries.
In the film, the lives of these two latter-day heroes are linked after a small tribal girl named Malli is snatched by the British governor and his wife. The tribal warrior Bheem begins a relentless search for her, while Raju begins a relentless search to capture Bheem. The pair meet and form a friendship that is then tested when Bheem's identity is revealed. In the end, friendship prevails as they unite against a common enemy.
RRR was released theatrically earlier this year, becoming a box-office hit in India, the US, and across the globe, and later drawing a second following on Netflix. With a reported total cost of $72 million, RRR is the most expensive Indian film to date. Box Office Mojo has RRR earning more than $100 million worldwide, while other sources reported the film grossed $175.47 million.
The cinematography is amazing. The production used Arri's new large-format camera system, which comprises the Alexa LF camera, Arri Signature Prime ultra-sharp and Zoom lenses, along with lens mount and adapter. The Alexa LF camera has a sensor that is slightly larger than full frame and records native 4.5K, enabling filmmakers to explore the immersive large-format aesthetic while retaining the natural colorimetry.
The film often integrates hyper-stylized motion and physics augmented with slow motion to enhance and heighten the action.
The visual effects are amazing and often fantastical, with Srinivas Mohan serving as overall VFX supervisor. According to Mohan, the work entailed visualizing massive action set pieces with live and augmented pyrotechnics in scenes, combining large-scale miniature shoots with scale-wise digital augmentation for pyro and dynamics, fully digital shots, and live full-scale augmented effects. Extensive street and populated set extensions with thousands of digital crowd agents and pops were generated and added manually and procedurally. The VFX also encompass digital animals heavily interacting with live actors, thanks to the use of extensive previsualization.
In all, there are approximately 2,800 visual effects shots in the film, which account for 70% of the total shots in the more than 3-hour film. To handle all that work, approximately a dozen and a half VFX facilities contributed to the film, with Framestore and Moving Picture Company handling the lion's share of the work.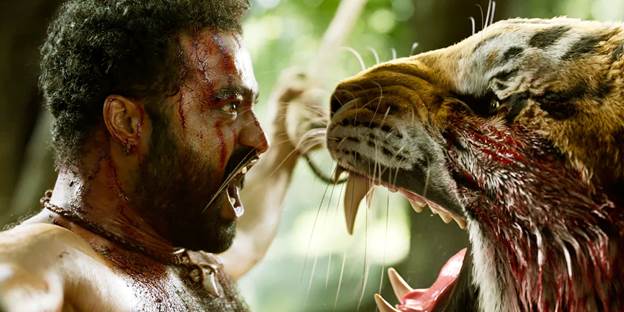 The VFX teams used a wide range of software, including but not limited to Autodesk's 3ds Max and Fusion, as well as Foundry's Nuke, as the primary tool set, which were supported by Enterprise Matchmove Software's 3DEqualizer, while production tracking was done via CGWire's Kitsu and Autodesk's ShotGrid. Epic's Unreal Engine was also used for previsualization. Some studios used propriety tools, and at least one used Blender for a portion of its work.
An in-depth look at the work on this film can be found on Jon Peddie Research's TechWatch site.