And makes do with a Core CPU—pro machines continue to evolve.

Asus showed a lineup of Nvidia-powered notebooks at IFA. It was a clean sweep and something of a coup for Nvidia in that three of the five units had Quadro workstation GPUs in them, while the other two had consumer-grade RTX GPUs.
Based on the Nvidia ACE concept design, and keying off of Nvidia's Studio branding (introduced at Computex 2019), Asus added ProArt and Book to the label, and indeed showed some beautiful images.
This top of the line was the ProArt StudioBook Pro X with a high-end Quadro RTX 6000 and a massive 24 GB of GDD6 hanging off of it. That alone is worthy of praise—how did they stuff it all in there, and how did they keep it from melting?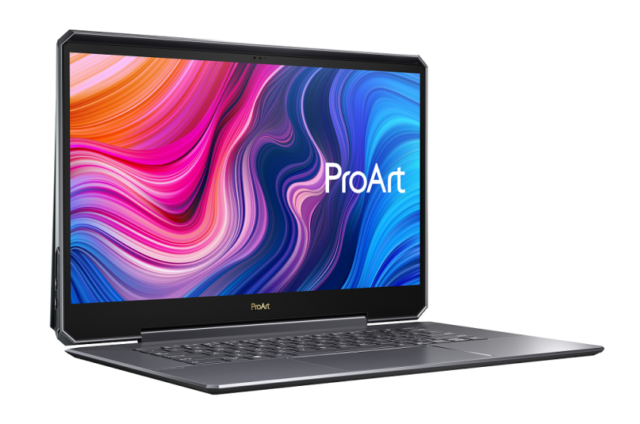 Nvidia's ACE design came up with a Titanium thin fined heat exchanger that has a narrow profile. They also stuck the GPU up at the top and behind the screen to help evacuate the heat. Those are clever and non-conventional ideas. The laptops have the mobile version of the desktop versions of the Nvidia's Quadro RTX 6000 that was introduced at Siggraph last year. Built on the Turing architecture and offering realtime ray tracing, these machines will be a designer's dream.
Designed for business, engineering, and scientific use including managing big models, crunching big datasets, editing big 8K video, and creating big detailed 3D animations and environments, these new laptops are surprisingly small.
Asus isn't calling these 15.6-inch 4K screen machines workstations, and that's good because they are using an Intel Core i9 2.4 GHz octacore processor with 32 GB of DDR5, and also have 1 TB of SSD storage. They are great prosumer machines, and reasonably priced at $3,500 for all the stuff in them.