VFX make Bridgerton's settings even more lavish.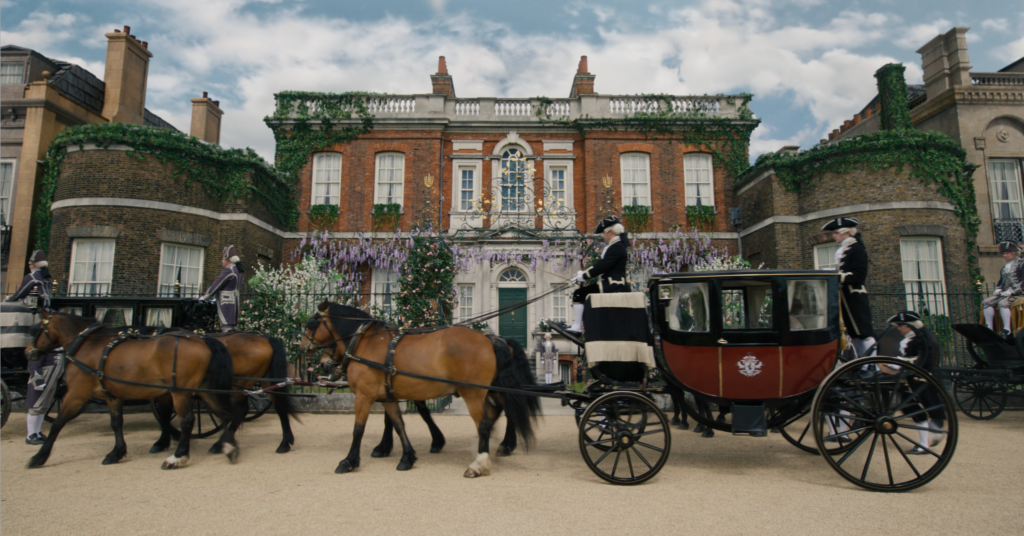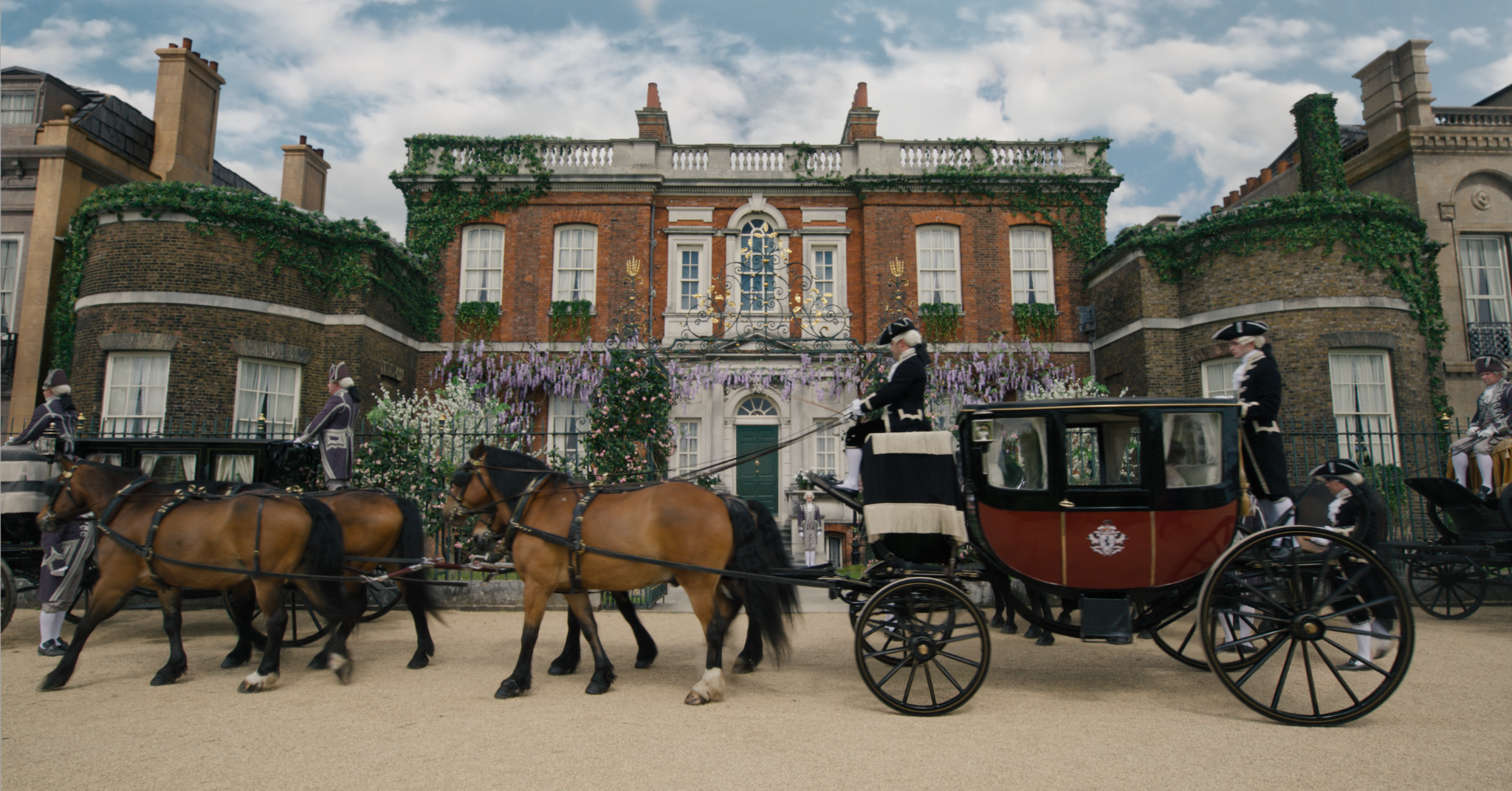 As COVID-19 kept people inside their homes, they were introduced to the rich trappings, non-stop gossip, romantic undercurrents, and competitive nature of high society during the UK's Regency era at the early part of the 19th century when the streaming drama Bridgerton debuted. The series, which chronicled this upper class's comings and goings, transported audiences back in time to London's ton, where class and social hierarchy were just as important as manners, income, lineage, and dress. Oh, yes, and titles.
It was so exciting, enough to make one forget about the social restrictions of the pandemic. But as Season 2 would prove, viewers fell in love with the series' trappings, drama, and romance, pandemic or not.
The series, whose second season dropped recently, once again focuses on the Bridgertons, a powerful family whose eight siblings go on the hunt for love during the competitive social season as the debutantes are introduced as eligible marriage prospects. During the series' first season, Daphne Bridgerton begrudgingly is pushed forward by her mother, and finds love unexpectedly with Simon, the Duke of Hastings. During this second season, all eyes are on the eldest son, Viscount Anthony Bridgerton.
The Netflix series, from Shandaland, is based on author Julia Quinn's novels, which focus on each of the eight Bridgerton siblings in turn.
All the drama—and there is plenty of that—takes place amid breathtaking scenery and extravagance within an enhanced period setting. Helping to set that stage was One of Us, which crafted 250 VFX shots that blended seamlessly into the reimagined historical era.
"It's a period drama—accurate to its age—but at the same time, you can have fun with the visual effects, playing around and introducing a bit of a twist to it," says Victor Tomi, VFX supervisor for One of Us.
The lavish backgrounds are a perfect example of it. "Some of these CG shots look like paintings," continues Tomi. "It is the nature of the show, and it's great telling artists to be creative. It's not like any other normal period drama, that's what is fun about Bridgerton."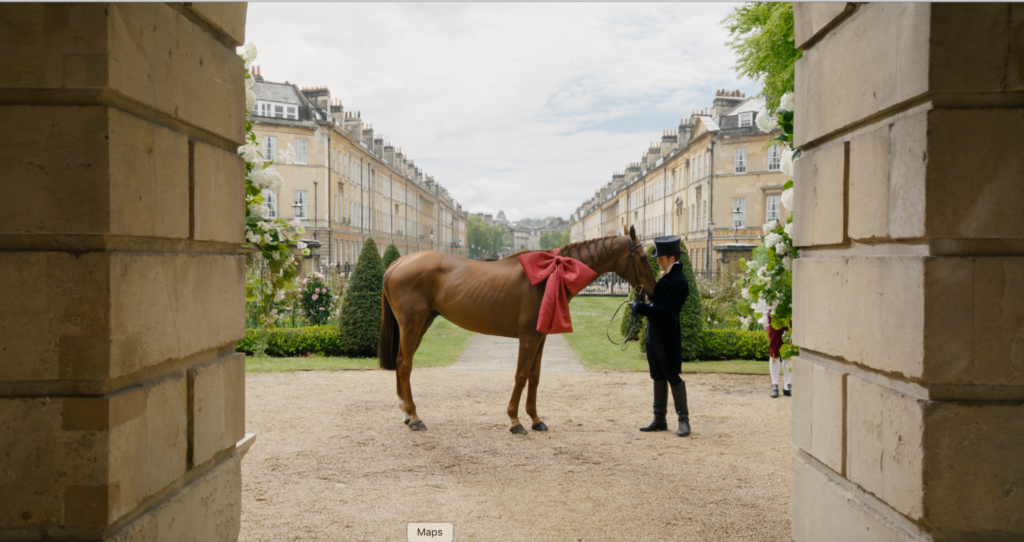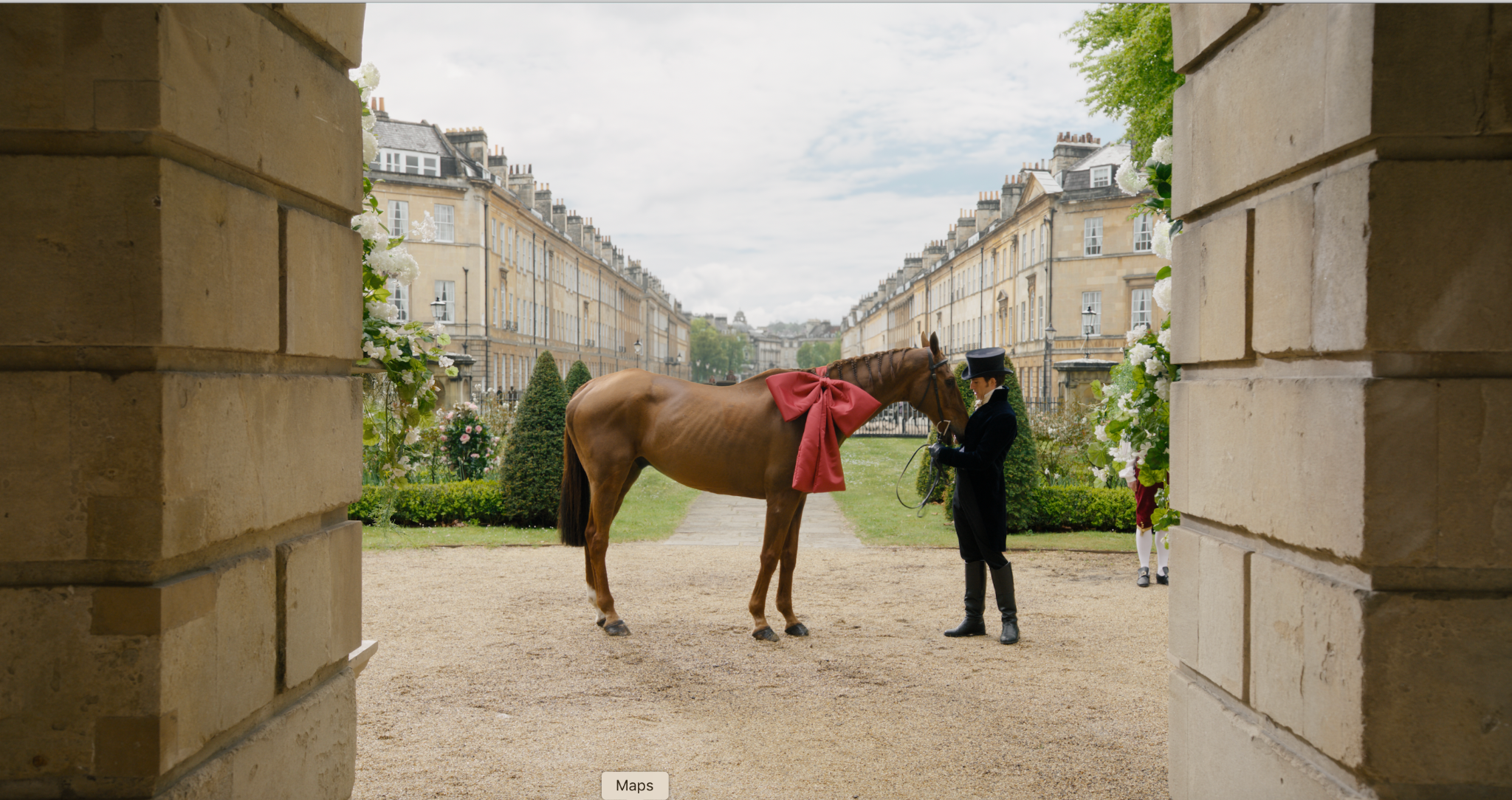 A lot of the backgrounds were full-3D assets, given that the locations appear frequently throughout the series and needed to be covered from all angles. For this work, the artists used Autodesk's Maya for modeling and Adobe's Substance for texturing.
For instance, a full-CG environment is used every time an aerial establishing shot of London appears. As Tomi explains, the studio built an asset for London centered around Mayfair in the early 1800s, where most of the Bridgeton story takes place. "We decided to create individual neighborhoods with blocks of houses, streets, and parks that we could then combine depending on which direction we were facing in the shot," he says.
Five of those types of shots are used in Season 2, each with a different angle and camera move, as well as time of day that fit the scene that followed. Then, the group used One of Us's digital crowd tool, built by Nile Hylton, to populate the environment. That included people walking on foot, in carriages, and on horseback.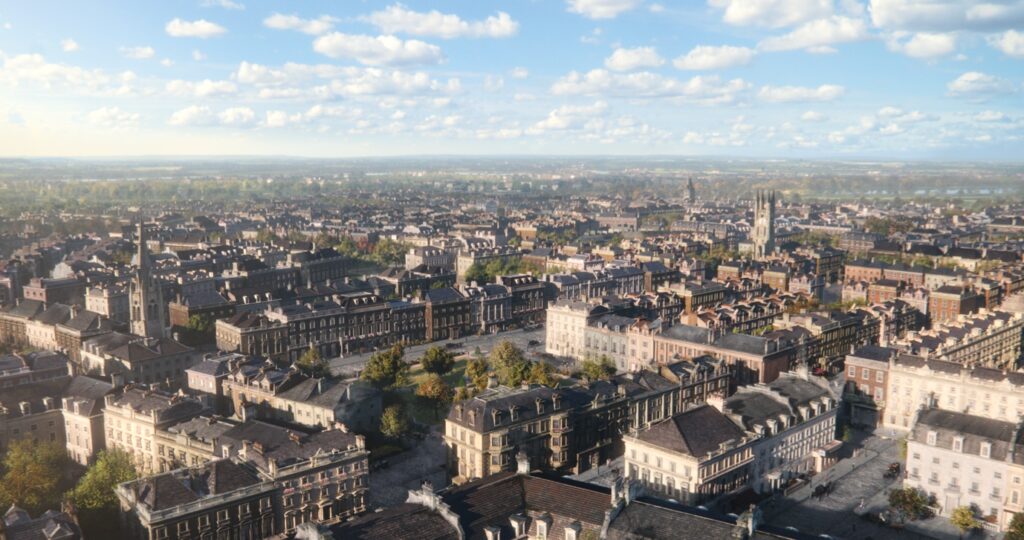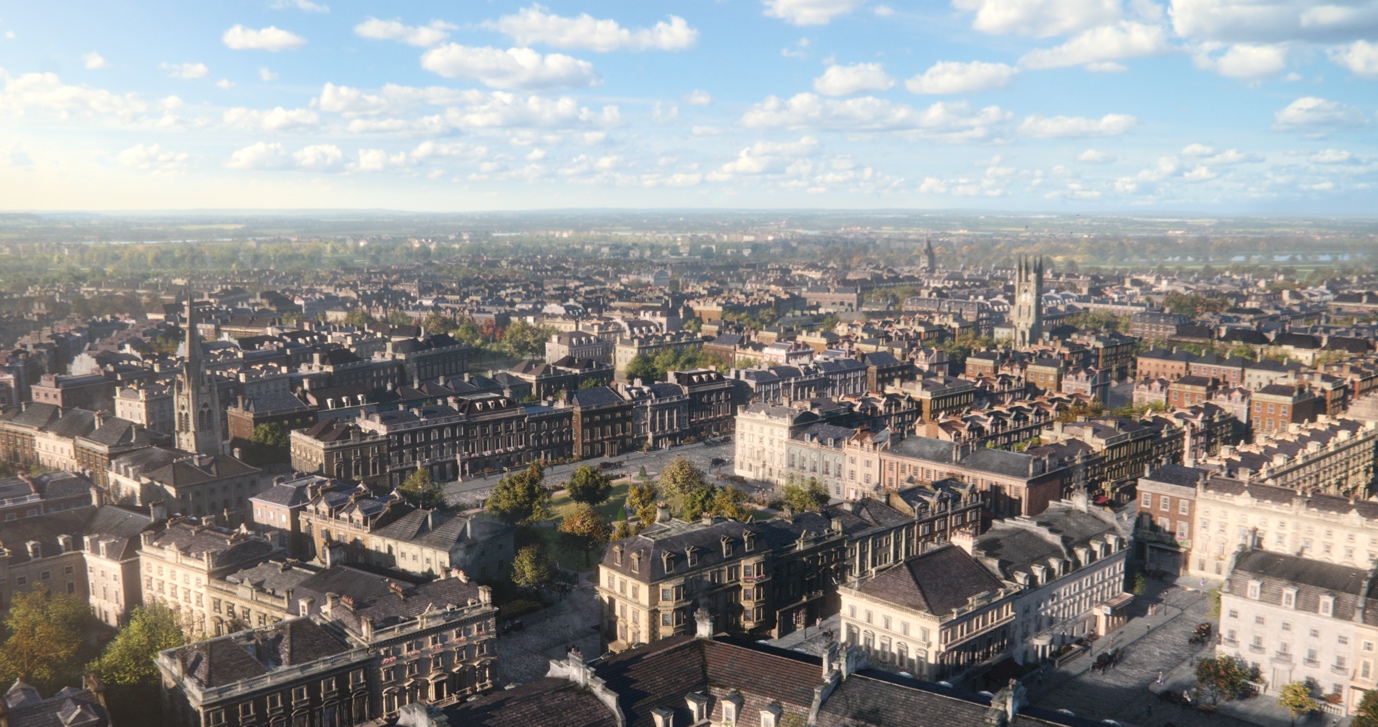 Two full-CG shots were also used to establish the Featherington House. In this season, the set only covered the entrance of the house, so everything around it needed to be built in CG, says Tomi. "If we wanted to see the whole house in frame, this needed to be done as a full-CG environment, using our Grosvenor Square asset and digital crowd to bring life outside the house," he adds.
According to Tomi, matte paintings were generated in Adobe's Photoshop and composited into the scenes using Foundry's Nuke. These added extra details and texturing to some of the CG environments. Some specific scenes, however, only called for a 2.5D matte-painting projection.
The street outside of the Danbury House is one example of a digital background in the series created from matte paintings. "We knew we would always look at that from the same angle, so we decided a DMP approach was all it needed," says Tomi. The background is based on a real street in Bath, so the team was able to acquire plenty of stills, which Billy Stockwell, lead matte-painting artist, used as reference.
Flora and fauna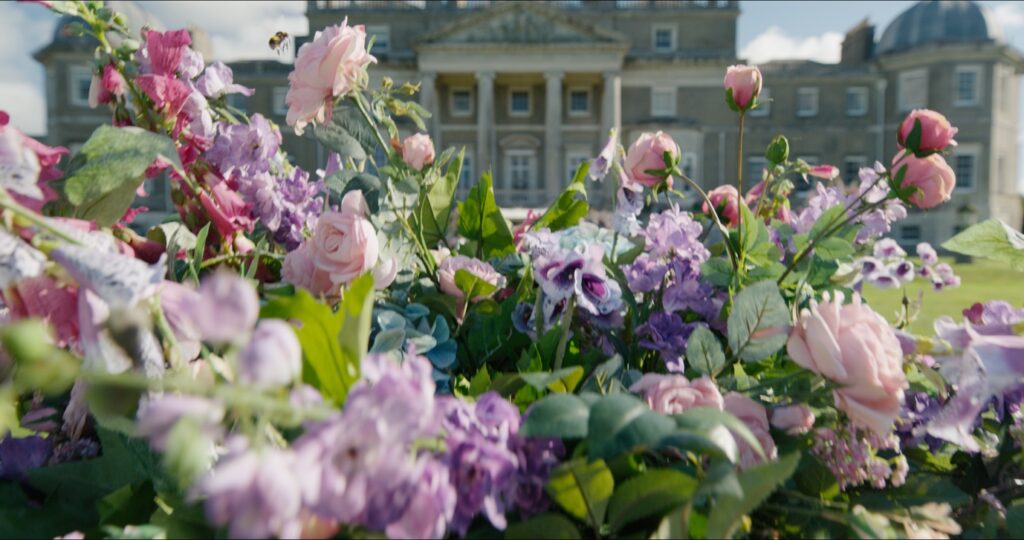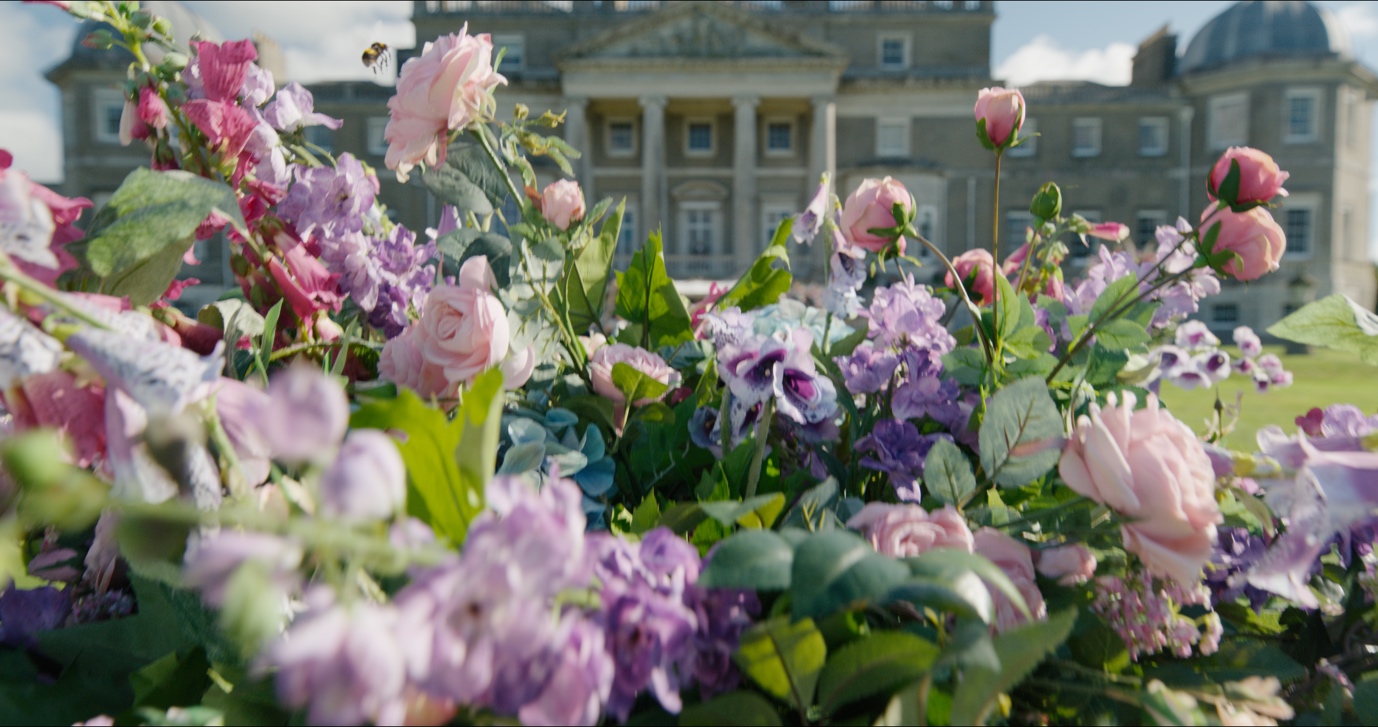 Gardens full of flora are plentiful in the series. CG Supervisor Zach du Toit says he was extremely proud of the close-ups and full-CG garden set extensions. "It was a challenge to match the quality of all the beautiful images shot on set with the digital glam we re-created. There's a lot of consideration in the garden design, with CG flowers and bushes planted right next to the real thing. But it worked immensely well," he says.
For example, 3D backgrounds were needed in Grosvenor Square where both the Bridgertons and the competitive Featheringtons reside. "The locations for each house are different, and we needed to place them opposite of each other. So, the full asset included each of their homes plus all the surrounding houses and the oval-shaped garden that lays in the center, which is the main feature of the square," Tomi says.
The garden, in fact, had to match a real one shot on location, which the studio scanned and then doubled in size, adjusting it to fit the desired oval shape. So, the final garden seen in the series was designed by Morgane Herbstmeyer, an artist at One of Us, and the work overseen by Toit.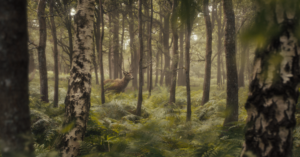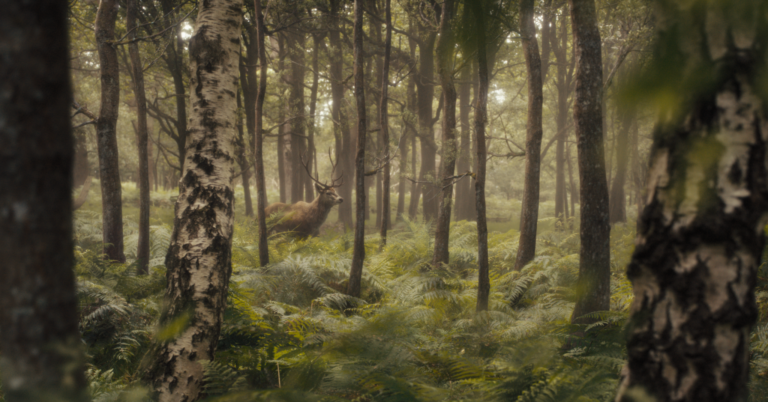 The fauna, however, were more complex. Working from pre-production, Ceylan Shevket, head of creatures, led the team in creating a majestic stag and a peacock tail using a new feather system, and improving the asset of the familiar Bridgerton bee featured heavily throughout the series.
The CG stag not only required a long time to build, but it was part of the sequence Tomi was most proud of. "I have never done a creature sequence like that before. It was a challenge and a good opportunity to learn new skills, but it also plays a really important role in the story," he adds.
The animal was modeled in Maxon's ZBrush, then animated and textured in Foundry's Mari and SideFX's Houdini. The muscles were generated with Ziva Dynamics' Ziva FX simulation software and groomed in Houdini. Rendering was done with Autodesk's Arnold through Houdini, and later composited in Nuke.
One of Us also needed to build and replace a peacock's tail because the real bird did not have its iconic plumage at the time of year shooting took place. This was done using a new feather system built in Houdini, which enabled the artists to make a fully customizable atlas of feathers, giving them tools to easily create highly detailed feather grooms. "Each feather is a unique piece of high-res geometry, combining a polygonal tube for the stem and poly curves for the barbs," says Shevket. "In the case of the peacock, this allowed us to accurately design the tail feathers and have greater control of the subtle dynamics needed to bring it to life."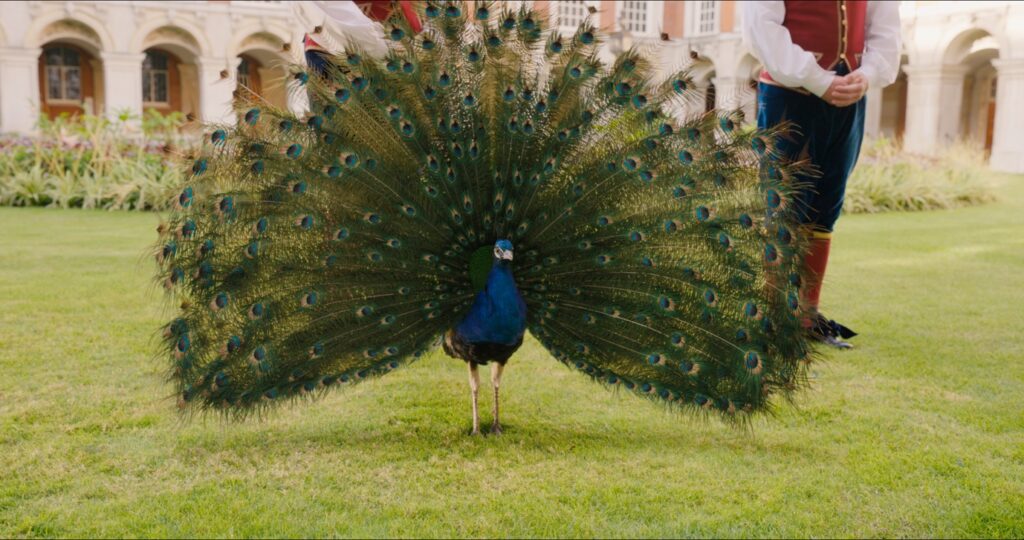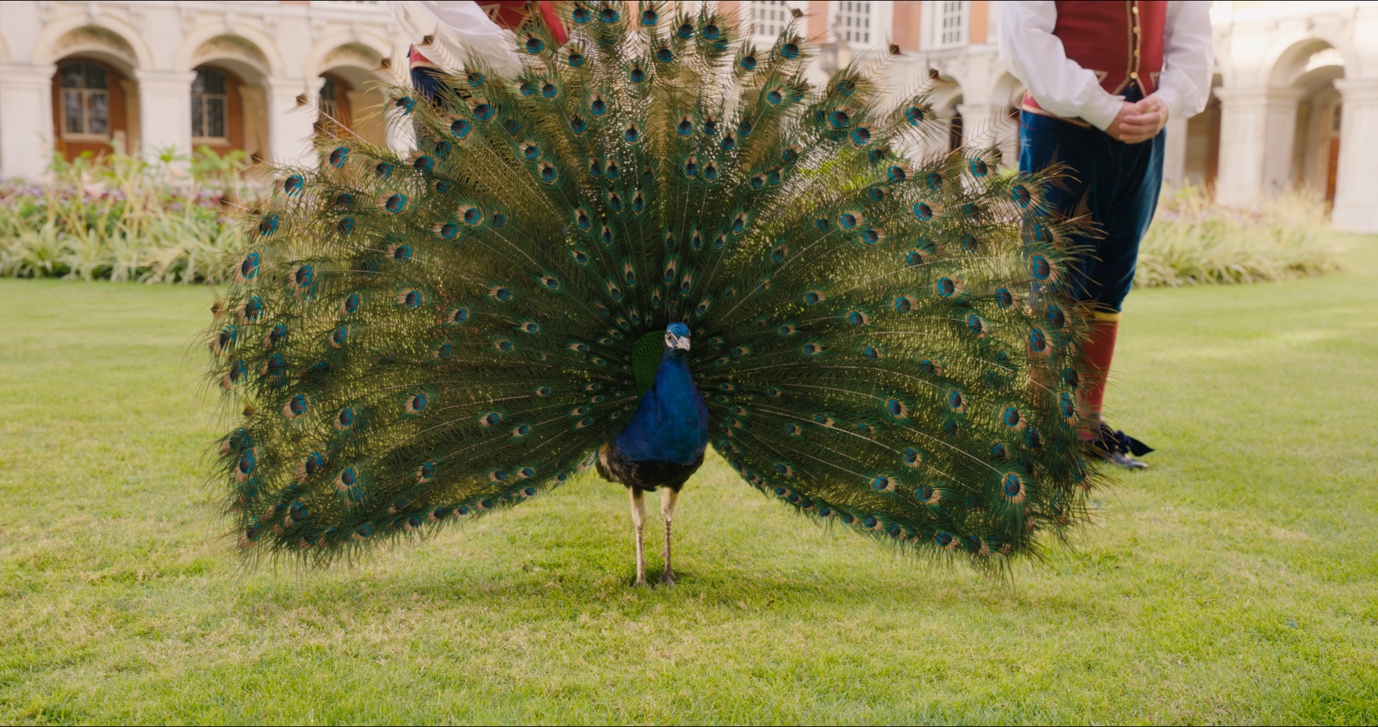 The team also took the familiar bumble bee seen throughout Season 1, but this time around there are some close-up shots, which required an upgrade of detail in the wings, body, and groom.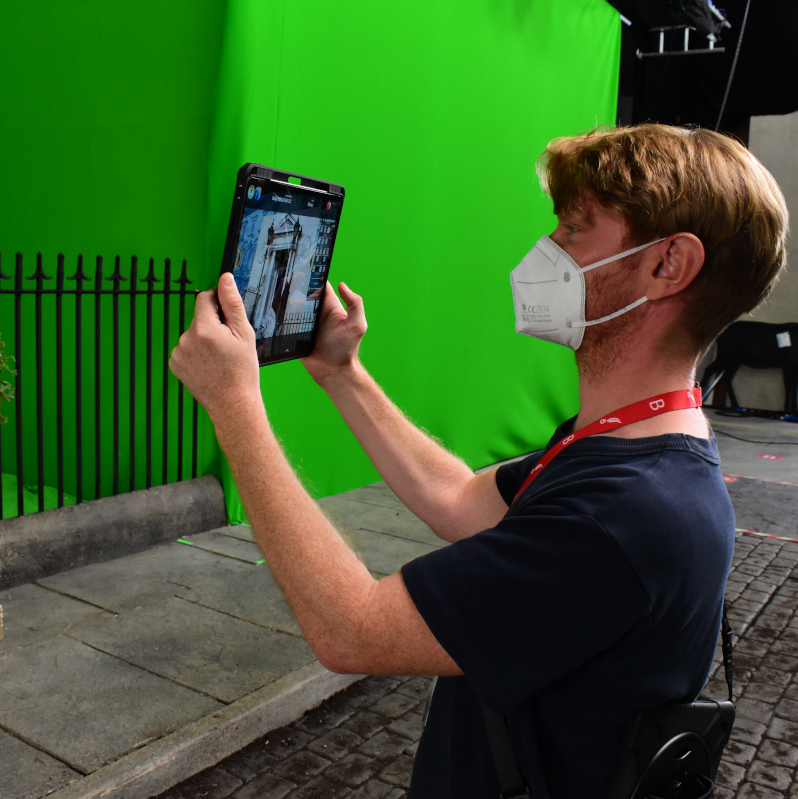 This second season of Bridgerton also provided an opportunity to further develop the One of Us on-set app. Matthew Salisbury, 3D generalist, explains how the idea got started: "We wanted to explore how we could use Unreal Engine on set. We imported Season 1 assets into Unreal and looked at how we might render them within the app. We eventually got to a point where we realized that we have this environment in Unreal, and it's very easy to set up basic game controls  so you can fly around and explore in real time. We thought, wouldn't that be useful if you were on set with the director, and rather than looking at a greenscreen, you are looking at what you would end up looking at in the final shot?"
Salisbury worked with Tomi to build assets from Season 1, ready to be tested on set when Season 2 started shooting. "At the time, we weren't sure how useful that would be," he continues. "But as soon as Vic got his hands on it, he was like, 'OMG, this is the tool we need!' Since then, more and more of our VFX supervisors have been using this app on set."
The app was especially useful for CG environments such as the Bridgerton house—which took reference from two separate houses in Bath and Greenwich. "We were on set with the director and the DP, looking at a house and then all these greenscreens behind it," explains Tomi. "They framed it with the camera, and then we did the same in the app, and we could see how the final look was going to be."
It was extremely useful to realize that a slight camera move could actually reveal a better and more beautiful part of the building, Tomi adds.
Apart from the houses, there was another particularly useful update for the CG stag scene. "We were shooting in the woods without a creature to frame up on," says Tomi. "So, having the CG stag on the app with the animations of each of his actions—that was a game-changer."