Can you even believe an in-person CES happened?
CES 2022 started the year out with a bang, staging an in-person event in that charming little burg in Nevada, However, several dozens of the biggest and smartest companies chose not to go share the air with the unknown, unwashed, and unvaccinated throngs populating the casinos.
AMD, Intel, and Nvidia all held virtual announcements, saving gazillions of dollars and untold stress on their employees and visitors. Only Qualcomm hosted an in-person briefing, and even that was broadcast to virtual attendees. The net result was we got all the messages, didn't have to stand crammed body-to-body in any lines or pay exorbitant Uber prices. All four companies' presentations were slick, informative, and more delightful to watch at home than in some cramped auditorium with uncomfortable chairs, dicey air conditioning, and no table for your notebook. Gee do I miss those events.
Smaller companies and startups still want to attend in-person conferences; for these companies, such events remain a cost effective way to meet existing and potential customers.  However, in the year 2022, it is worth asking: Does the mega in-person event still hold value for big companies like AMD, Intel, Nvidia, and Qualcomm? After all, how much is it worth to impress a few distributors in this age of on-line buying––especially when online events can convey the important details efficiently and effectively–as we saw from all four companies, AMD, Intel, Nvidia, and Qualcomm, across the first days of CES. Only Qualcomm hosted an in-person event in addition to a live stream.  If things continue as they have, these companies may be sticking with virtual only: The Consumer Technology Association said CES's attendance was down more than 70% since the last physical event in 2020, with just over 45,000 in-person attendees.
All four companies went all-out this year. And one thing was clear from this collective deluge of news: These companies' traditional areas of focus have broadened.
AMD
Notebook APUs and Radeon GPUs for notebooks and desktops galore.
AMD president and CEO Lisa Su and her team could barely stop grinning while announcing a family of new APUs for notebooks and desktops built on a 5 nm process. The company also announced dozens of new design wins and some showcase gaming laptops.
Dr. Su highlighted over 30 new AMD products, including:
20 new AMD Ryzen 6000 Series notebook APUs
Three new AMD Radeon RX 6000S Series GPUs for thin-and-light gaming laptops
Five new AMD Radeon RX 6000M Series GPUs for premium gaming laptops
The new Radeon RX 6500 XT and Radeon RX 6400 AIBs for 1080p gaming
Updated AMD smart technologies designed to boost performance and extend battery life on AMD Advantage laptops
AMD Software: Adrenalin Edition update due in Q1 2022, featuring the new AMD Radeon Super Resolution (RSR) driver-based spatial upscaling technology
The company said it expects over 200 new premium AMD-powered laptops for consumers, gamers, and professionals in 2022, including more than 20 new AMD Advantage gaming laptops.
AMD's corporate vice president and fellow Laura Smith spoke at length about the strides AMD made in 2021. In the middle of the year, AMD introduced its FidelityFX Super Resolution open-source upscaling technology. At the end of 2021, she noted that  over 45 games supported FSR with another 22 are expected in the first half of 2022.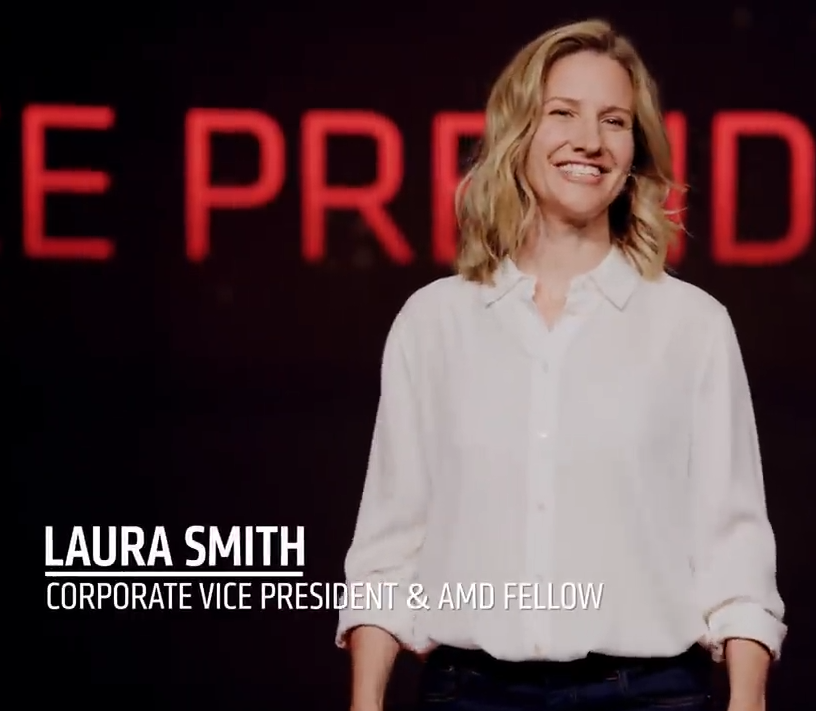 2021, she added, was also the year AMD returned to gaming laptops with Radeon RX 6800M, 6700M, and 6600M GPUs. Smith noted that ultra-gaming laptops are growing at three times the rate of traditional laptops.
To meet that demand, AMD introduced the AMD Radeon RX 6000S series GPUs for thin and light notebooks. While that seems like an oxymoron—thin and light notebooks for gaming????—these chips are set to pave the way to an affordable thin-and-light reality. The RX 6000S series has a profile less than 20 mm, which makes it a viable option for laptops weighing less than 4.5 pounds and measuring up to 20% thinner than previous chips allowed. The chips use the 6 nm core and RDNA2 integrated graphics architecture. AMD says it will launch three GPUs in the series in February 2022—Radeon RX 6800S (100 fps), Radeon RX 6700S (100 fps), and Radeon RX 6600S (80+ fps).
While it is good to see innovation on the thin-and-light front, AMD hasn't turned its back on the high-end gaming laptop world. The company expanded on its Radeon RX 6000M series with the flagship Radeon RX 6850M XT, Radeon RX 6650M XT, Radeon RX 6650M, Radeon 6500M, and Radeon RX 6300M. These mobile graphics chips target the high-end with faster memory (I know the 6850m XT…the others, too? and what other things distinguish these vs. others?).
But wait! There's more to AMD's CES launches. AMD also introduced the 6 nm Radeon RX 6500 XT desktop graphic card. It runs at 2.6 GHz, has a 16 MB infinity cache, 16 compute units, and what AMD is calling ray accelerators. (What is the significance of this card? It's power? Seems like they say it enables improved 1080p performance, and that 6 nm gives both that perf boost and power efficiency?) It will sell for $199 and ships from board partners starting January 19.
Finally, AMD launched new Ryzen mobile and desktop processors. Of note, the Ryzen 6000 series mobile CPUs embrace PCIe 4.0, USB4, and Wi-Fi 6E. And AMD claims the latest entry in the Ryzen 5000 series desktop CPUs—Ryzen 7 5800X3D—is the first consumer PC processor to feature 3D-stacked chiplets. Su also shared a preview of AMD's upcoming Ryzen 7000 Series desktop processors due out in the second half of 2022. The 7000 Series is based on the next-generation 5 nm Zen 4 CPU core and the new Socket AM5 platform, which features an LGA socket and includes support for PCI-Express 5.0 and DDR5 memory.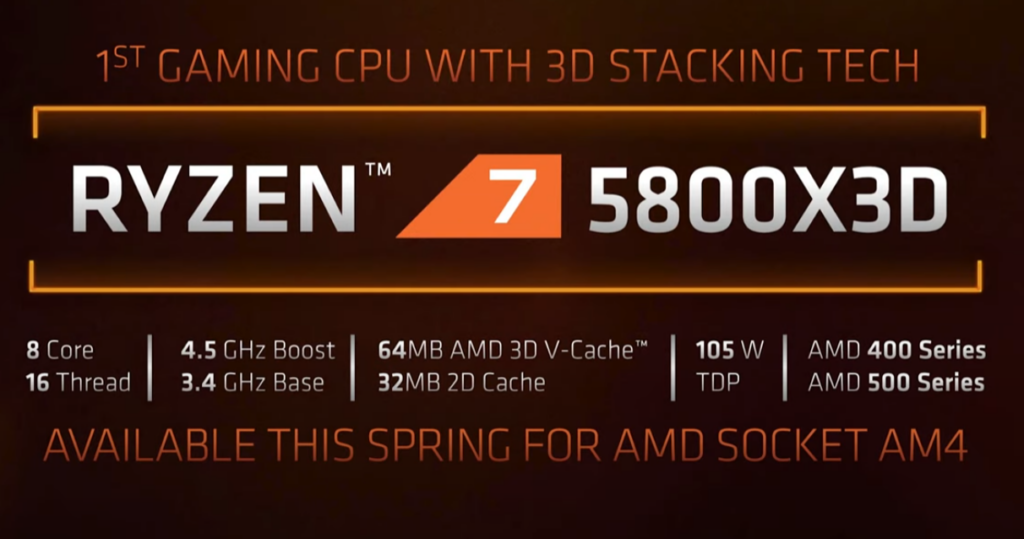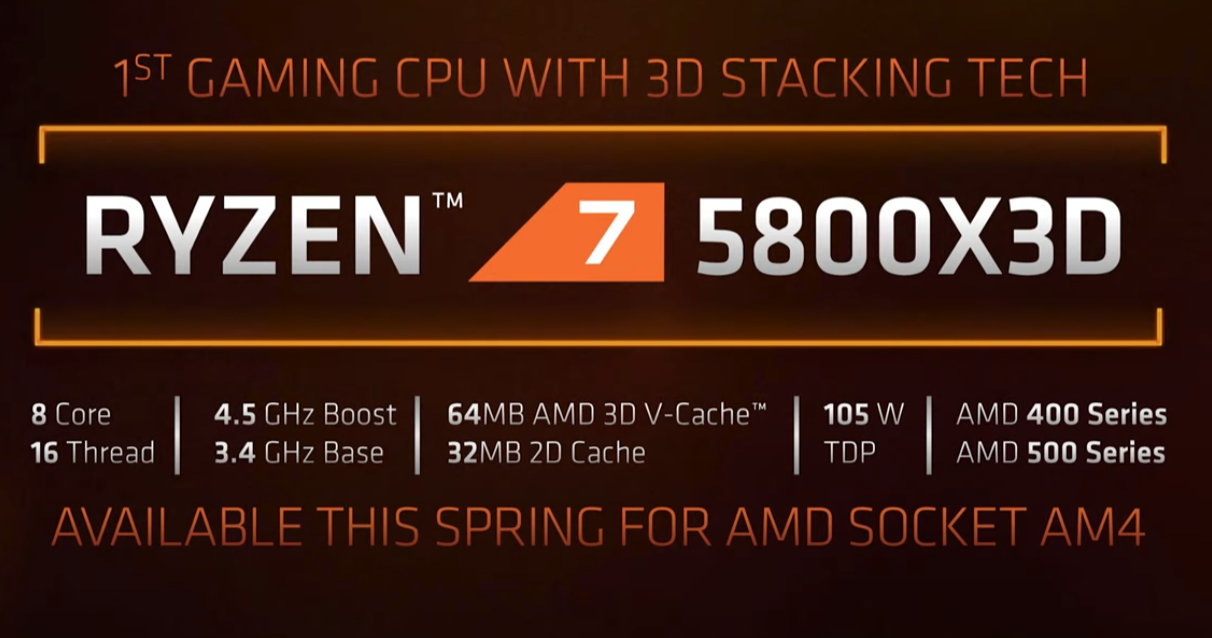 We'll be going into more detail on all of these releases in the coming days and weeks after the hullabaloo of CES dies down.
Intel
Intel's entry into the discrete GPUs becomes official.
Intel made our eyes pop out with its Mobileye's auto vision system, dozens of new processors—including a GPU—and more buzz-words per paragraph than any other company.
Let's start with Mobileye. The Intel-owned company has shipped 100 million chips since 2004 to 100 million cars that are on the road. Last year alone, the company did spend $5 billion making these chips that power everything from driver assistance systems and full-on self-driving cars. Do you know if you have Mobileye inside your car? If you don't now, chances are you will someday, especially now with newly announced deals with Volkswagen and Ford. Intel says the company is going public in mid-2022.
The heart of any Intel event is its CPUs, and CES 2022 was no exception. Intel executive vice president and general manager Gregory Bryant—affectionately referred to by his on-stage colleagues as GB—launched the company's 12th Gen KS-Series 5.5 GHz (turbo clock) processor, in the fastest ramp of all time. Most significantly, the x86 breakthrough is Intel's thread director that sends the right workload to the right cores, and with optimizations for performance, the chip can achieve above 5 GHz on multiple cores. The KS Series desktop processor will be shipping to OEM customers by the end of Q1 2022. Also announced: the 12th Gen Intel Core H-Series family of processors, across Core i5, Core i7, and Core i9, neatly summarized in the slide.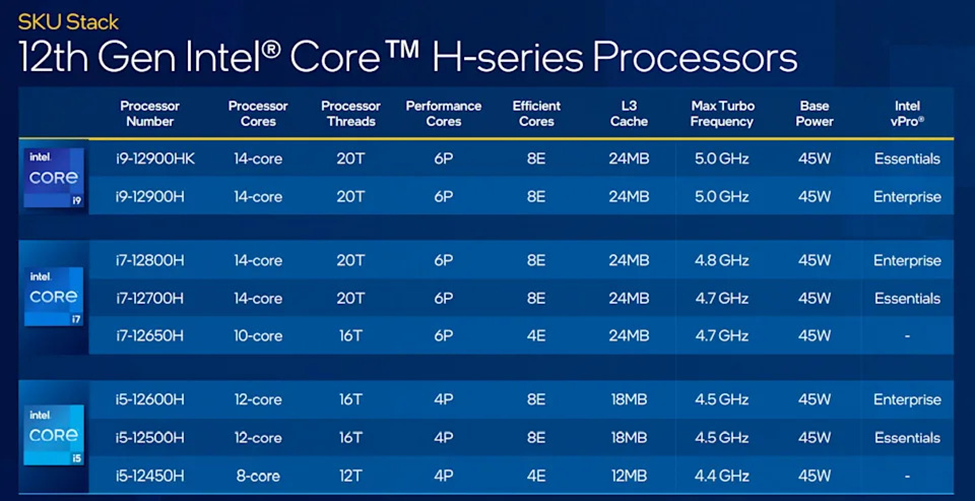 In addition to formally launching the H-Series processors, Intel updated its Evo platform systems to its 3rd generation spec. All Evo systems will employ Hyper encode, which uses all processors—CPU iGPU, and dGPU—and intelligently allocates workloads to available resources. Intel updated the Evo spec to reflect Intel 12th Gen Core i5, i7, i9 processors with the minimum Iris Xe graphics; and to add an "intelligent collaboration experience" to ensure smooth videoconferencing (Evo now requires a minimum 1080p webcam and Wi-Fi 6E).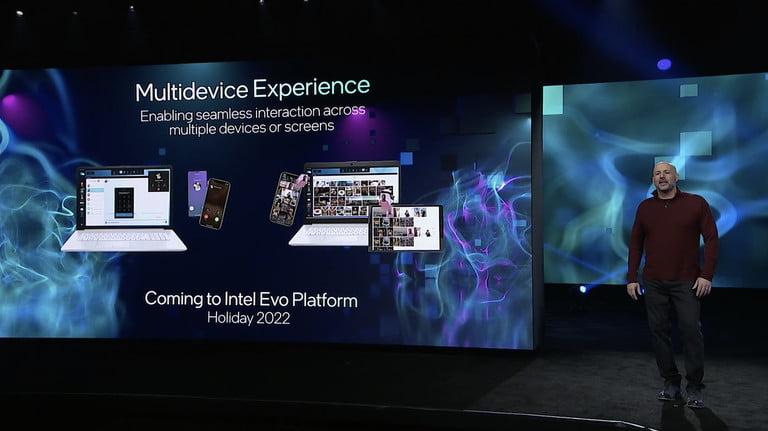 Intel's Evo news went beyond mere spec updates. Bryant, er, GB, said 70% of users access an app across mobile devices, and 90% of those people use multiple screens to accomplish a single task. Because of that, Intel acquired Israel-based Screenovate for $150 million. Screenovate's software duplicates and displays the contents of a smartphone screen to other media platforms such as televisions, car displays, and PC monitors, and can make an Android tablet a second display. Intel plans to integrate this technology into the Evo platform by "holiday 2022." Doing so would let Intel-based laptops catch up with Apple's ability to share a screen with an iPad tablet, effectively using the iPad as a second display. Intel vice president Lisa Pearce introduced Intel's long-expected foray into discrete GPUS, shipping immediately to OEMs. The Intel Arc dGPUs have been teased since 2019, delayed since 2021, and finally got official at CES 2022. With Intel Arc, graphics' formal debut came a formal branding spin: The first chips will be known as Arc Alchemist, and are expected to ship now to OEMs, with product appearing before summer. The Alienware X17 and the Lenovo Yoga line with Arc graphics were both announced at CES. And we'll see a deluge of systems to come: Pearce said OEMs are readying over 50 mobile and desktop designs with Arc.
Intel's CEO Pat Gelsinger was recently in Taiwan trying to secure capacity in TSMC's 6 nm production line, putting Intel in competition with AMD and Nvidia for wafers. TSMC reacted predictably and raised foundry quotes 5%, even though by all estimates its costs have gone up less than 3%—a sellers' market, to be sure.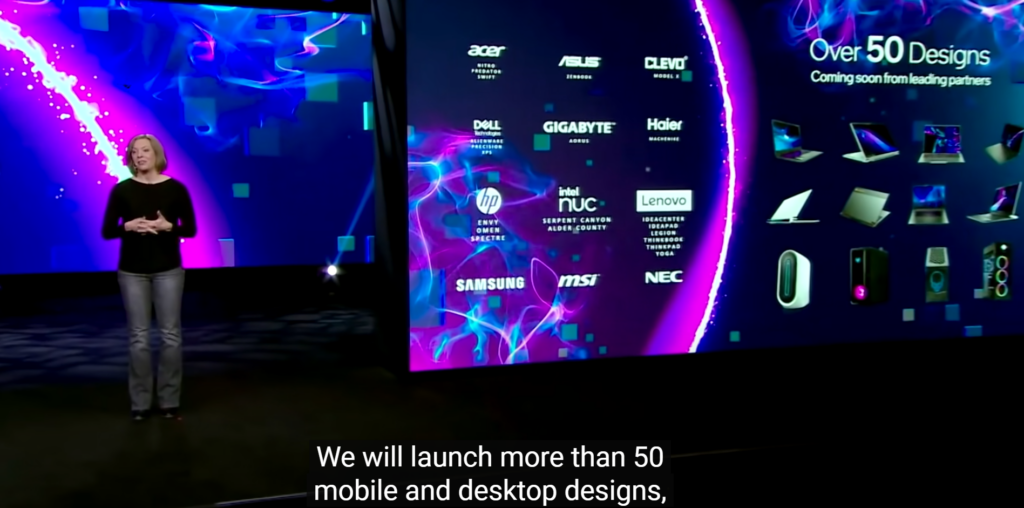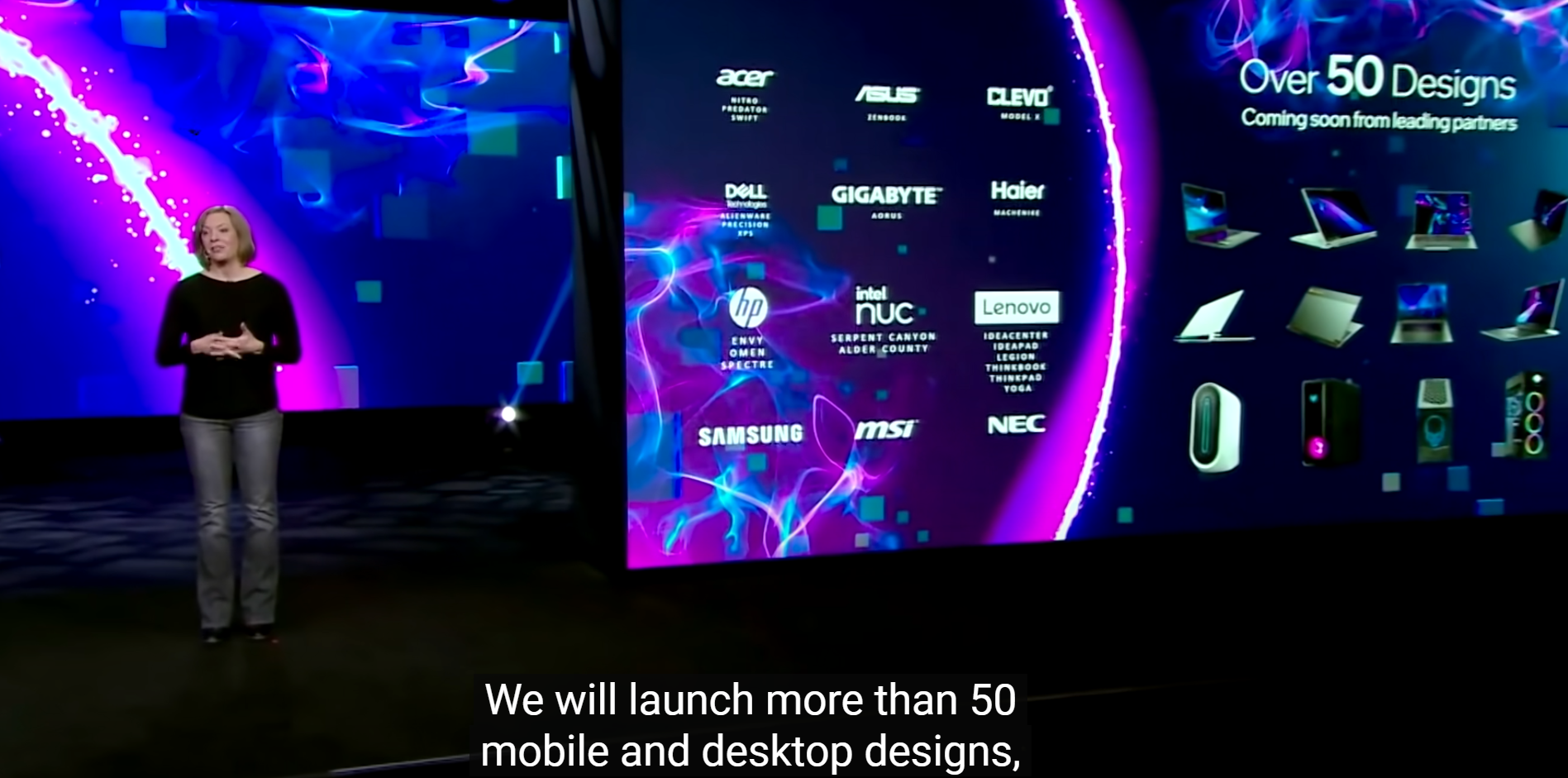 Based on what Pearce said during her CES presentation, Intel is shipping GPUs to partners. Intel has shipped GPUs to notebook suppliers, and to board partners including Acer, Asus, Clevo, Dell, Gigabyte, Haier, HP, Lenovo, Samsung, MSI, and NEC. So right now it does not appear that Intel will offer add-in boards (AIBs) as an end user or OEM product. However, we suspect over time they will migrate to the AIB supplier market because the margins and ASPs (average selling price) are higher, and the management of quality control is better (which is important in protecting brand and litigation).
According to early leaks, the entry-level Arc A380 will compete with Nvidia's GTX 1650 Super in performance.
Separately, Intel said it will make accelerated Xe-only Xe Super Sampling algorithms and versions that will work with most modern non-Intel GPUs.
We expect 95 million dGPU to be sold worldwide in 2021 by all suppliers. Intel has such a strong brand and knows—and is known—by all PC makers, major customers, governments, and supply channels that if the stars align, we can see Intel picking up over 5% of the market share by the end of 2022. That assumes a lot of things, including: dGPU performance is as good as benchmark leaks suggest; Intel achieves competitive ASPs; and Intel can actually ship in volume as expected. If Intel can achieve these marks, we expect market share leader Nvidia to see the biggest hit. We expect Intel to do well because of its connections and the opportunity to do bundle deals and one-stop shopping, just as Arm did with its Mali GPU. That's an advantage AMD and Intel have over Nvidia. And why Intel's move into this space makes sense for the company.
Nvidia
Nvidia revealed its GeForce RTX 3090 Ti, 3080 Ti, 3070 Ti, and 3050 AIBs.
Nvidia always has more to say than one can easily digest. Here are the points that stuck with me after the first pass through. Jeff Fisher, who is literally and figuratively a stand up, and the senior vice president of Nvidia, kicked things off with a slew of new AIBs based on the Ampere GPU design. Fisher showed a bunch of ray-traced games running at ridiculously fast frame rates and resolution, and then announced the AIBs that made it all happen. But before he dug deep, he set the stage as to why we should care.  "Gaming is huge," Mr. Fisher said. He noted people ask how big will the gaming market get–and then he answered the question with a slide of stats.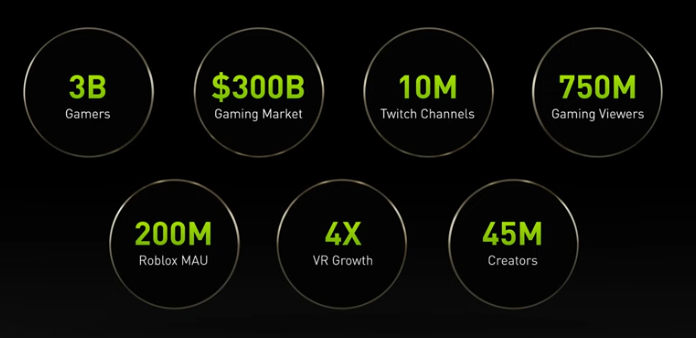 Fisher said that 150 million new gamers will enter the market in 2022. The market has grown to $300 billion in sales in 2021, up $70 billion from just three years ago—billions!  The popularity of eSports is helping to drive the gaming market: An eSports event drew 74 million viewers, which has to be the ultimate definition of voyeurism. More interesting to us was Fisher's comment that there are 45 million professionals and individual creators fueling an explosion in digital content (as you might guess, we have a report in the works on this subject).
Nvidia has been at this graphics thing for a while—29 years and counting. Since they opened their doors, the company has shipped almost 1.5 billion GPUs—and almost all of them worked. The latest GPUs go beyond simple graphics processing, adding AI, ray tracing, optimizations for video editing, and accelerated computing.
Fisher next unveiled Nvidia's 2022 lineup:  the GeForce RTX 3050, RTX 3080 Ti, RTX 3070 Ti, and RTX 3090 Ti GPUs for desktops and laptops.
The RTX 3050 will sell for $249 when it launches at the end of the month. Nvidia's AIB partners will configure it with various amounts of GDDR6.
The company's RTX 30 GPUs go mobile for the first time with the flagship GeForce RTX 3080 Ti and RTX 3070 Ti Laptop GPUs. RTX 3080 Ti laptops will start at $2,499, while RTX 3070 Ti laptops start at $1,499. Nvidia announced 160 laptops are coming in February 2022 from the usual suspects.
The GeForce RTX 3090 Ti will be the new flagship for Nvidia's desktop GPUs. This CES tease made the GPU official, but Fisher gave no indication of when and where the 3090 Ti will show up. He did reveal it would run at 78 RT TFLOPS, 320 Tensor TFLOPS, 24 GB of 21 GB/s GDDR6 memory.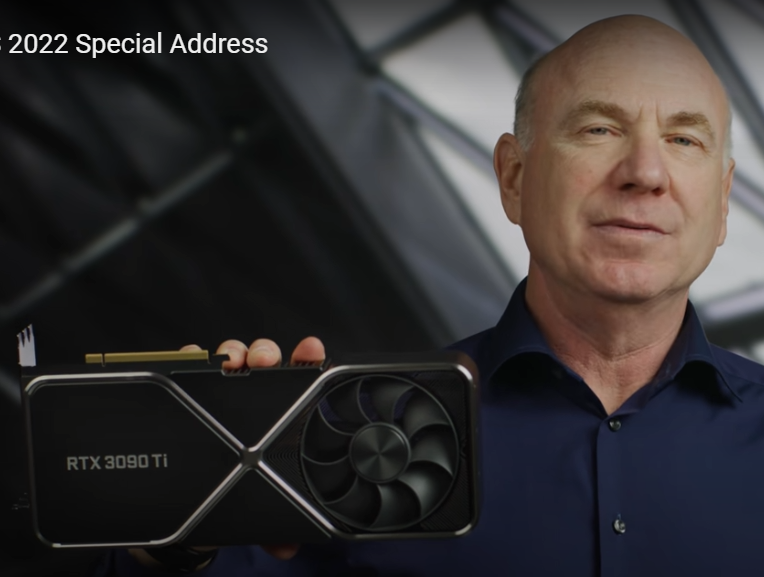 Fisher also announced that AT&T will offer 5G service for the GeForce Now service. Furthermore, consumers who sign up with AT&T will get a 6-month free Priority membership subscription to GeForce Now. The service is in its second year, and lets you stream over 1,000 games you already own via the cloud, using amped up graphics power from Nvidia's cloud-based servers.  Nvidia has upgraded its worldwide GeForce Now servers with RTX 3080 graphics, making it the first streaming service to support 120 frames per second at 1440p on PCs, up to 1600p on MacBooks, and 4K with HDR on Shield TV. The normal price is $9.99 a month, or $99.00 for an annual membership.
Moving on to autonomous vehicles, Nvidia's general manager and vice president of automotive Ali Kani said autonomous vehicles offer an intense challenge to AI.
Developing an autonomous vehicle requires an entirely new platform architecture and software development process. The hardware and software must be comprehensively tested and validated to both withstand the harsh conditions of daily driving and satisfy the stringent safety needs of an automated vehicle. Nvidia's Drive Hyperion platform addresses those dual needs in a single, open platform for autonomous vehicle development that combines computer architecture and sensors. At CES, the company released its 8th generation Drive Hyperion, production ready for 2024 vehicle models. Kani said Drive Hyperion has been adopted by hundreds of auto, truck, and auto taxi companies. The platform takes data from 12 cameras, 9 radars, 12 ultrasonics, a front-facing lidar sensor, and 3 interior sensing cameras. And it has a backup computer that uses the Drive Orin system-on-chip, in case one fails. The Hyperion platform employs high-quality calibration and synchronization in 4D and is built on a standard form factor so it can scale across multiple platforms.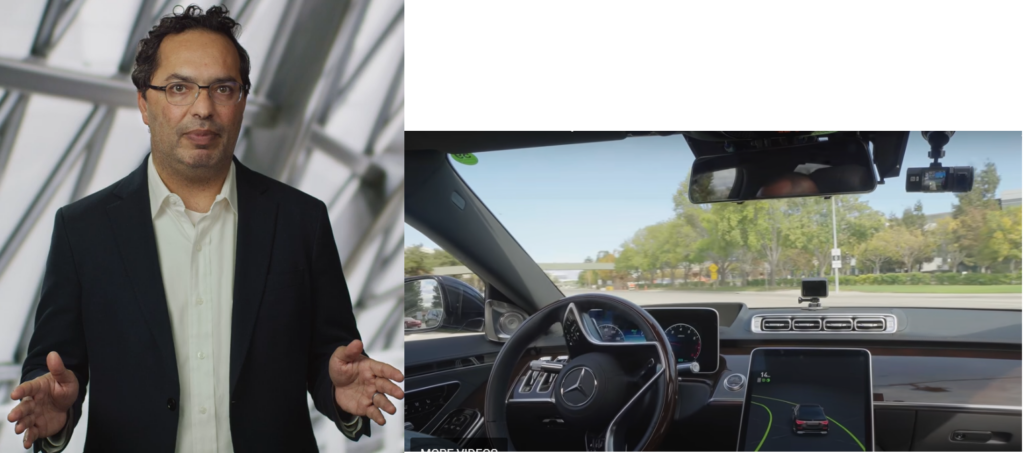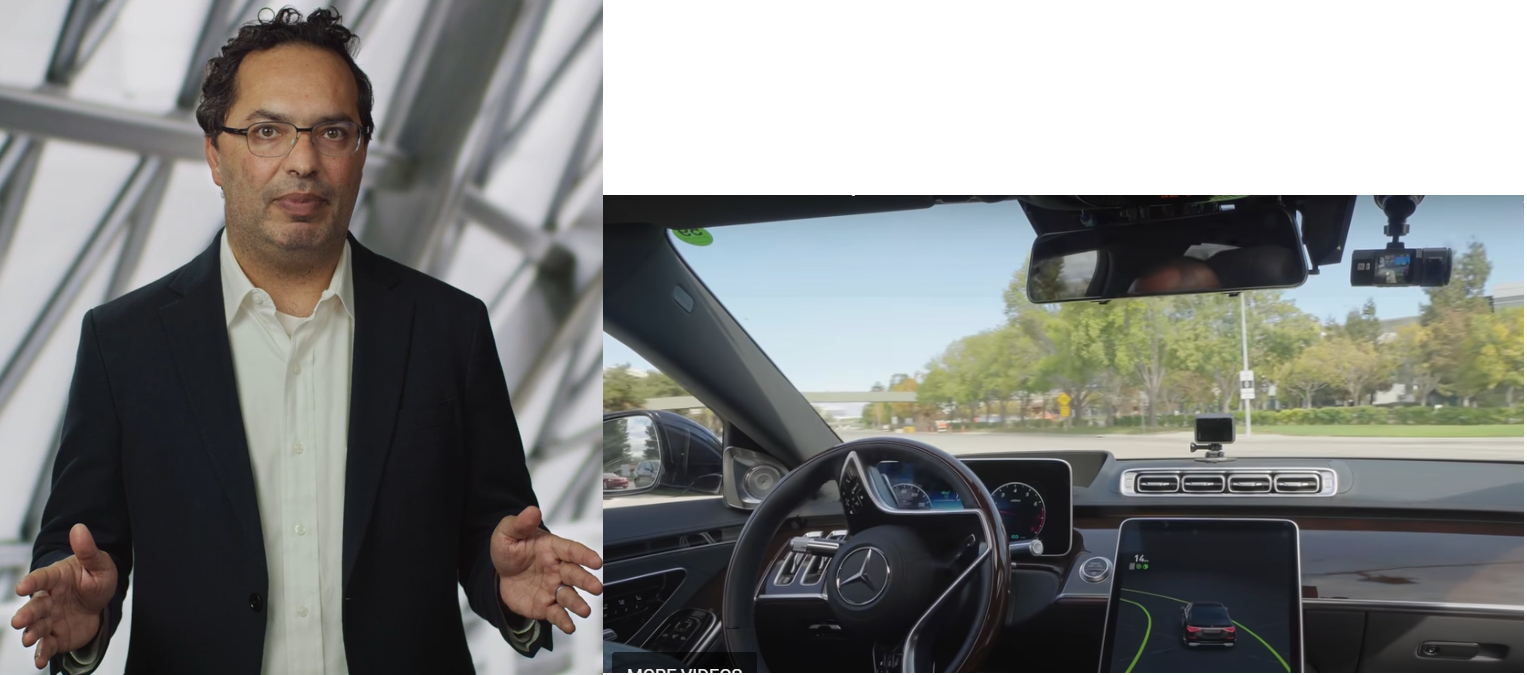 Kani said the automotive industry is going through a rapid transformation as it transitions from internal combustion to electric vehicles. He showed a chart that indicated the crossover will happen as early as 2034. China is the largest automotive market now, said Kani, and electric cars comprised 20% of all new cars sold in last quarter of 2021.
Nvidia's Drive Orin SoC also comes into play in other autonomous vehicle relationships, such as the already announced partnership with San Diego-based TuSimple, a company focused on building out autonomous trucking operations. At CES 2022, TuSimple announced it would be using the Drive Orin SoC to develop the compute brains of its autonomous trucks.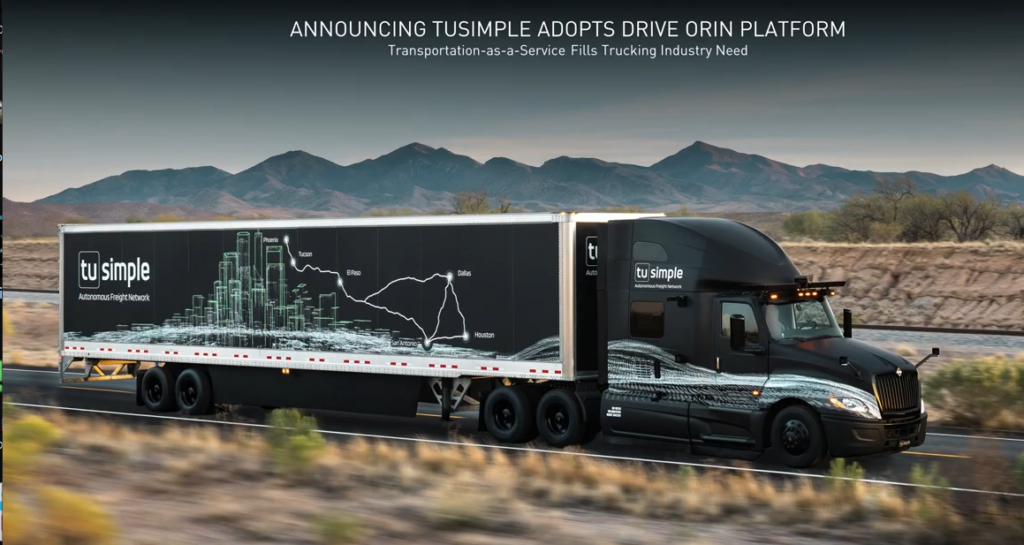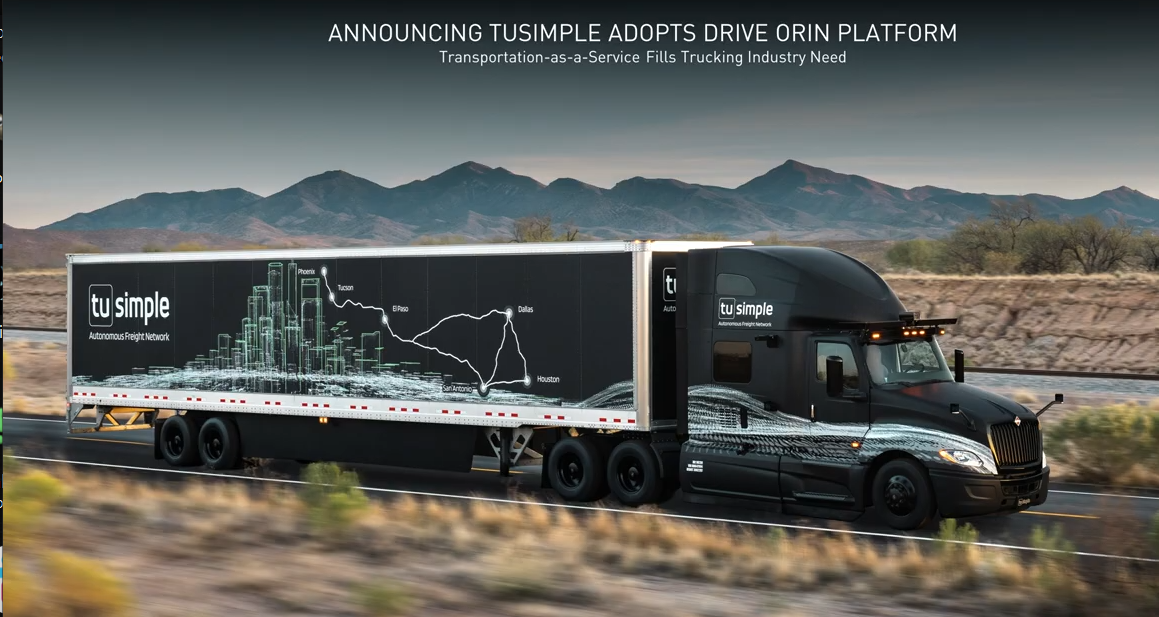 Autonomous trucks fill a void. The shift to online shopping has boosted demand for trucking and shipping, especially during the pandemic. Nvidia notes that package shipments increased from 170 billion package shipments worldwide in 2022 to 280 billion in 2027. No question that more packages are being shipped everywhere. They also noted a looming domestic issue:  The number of drivers in the U.S. will only increase from 60k in 2022 to 140k in 2027 creating a shortage that can only be filled by autonomous trucks for hub to hub and eventually hub to home.
Developing autonomous vehicles remains a grand AI challenge. One of the issues is labeling data of scenes that are dark, blurry, or occluded. Nvidia developed a synthetic data system to solve this problem. The company takes real video and uses Nvidia's realtime Omniverse 3D design collaboration tool and virtual world simulation tool and modifies it using classic flight sim tricks to create mist, sun movement, darting object and other obstacles that would be dangerous to capture in real life, but nonetheless represent real safety issues. As a result of this work, Nvidia is now seeing vehicles come out that are qualifying as level autonomous driving. And, claims Kani, some of their customers are developing level four and five autonomous vehicles. That amount of work increases the demand for GPUs exponentially—ensuring Nvidia a continued piece of the action for a long time.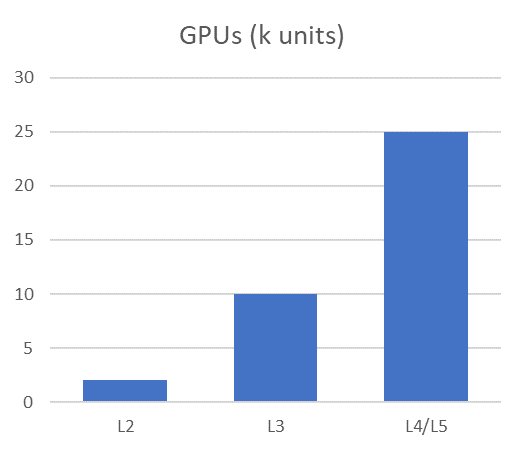 All of that development also increases the demand on data center infrastructure required for autonomous vehicle software development. Nvidia is helping there, as well, by equipping manufacturing and fulfillment centers with AV devices that pick and place items for shipping or a manufacturing production line. That is part of the Isaac robot platform.
And finally, Nvidia talked about Omniverse—its aforementioned 3D design platform. Leading the news: Omniverse is now free to individual creators and artists. The platform launched in beta early last year and a paid subscription version for enterprises followed in November. Nvidia describes Omniverse as the "metaverse for engineers" and says it has already been downloaded by over 100,000 creators.
Omniverse has been expanded with new features (such as the one-click collaboration tool Nucleus Cloud), and new connectors, extensions, and asset libraries built by Nvidia partners. New ecosystem partners joining the Omniverse party include 3D marketplaces and digital asset libraries TurboSquid by Shutterstock, CGTrader, Sketchfab, and Twinbru.
Qualcomm
Roadmap goals reach beyond the smartphone.
Qualcomm was the outlier among the big four chipmakers at CES 2022. Qualcomm actually held an in-person press briefing at CES, and president and CEO Cristiano Amon was pleasantly surprised by the turn out for his one-man stage presentation. Amon said Qualcomm was always going to be focused on—and the leader in—mobile. But, they're also focused on smart connected devices connected to cloud 100% of the time—the so-called connected intelligent edge. Oh, and cars too…which doesn't quite fit the profile but then again, cars are mobile devices too, aren't they? So much for focus.
Amon said there was a 35% year-to-year cloud growth and by 2025 64% of data would be created outside of data centers and then sent to the data center. Qualcomm's goal is to power the edge.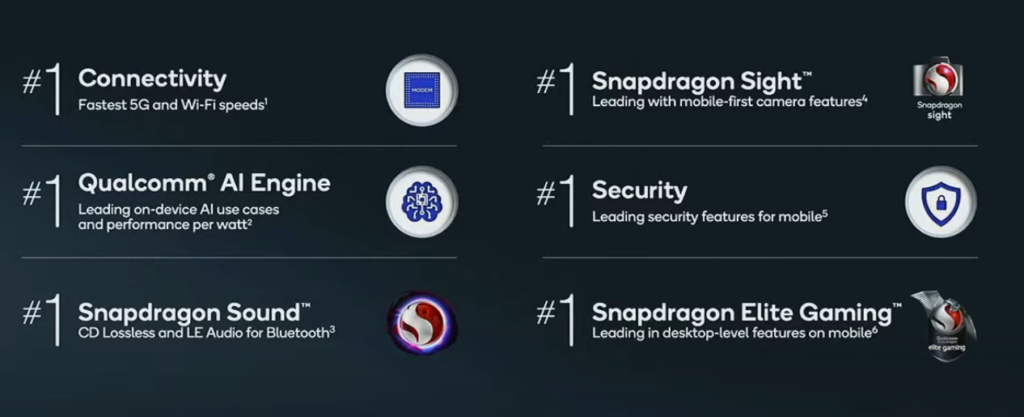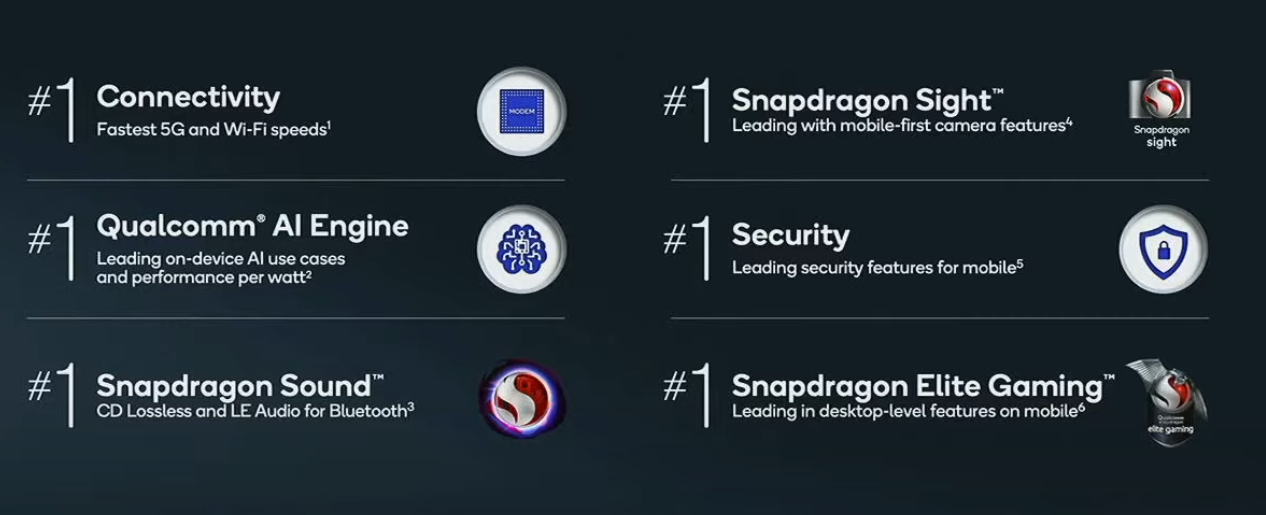 Amon is trying to convince investors that Qualcomm has a future beyond smartphones, and cited several markets the company is participating in including the edge, automotive, and XR (through a chip deal with Microsoft).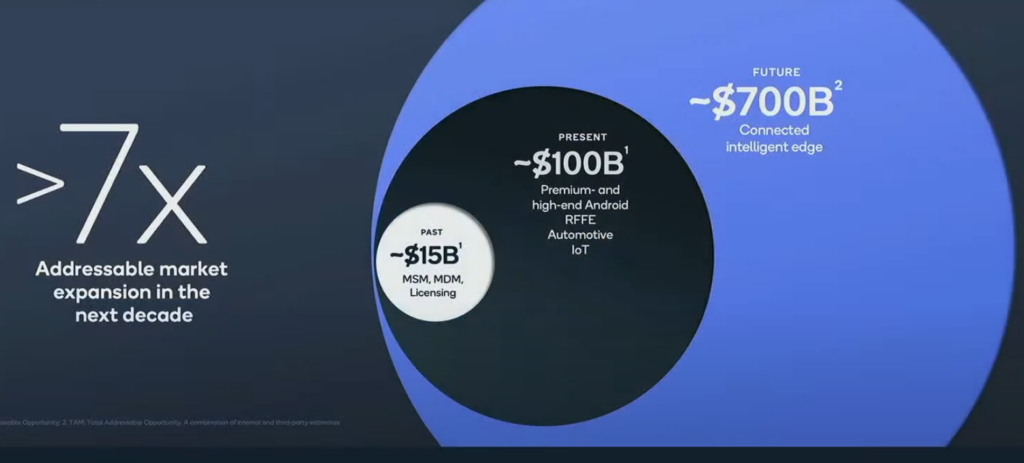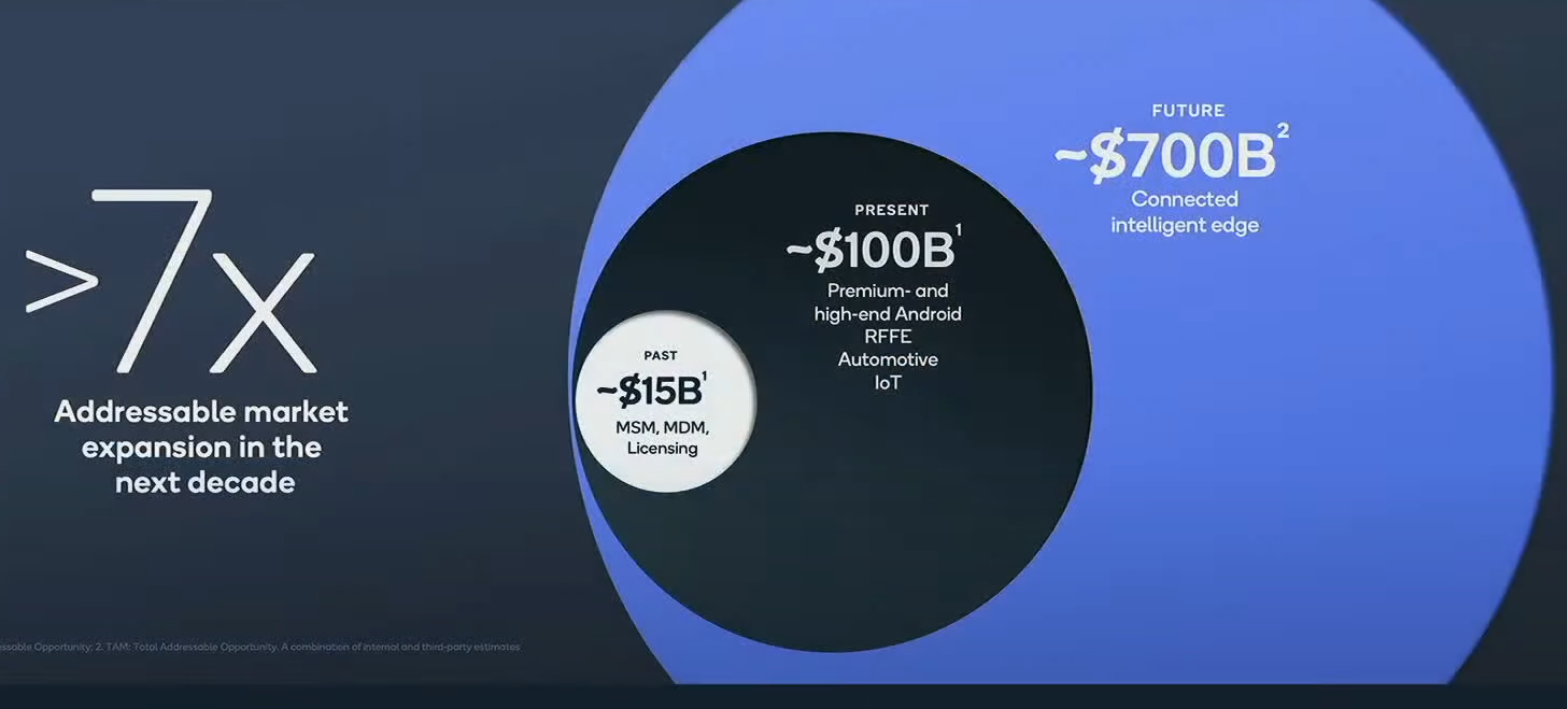 With regard to automotive, Amon introduced a new concept for thinking about all the features going into a car and coined the term the "digital chassis." Up till now, all the vendors have been referring to their platform, Amon pointed out that the automotive industry now relies on OEM components and standard chassis and engines, and the digital chassis is one of those major components.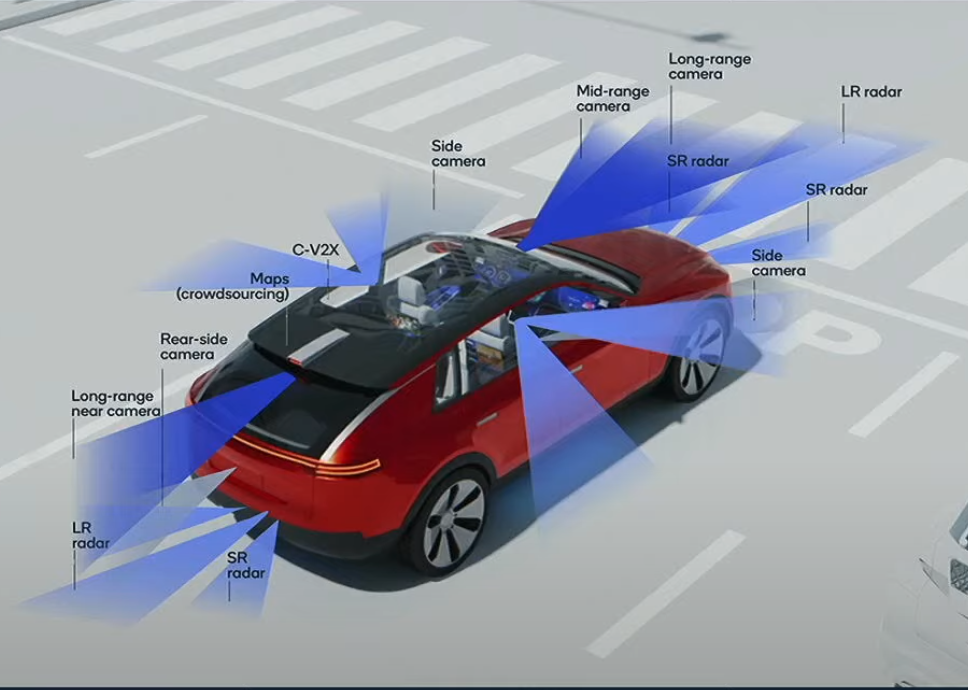 The Snapdragon 8 Gen 1 10 is Qualcomm's latest offering and advances capabilities across the board, including photography, AI, gaming, sound, and 5G. The platform is the basis for several markets such as the Arm-based PC that Acer, Asus, HP, and Lenovo have shipped with Microsoft's support. Snapdragon 8 Gen 1 also targets AR, VR, and XR. Qualcomm says the Snapdragon 8 Gen 1 has the world's first 5G modem-RF solution, likely why Nvidia announced an AT&T 5G deal (AT&T supports 5G for backhaul and direct broadband access in the home). In automotive, Qualcomm announced two deals, both centered around the company's infotainment systems. Volvo will ship an EV SUV later this year with a Qualcomm infotainment system. Honda goes several steps further, offering not only a third-generation SD infotainment system, but also AI in-car virtual assistance for 2022 in the U.S, globally in 2023. Bonus: Honda is going to put in a ceiling display for rear seat viewing while recycling in an autonomous car, and there will be individual sound zones, plus an e-mirror and digital cockpit—all based on Qualcomm's digital chassis.


Finally, Qualcomm announced a deal with Microsoft to provide a custom chip for Microsoft's next-gen Hololens AR headset. This could help Microsoft further differentiate its AR headset from the competition.