Startup hopes to replace today's custom and proprietary systems with off-the-shelf products.
Glassbox is debuting their new cross-platform virtual camera and realtime collaboration tools.  Glassbox, began as Opaque media, was founded by Norman Wang in 2012 to develop content for VR. Opaque Media created Earthlight: Spacewalk, a VR experience developed with the help of NASA to communicate the experience of space via VR.
In the process of developing content, the team developed tools as well and in 2016 the new business began to take form. Mariana Acuña-Acosta joined the company from Jolt VR, a company specializing in VR marketing services, and also the Foundry where she was head of creatives and worked on the Foundry's Cara VR for Nuke. This week, Glassbox Technologies emerged to enable content creation for feature films, television, animation, games, and mixed reality. And, as maybe a clue to future directions, the company also announced two new employees Philippa and Andrew Britton. Philippa Carroll has joined Glassbox as head of sales and marketing. At the Foundry, she led the Media Production Product Division. Andrew Britton is a developer and researcher in light field technology. He was Head of Software Development for Holochip and developed a realtime light field display renderer. He was also head of technology for CBS.
Glassbox is announcing two new products, DragonFly and BeeHive coming later this year. They're currently being offered as private betas. The off-the-shelf product will support Unreal Engine, Unity 3D, and Autodesk Maya.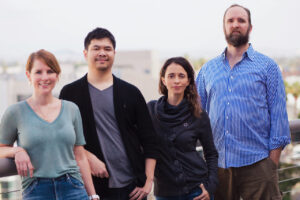 "We believe that game engines and realtime technology have the power to revolutionize filmmaking and visualization across industries, and we've been hard at work developing tools that will help creative teams achieve their goals with simple, off-the-shelf packages that integrate with whichever game engine and digital content creation applications they prefer," shared Acuña-Acosta. "Our team is excited today to unveil our new name and new tools to the wider community for the first time."
The company has been working with Hollywood visualization and production studios including The Third Floor and game engine developers Unreal Engine and Unity 3D to develop its Dragonfly and BeeHive.
DragonFly, Glassbox'svirtual camera enables content creators to view CG environments together with real life elements and people in realtime. DragonFly can be used with a virtual reality headset, through the camera's viewfinder, with an external monitor or an iPad. The company's tools support tracking solutions including OptiTrack and ARKit.
Virtual camera pioneer Third Floor has been working with Glassbox in the development of DragonFly. Addison Bath, head of R&D for The Third Floor says that DragonFly has the potential to simplify the processing of virtual production with a product that's available off the shelf and compatible with leading tools like Unreal, Unity, and Maya.
BeeHive enables virtual collaboration, synchronization, and review. It brings together team members wherever they are and it's cross platform so they can access sessions from different platforms. Content can be managed and experienced across cameras, DCC applications, and game engines. Changes to assets, lighting, and VFX can be made and the entire virtual world of the production can be experienced in realtime. BeeHive also supports Unreal, Unity, and Maya.
Earlier, the Opaque team also developed Live Client for Unreal which was introduced in 2016 for use with Faceware enabling realtime markerless facial capture and animation. Glassbox will continue to develop and sell Live Client as part of its suite of virtual production tools. Live Client has been used by Psyop, MacInnes Scott, and Hasbro to capture digital performances, and also for live animated performances during broadcasts.
Companies interested in applying for beta access can go to:
http://glassboxtech.com/products/dragonfly and  http://glassboxtech.com/products/beehive.
What do we think?
There's a lot of technology expertise packed into this new company. They're hitting all the major trends in content creation, virtual production, and character capture via the Live Client link with Faceware. What we really like is that they're cross platform and it seems likely that they're not going to stop with Unreal, Unity, and Autodesk Maya. Their job is to help their clients realize their visions using their preferred tools and their clients are using their own tools or tools from the Foundry, Maxon, SideFX, and others.
The company is also worth watching for its obvious interest in Light Field technology. Although companies have lived and died based on the promise of light field, the technology lives on because its promise is too great to ignore.