Report gives insights into applications in manufacturing, product design, architecture, and entertainment.
By Kenneth Wong
Jon Peddie Research (JPR), which specializes in the graphics technology sector, recently published a report on ray tracing, a physically accurate rendering technology now in use in product design, manufacturing, architecture, and entertainment.
The Global Market for Ray Tracing Software report puts the ray tracing market's CAGR (compounded annual growth rate) for market value at 5%. By 2023, the market "should be almost a quarter of a billion dollars," according to JPR's estimates.
Measuring the market growth by usage, however, shows a much more aggressive rise. As shown in the chart, the report estimates the CAGR of ray tracing use in rendering at 53.7%.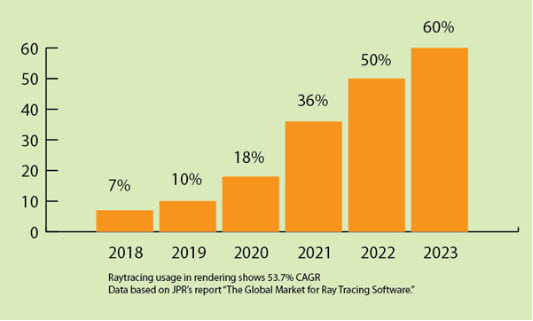 Kenneth Wong is Digital Engineering's resident blogger and senior editor.