Years in the making, GeForce Now, Nvidia's streaming game service, has come out of its trial period and is open for business at about $5.00 a month. The "new" platform is the result of Nvidia's decade long development of grid computing, console-like gaming devices, and remote computing but GeForce Now stays true to the PC gamers' heart.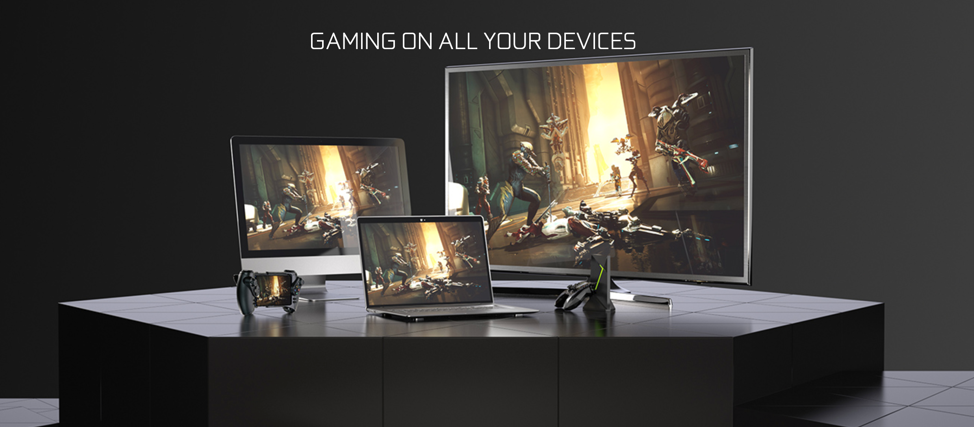 Nvidia has officially launched its play anywhere game service with the familiar-sounding name, GeForce Now. The "new" service has been evolving since 2013 when the company introduced Nvidia Grid in 2013 and developed its Shield remote gaming approach. All that technology has been collapsed into GeForce Now, with cloud services provided by Nvidia and partners. GeForce Now represents an alternative approach to other cloud gaming approaches like Google Stadia, Microsoft's Project XCloud, or Sony's Playstation Now.
GeForce Now, says Nvidia, comes with the benefits of cloud gaming. Once gamers log in, they may access their libraries from many popular digital game stores, because they're playing actual PC games, they are connected to those game store communities. However, by using the GPU in the cloud, one can play those games from almost any PC, Mac, TV (with Shield), or Android mobile device. Nvidia says it is as if one had plugged a GeForce GPU into their local device, which effectively upgrades their local hardware into a state-of-the-art GeForce gaming PC via the cloud.
Because it's a cloud-based service, says Nvidia, it's a gaming rig that one never has to worry about upgrading. Nvidia handles all the game updates, patches, and game ready driver downloads, so one is always just moments away from playing their favorite games. (Assuming they bought them already.)
GeForce Now is not a game rental service like Google's Stadia. Rather, GeForce Now is what Nvidia is calling an open platform that allows users to bring their own games. A slogan for GeForce Now might be, "You bring the games, we'll bring the GPU."
The ability to play your own games on GeForce Now is a substantial advantage over Stadia, which has a limited portfolio of games and gamers are required to go through the Google service to access those games, even the ones they might already own on their PCs.
Nvidia says they've spent the last decade building GeForce Now to be the premier PC gaming experience in the cloud and have been fine-tuning the experience during the beta for the past two years. Every millisecond of the process, says the company, has been optimized to reduce latency while maintaining performance, to a point where latency is negligible for most gamers.
To tune the system, Nvidia worked with 300K beta members who played 70 million hours of games streamed in 2019 from 30 countries.
With nine data centers in the US and six in Europe, Nvidia thinks they are reaching around 80% of broadband homes. Nvidia says that within 500 km of their data centers, a user typically sees 20 ms or less round-trip delays. When Nvidia's telco partners place Nvidia RTX server pods on the edge of their network, they achieve 10 ms. Nvidia currently have server pods in Moscow, Tokyo, and Seoul on the edge of Rostelecom, Softbank, and LGU+ networks.
The company says there are already hundreds of instantly playable games on GeForce Now, and more are being added every week. And for older games that might not be as popular as they once were, there are another 1,000+ games that can be played using single session installs.
To get started, players log into  GeForce Now and search for games to play. Once connected, the player can go into their library and install a game. These installs don't persist from session-to-session (hence calling them single-session installs) but if the game supports cloud saves, one will be able to pick up where they left off during their next session.
Gamers can get access to GeForce Now for an hour at a time for free. There is also the Founders' package for just $4.99 a month (for a 12-month subscription which can be canceled at any time). Subscribers get priority access, extended session length, access to RTX enabled games (ray tracing), and there is a free 90-day introductory period, so the first time works out to be 15 months.
Nvidia's Phil Eisler is heading GeForce Now. For more details see his blog post.
What do we think?
Nvidia claims they spent the last decade building toward GeForce Now. The company officially introduced their Kepler architecture in 2013 which was used to enable the first Nvidia Grid systems which enabled and employed GPUs in remote servers. The first generation Kepler GPU emerged in March 2012, not quite a decade, but if you count the time it was being designed then that surely would go back to 2009, at least, so in that sense, it's easily a decade of development.
On an annual basis, GeForce Now Founders' package gives one the latest most powerful GPU for just $59.88 if you take it the year which is one heck of a deal, plus being able to play on a Mac, TV, or most Android devices.
Nvidia has plenty of competition in this space. In addition to the aforementioned Google Stadia, Microsoft Project xCloud, and Sony's PlayStation Now, there are a half dozen smaller independents. Be prepared for more introductions coming at this year's GDC.  The gamer is going to have a lot of choices, and probably some difficulty choosing. Whichever service provides the most friction-free entry and play, and has the biggest library, it will be the preferred choice. It's going to take a year or more to sort that out.