Nvidia's first consumer gaming device is a solid product, blending well into the connected world beyond gaming.
By C. Robert Dow
Nvidia Shield has finally come to fruition, and we are excited to see what the graphics expert can do as a handheld system builder. From the second you pick up the $299 Shield it screams "gaming!" but it is a multi-function device that streams mov­ies, video, and music. It is a stand-alone, self-contained Android gaming machine and more. It will play any Android game, downloaded (via Wi-Fi) or stored locally. And because the Shield has a Tegra 4 processor that checks in with 72 graphic cores, game developers now have an option to bring AA-class games to Android.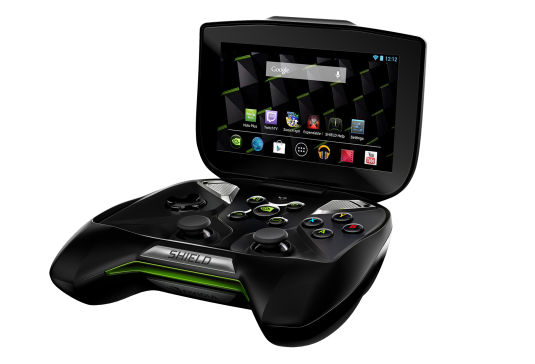 Nvidia put a lot of care into the physical design of the Shield. It looks and feels like a console controller. Ujesh Desai, VP of product marketing, says, "People are familiar with a control­ler; they have muscle memory for it. We didn't want to take anything away from that. This will look and feel and play just like a console controller." Well, it certainly does not have the weight of any game controller, tipping the scales at 0.58 kg (1 pound 4.5 ounces). It is almost startling, especially compared to an Xbox gamepad, which weighs in at a little under 0.28 kg (10 ounces). How­ever, once you hold it for a minute, your biceps become quickly adapted to the extra girth, and the weight isn't an issue.
When you fire up the Shield, you see the usual pleasantries. Nvidia once again lets you know that you actually have a Shield in your hand. You then, like on all good Android devices, sign into your Google account. This allows you to check your email, take part in Google chat … everything you can do on an Android phone/tablet except make a phone call, which you can do using Skype instead, with the built-in micro­phone.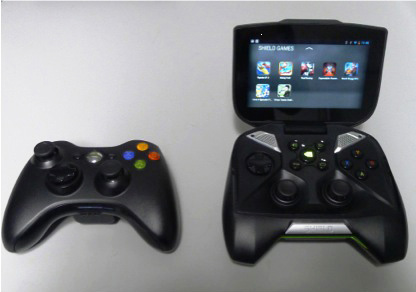 The clarity of the screen is the first striking feature of the device, a 720p 5-inch touch LCD, which by our cal­culations yields 294 pixels per inch (PPI)—greater than a MacBook Pro (232 PPI) but not as much as an iPhone 5 (326 PPI). So Nvidia calls it a "retina quality" display. The 1280 × 720 display is not the highest resolution in hand­held devices, not even close. However, given the distance from which one plays the games, the display looks fantastic; I was clearly holding Shield farther away during gameplay than I would a smart­phone.
To start finding games and to get going, you can visit Google Play or, bet­ter yet, go to the TegraZone. There you will find games on the device that are already pre-loaded such as Sonic 4, Real Boxing, RipTide GP, and Expendable: Rearmed, and you can go to the Shield Store, which contains a list of game that have been "optimized" for gameplay on the device. "Optimized for the Shield" means game developers have worked with Nvidia and fully support the new game controller. Their software tries to utilize the graphics potential of the 72 graphics cores in the Tegra 4 with effects such as advanced lighting, in­creased texture sizes, and other graph­ics features.
Born to play
The Shield just feels like it was built for gaming; Nvidia kept the analog sticks in-line, much like a PS3 controller, rather than staggered like the Xbox. At first I was using the D-Pad for primary movement but soon realized the analog stick offers more control.
I played Virtual Tennis, an optimized Shield game, to test the reaction of the controls and was very satisfied; latency is a total non-factor with the Shield. I hooked up the Shield to my monitor and played tennis on the big screen, and I really enjoyed it. It was hard to put the device down to type this paragraph.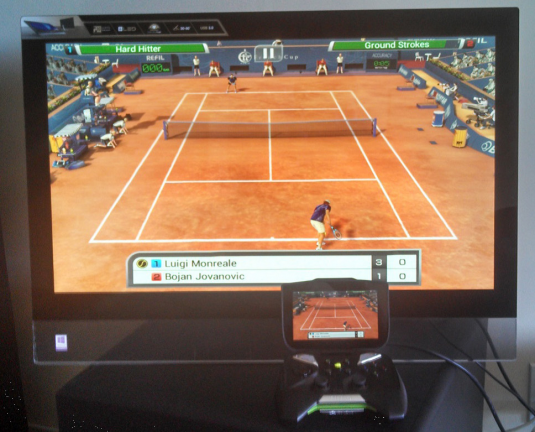 In addition to native Android games, the Shield can act as a thin client and let the user play streamed games from a PC. With a low-latency local Wi-Fi connection, game play will seem as if the PC game was running on the Shield. This brings the whole PC game library to the device and changes how, when, and where you can game.
The analog sticks on the Shield are true—the D-Pad is more "clicky" than I would like, but the A-X-Y-B buttons, along with the triggers, are perfect. Overall, the Shield is of much higher quality than both the Xbox and PS3 gamepads.
At first I felt compelled to use the controller to type and surf the web, but soon I found myself gravitating to old habits and using the 5-inch display for touch. The gamepad inhibits your natural touch-screen habits; despite that, I quickly adapted and was using the touch screen almost exclusively for everything outside of gaming. Touch screen is a huge feature, despite the fact that I was excited to be able to play some Android games with a console, I spend a surprising amount of time using the touch screen.
Beyond gaming
This takes me to the other features of the Shield. Obviously, the Shield is primarily a gaming device, but once a user has adapted it can be used for any Web-oriented function, whether it is browsing, using social media, or han­dling email. Using the mini-HDMI slot, I found myself plugging into my extra display and streaming YouTube videos. It is easy and the speakers are so much better than any Ultrabook audio set-up. Shield has integrated stereo speakers with bass reflex and a tuned port audio system that provides fidelity and exten­sive dynamic range. I'd much rather lis­ten to streaming radio or watch a video on the Shield than on my Ultrabook. The quality of the sound just outclasses any other handheld that I have heard.
A drawback of the Shield has to be portrait mode. Many games on Android are optimized for the phone and run in portrait; you can play these games with the Shield, but given the attached game­pad, it almost was not worth the effort. I also played some games that were ex­clusively touch. As long as the games could run in landscape, they were fine.
Powering the Shield is the Tegra 4, an impressive piece of handheld gam­ing silicon; we wouldn't expect anything less from Nvidia. The processor is a quad-core running up to 1.9 GHz with 2 GB LPDDR3 DRAM. It has a 72-core GeForce GPU and the first quad-core application of ARM's most advanced CPU core, the Cortex-A15.
We compared the Tegra 4 to some other mobile processors on the market, and the results were not even close.
One of the most important aspects of any handheld device is battery life. The battery in the Shield is composed of three cells with a combined rating of 28.8 watt-hours.
Nvidia says the Shield delivers 4 to 5 hours of gameplay for Tegra 4 op­timized games and up to 10 hours of gameplay for typical Android games. Users can play movies for up to 15 hours, and music playback for up to 40 hours. Our browsing test shows up to 8 hours of useful battery life.

Our take
As of now, there are only a limited number of optimized Shield games— hardware always blazes the trail, and software follows. Ported versions of console games are your best bet, and any game that was built with a game controller in mind can be used with the Shield. In addition to native Android games, the Shield can act as a thin cli­ent and let the user play streamed games from a PC. With a low-latency Wi-Fi connection, game play will seem as if the PC game was running on the Shield. This is an exciting feature and so far is still in the Beta stage. Users will need a PC running a GeForce 680 or better.
The Shield is running the latest An­droid version, Jelly Bean, and Nvidia promises updates for the OS.
As of today we love the Shield. It blends seamlessly into the connected world. It definitely has a unique place in the home. With its flawless streaming, connection, and premium sound, the Shield should not be considered as only a game machine but as a portable enter­tainment system.