Take a little bit of AI, mix it with 3D technology, add marketing advertising experience and you might come up with something like Ryff, a new company with the ability to seamlessly add products in video content after the content has been published. Ryff is built around its new technology called Placer. Using Placer, content can be placed dynamically, and even changed in video content. As a result, content can be tailored to the audience.
Ryff CEO and co-founder, Roy Taylor compares the process to desktop publishing. The technology has rendered the process fluid and endlessly editable right up to the point of print, and then it's finished. Likewise, in video product placement, changes can be made to the point of broadcast and capture, and then it's finished piece. Ryff COO, a former executive at Technicolor, Mark Turner came up with the idea and suggested it to Taylor. Catching up with Taylor at IBC, he told me, "as soon as we got the idea we went out to guys like Evan Smyth from Dreamworks and said, is this possible? Smyth is now CTO at Ryff. Spencer Stevens, who previously worked at Sony Pictures, is Ryff's Chief Science Adviser. Obviously, they thought it could work.

Designed for OTT (over the top) streaming, Ryff's technology can be used for product placement content that's already been produced using machine vision and machine learning is able to identify assets, log them, track them and render them changeable. The technology scans the content looking for products and for places where products can be placed. "One of the main things we're doing is looking for places where nothing is there," says Taylor. The technology's 3D technology maps the video finding suitable places for product placement. In addition, it finds products that are already there. The company says it turns flattened media elements (MELs) into separate interchangeable entities, which can be seamlessly edited, deleted, and added as needed. Changing brands and products in content is another opportunity for Ryff, says Taylor. For instance, there may be alcohol evident in a scene or brands that can't be shown in different geographies.
In the case of new productions, uses the Cyclops toolkit created by the Mill. The Cyclops is a toolkit to enable a virtual camera. It made its debut with the Blackbird, a MoCap car designed by the Mill at GDC 2017.  The Mill has further developed that technology to be used on the set.
Game engines are being used as a tool for combining digital, real, and captured content. Ryff has been built using the Unity engine.
At the company's introductory event in Los Angeles last week, Taylor told the audience, "we are on a new platform that makes images intelligent." Taylor said, "Ryff is the world's first image technology company using AI and visual computing to change the way we experience entertainment." Thus, broadcast content can accommodate product placement for multiple brands. That content can be edited for multiple markets. In addition, product placement can be updated to reflect new products, branding, etc. Ryff also enables clickable screens for instant purchases.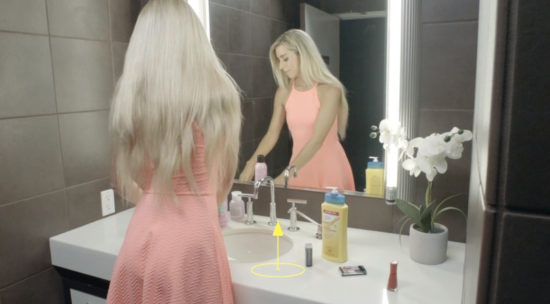 The company also announced its strategic partnership with Amsterdam's content creation company Endemol Shine Group. Endemol Shine has produced blockbusters like Black Mirror, Big Brother, Deal or No Deal, Humans, Hunted, Master Chef, Peaky Blinders, The Island, The Brain, Tin Star, and Your Face Sounds Familiar. Ryff has also announced a partnership with India's Tech Mahindra as the company's cloud provider, and the company has relationships with Dell, Intel, and Cisco.
For an idea of scale, Ryffsays product placement is currently a $23 billion industry within the $2 trillion entertainment content industry. (We found supporting data from the U.S. Department of Commerce.) Ryff, says it can disrupt existing methods of screening, editing, and updating content while offering new monetization opportunities for existing and new inventories of ad content.
As a platform, Ryff will also include a marketplace to match Placer inventory markers with content from approved product image database. Ryff provides a yield-optimization tool where the company can match inventory to brands and lets participants bid on insertion where possible. Ryff expects to offer brands and Studios multiple resale opportunities for their products and content.
In a prepared quote for the company, Turner says, "there's so much tremendous untapped potential in how creative industries and advertisers integrate product into highly targeted and programmable intelligent-images." He adds, "Our founding team is confident that we are at the first stage of a monumental shift in how we program content. The initial level of interest has shown us that we are not alone in our aspirations."
What do we think?
As you might imagine, ad placement was a huge topic at IBC but being able to place and change ads in digital content has been difficult to do. London-based Mirrad has been working in this area for some time, but the tools are only now becoming standardized and easy to use. Adobe is offering a simple tool for product placement in stills with their Dimension product. Ryff is one of the first companies we've seen that is offering a complete platform for customers.