In its annual survey, Autodesk examines the state of the design and make sectors, as industry leaders identify pain points and areas of concern including business resiliency, sustainability, and talent acquisition. The findings show that companies at the high end of the digital transformation spectrum are better equipped to successfully respond to those issues now and in the future.
Covid-19 changed our lives in so many ways, both personally and professionally. Indeed, many suffered severe health problems, the effects of which linger for some to this day. In terms of our work life, the effects are longer lasting still. Initially stunned by suddenly being left jobless—temporarily or permanently—people struggled financially and emotionally. Others who were used to working in an office in the company of colleagues had to adapt to a hybrid work/home situation.
Three years later, we are experiencing a different professional scenario, albeit one that has resulted in disruption and uncertainty. Companies are experiencing an unprecedented labor shortage, while, ironically, large tech firms like Google, Microsoft, Meta, and others have been making deep cuts to their workforce. While shortages of goods and materials have improved, global uncertainty still persists, particularly in light of ongoing and potential global conflicts.
In some instances, technology has not grown as fast as expected, having an adverse effect on business growth and resulting in layoffs in some areas. In other cases, technology has helped businesses—particularly those in the design and make industries—stay relevant in a constantly changing world.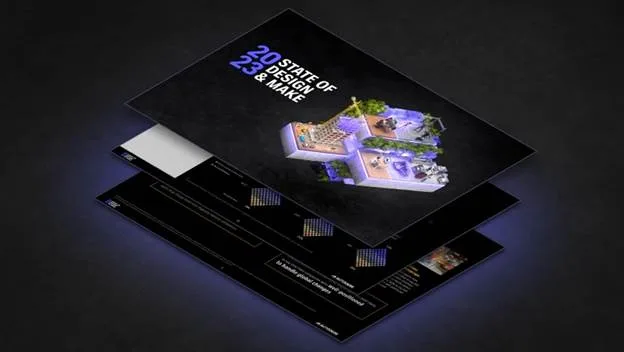 (Source: Autodesk)
According to "Autodesk's 2023 State of Design & Make report," which focused on those in industries that design and make places, objects, and experiences, there is still a good deal of unease and uncertainty among this market segment. However, for those companies, the key to overcoming the top hurdles they face and positioning themselves for future success is technology. The report findings are based on the results from a global study of more than 2,500 business leaders and experts in the design and make categories, which include architecture, engineering, construction and operations (AECO), product design and manufacturing (D&M), and media and entertainment (M&E). The data was collected between October and December 2022, with some interviews with business leaders and futurists beginning a month prior.
According to the report, the top three challenges that businesses in the design and make sectors face are:
Responding to the volatile global economy and global events
Attracting and retaining talent
Managing costs
Global business leaders (79%) reported that the future global landscape feels more uncertain than it did three years ago, a feeling that was shared by a larger percentage (86%) of European respondents. The reasons for this are war, inflation, energy issues, the pandemic, and continued refuge crises.
On a brighter note, six in 10 respondents believe their company is prepared to respond to that uncertainty, a belief that was more prevalent among those in the Asia-Pacific area. Globally, companies deemed technologically mature or further along in using digital tools to transform their business were found to be better situated for the future. Importantly, the performance gap among those at the higher end of the digitally mature spectrum compared to those at the lower end has grown even wider since 2020. As a matter of fact, 79% of those surveyed said the future growth of their company will depend on digital tools. And those keeping pace with change in their industry are more likely to have plans to increase existing services, offer new services, and potentially expand into new markets.
"Autodesk has uncovered universal challenges and opportunities among industries that design and make the world around us," stated Andrew Anagnost, Autodesk president and CEO, when summarizing the results. "Across the globe, businesses large and small have made major operational changes over the last three years to stay resilient and relevant. Notably, those businesses which have embraced digitization and data to drive decision making find themselves better positioned to thrive—even against the backdrop of continued global economic uncertainty and turmoil."
Attracting talent
Those in the design and make segments face many of the same challenges as those in other industries. One of these has to do with employees.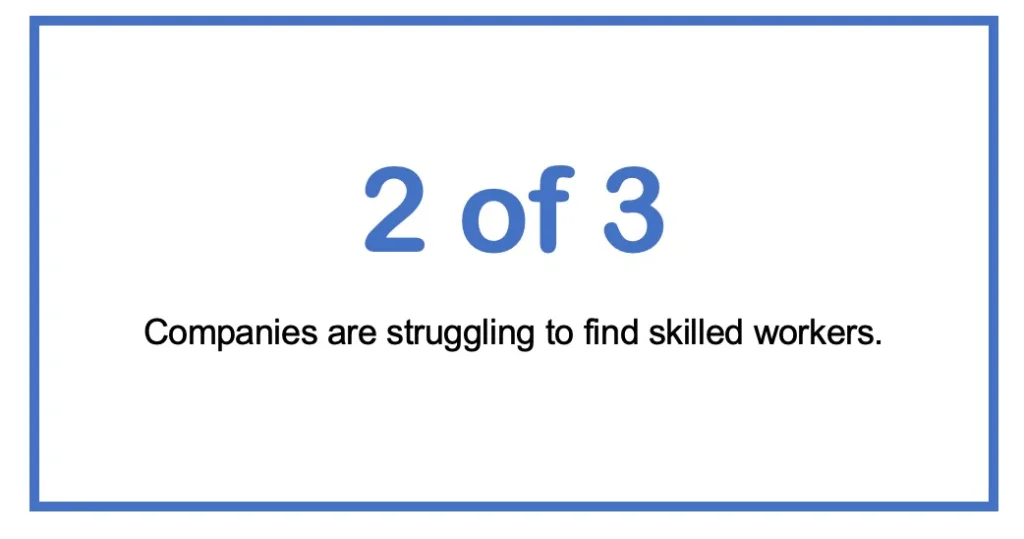 Covid has brought massive changes to the workplace. During the past three years, companies have invested significantly in remote work as they responded to the pandemic. At least half of the respondents said they changed how their companies worked day-to-day and how they managed their workforce. Almost three-quarters of the respondents believe the workforce has evolved more in the past three years than in the previous 25 years. This is significant, as that had been a period that saw the rise of the Internet, email, smart technology, mobile computing, and so forth. As a result, companies have struggled to attract and retain talent, making it the top priority for about half of those surveyed.
In all, 64% see access to skilled workers as a barrier to business growth. A number of issues are contributing to the talent dearth, including technology skills, collaboration skills, regulatory knowledge, innovation skills, and the capacity and motivation for ongoing learning. This is a problem, particularly as an aging workforce begins to enter retirement, taking their skills and knowledge out the door with them. While this issue is prevalent across the board, it is less so in M&E, where companies reported having less trouble adapting to the needs and desires of a younger generation.
Especially troubling is that more than half of the respondents admitted to hiring employees who lack key skills; however, they plan to provide the necessary training to overcome that skill deficit. One reason may rest with educational institutions. One respondent noted that in some instances, students are not receiving instruction that is keeping pace with change in the industry, so the knowledge that new graduates have appears outdated in comparison to industry practices.
Employers can initiate steps to attract and retain top talent with a flexible work environment, the opportunity for growth and training, and an appealing work culture, for instance. One executive contends that people no longer want to commute—a situation that cannot be ignored. However, in the design industry where collaboration is key, working in silos is not always optimal. But that dilemma can be overcome in large part through investment and technology and lead to a larger talent pool. In fact, digitally mature companies said they are taking more active steps to address that problem.
"In hiring, we've been able to attract a lot of people because of our technology infrastructure, which allows us to hire people around the globe," stated Jeremy Smith, CTO for visual effects company Jellyfish Pictures, which opened a wholly virtual VFX and animation studio in 2017 with state-of-the-art technology.
Increasing sustainability goals
One growing trend that surfaced was the focus on sustainability.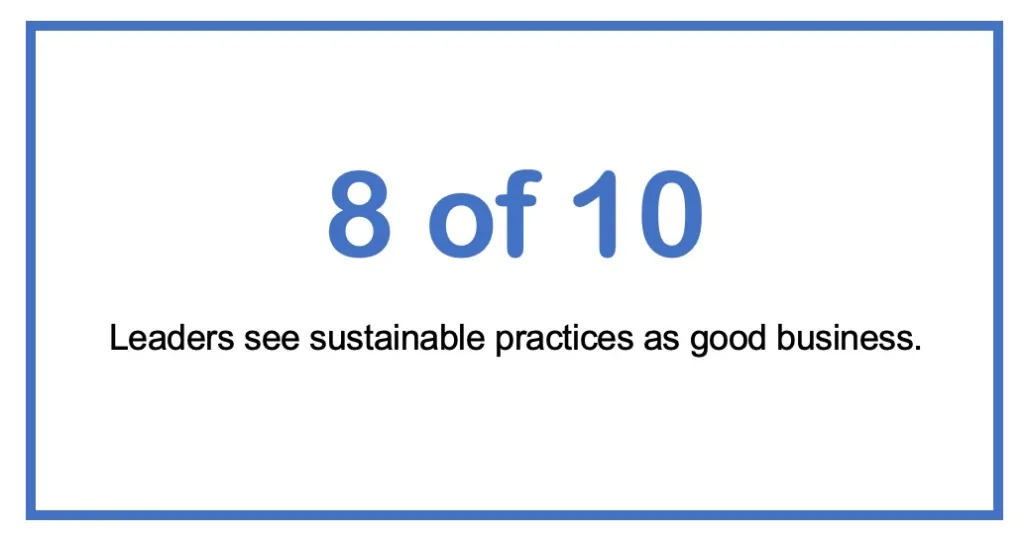 The majority (80%) saw improving sustainability practices as a good long-term business decision, and more than half saw it as a good short-term decision. Most were influenced in this direction by their customers. Sustainability was not just talk, as 90% said they have actually made changes to improve their company's sustainability efforts. This includes decreasing waste, using more recycled materials, and designing with sustainability in mind. Not only is this an environmental decision, but a cost-management move as well, as many companies feel that sustainability will help them boost their revenue.
Yet again, technology is seen as a driving force toward this goal. "If we're digitized, we're at an advantage," stated Amy Hochadel, executive director of global business for Connected Places Catapult, the UK's innovation agency for cities. "I think that's going to become more and more critical as we deal with climate issues and changing environments."
However, sustainability varies according to geography, with US companies significantly trailing behind the rest of the world in this endeavor.
Digital transformation
Digital transformation plays a prominent role in a company's success, but not every company is at the same stage, with 45% stating their company is in the middle of the effort, and just 13% saying their company has achieved that goal. And yes, it makes a difference.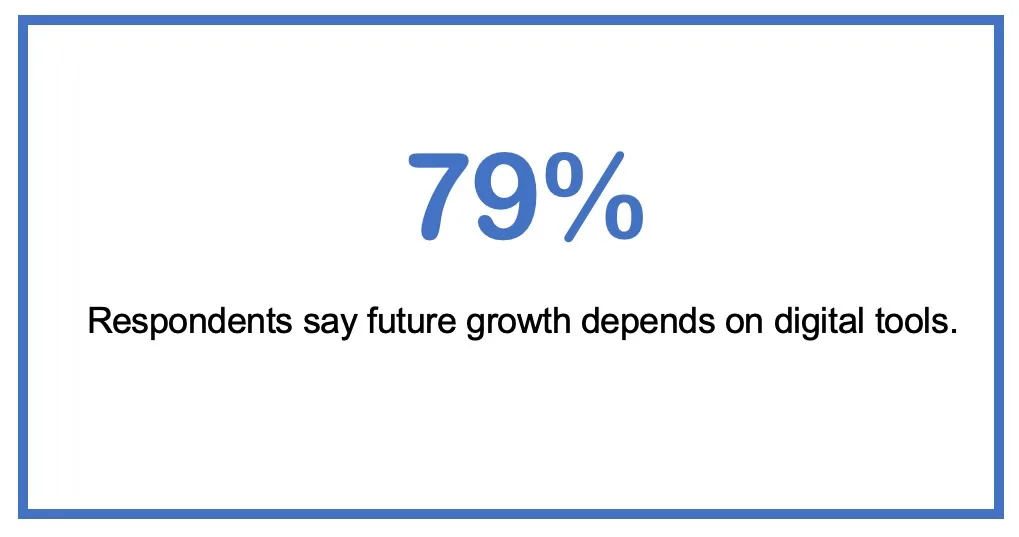 Digital transformation is boosting business by reducing costs, increasing innovation, improving performance, and enabling products and services to launch faster. In this regard, 79% of respondents said the future growth of their company will depend on digital tools. Business metrics such as customer satisfaction, profit margin, and revenue from 2019 to 2021 backs this up. Autodesk found that:
More digitally mature companies outperformed less digitally mature companies.
The performance gap between more and less digitally mature companies appears to be growing.
More digitally mature companies planned to increase investments over the next three years in technology to improve project outcomes, product or service innovation, and new product or service development.
Digital transformation, according to the report, has led to reduced costs, increased innovation and better ideas, and the ability to launch products and services faster. What's more, companies in the M&E industry appear further along in their digital transformation journey than those in AECO and D&M. And approximately a quarter of the companies said what excites them most about the future is innovation and new technology. Although, many noted it is necessary to educate customers and executives about the results that are realistic and possible to achieve through digital transformation, including those resulting from the use of digital twins.
Looking at those with a higher level of digital maturation, data from Autodesk customer projects show customers using AI to improve efficiency, reduce errors, and increase flexibility in manufacturing. Some have even set the goal of using generative design to reduce the time for design work by 20%.
In conclusion, while digital initiatives are not a cure-all, the study finds that those companies with a higher level of digital maturation are more prepared for current and future challenges, as well as positioning themselves for increased future investments than those that are slower at technology adoption.
Jon Peddie Research has been following digital trends in these industries for years. JPR's CAD report provides an in-depth look at the design and engineering software market, while its DCC report examines the digital elements (the markets, services, and tool providers) of the M&E industry. Both are vital sources of information for guiding companies toward their digital goals.